Priscilla writes:

Goldie is happy to be home! I picked her up early this afternoon and she is doing amazingly well. She is so much more alert with more energy than prior to her surgery. It's incredible! There were a lot of smiles at Alameda East when she was discharged today.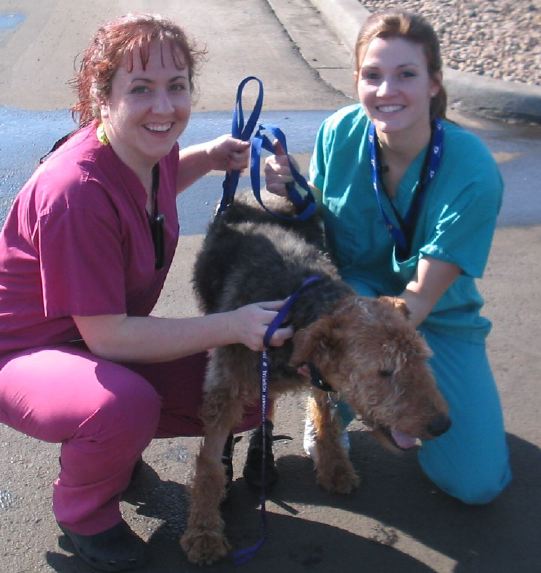 The hospital technicians when Goldie left Alameda East . . .

Goldie will go back in ten days to have the skin staples removed, and will have an appointment with Dr. Stubbs in four weeks. Samples of the liver & urinary bladder were submitted to an outside laboratory for analysis & review. Once these results are available (approximately five to seven days); the doctor will contact me.

Although I've been instructed to limit her activity for three to four weeks, Tammy went over to the hospital this morning and gave Goldie an electrical stimulation treatment on her back legs. I'm going to find out tomorrow when she can resume her hydro-therapy.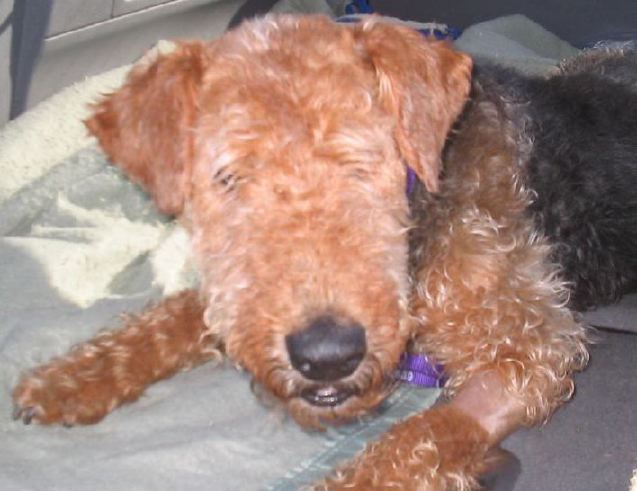 . . . happily riding in our Jeep during the trip home,. . .

I'm feeling especially optimistic about Goldie's walking again after observing her today. She seems so much more upbeat & content than she did in the past. Seeing the change in her makes me realize how uncomfortable she must have been for the past few months . . . even though she did such a good job of trying to hide the tumor-related pain she was in. Goldie is a very brave dog and an inspiration to everyone who knows her.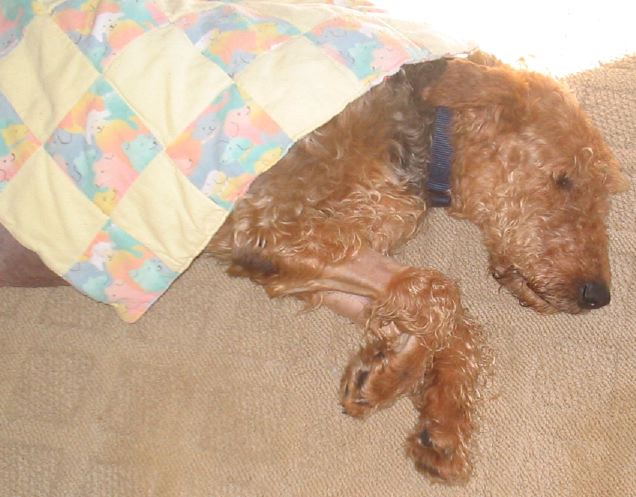 . . . peacefully & most contentedly sleeping with her blanket back at home.

Thanks for everyone's good thoughts & prayers during Goldie's surgery & recovery.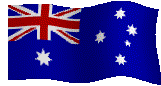 SUE FORRESTER:
Once again, I am shedding tears for the wonder that is Goldie. Thank you, thank you, Priscilla, and as always, the team that cares so much for this Airedale ExtraOrdinaire.
How peaceful & happy Goldie looks, dreaming of the future as she snuggles beneath her sweet patchwork blanket. I could see her bigblacknose twitching with pleasure and her mouth curved in a contented smile.

CONTINUE WITH THE SAGA OF
GOLDIE OF THE GOLDEN MOUNTAINS HERE