Sally reports:

Here is the latest report on Goldie from her caretaker, Priscilla. Oh, how we wish we could say that Goldie is able to walk, but that has not happened yet. However, we continue to see steady (however slow) improvements and like you, we want to give Goldie every opportunity we can to achieve this goal.

Priscilla recently returned from a short trip and when she walked in the door, Goldie was so excited she pulled herself rapidly across the floor with her tail wagging wildly! To us that is love & progress. Goldie is our survival star, and thank you for staying with her to give her every chance possible!Just look at this picture of Priscilla & Goldie and know what your donation funds are accomplishing.

Priscilla reports:

Goldie continues to have improvement in regaining strength in her back legs . . . especially the right one. She rarely sleeps with them out straight anymore, but instead has them pulled up at the "knees". The therapists say that is good news and indicates that the nerves are coming back lower & lower in her back legs as the therapy continues and that is what they want to happen.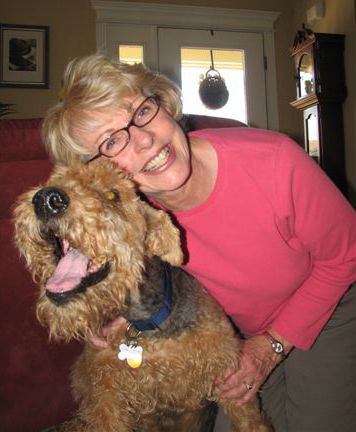 We're going to get her a wagon . . . or borrow one , , , so that we can take her out for walks to give her a change of scenery. I think it will be good for her spirits and in turn will help with her recovery. I'm certain it will make for some good photo opportunities, too! She loves to be outside with me and enjoys looking around at all the different sights!

CONTINUE WITH THE SAGA OF
GOLDIE OF THE GOLDEN MOUNTAINS HERE