Sally Schnellmann writes:

One year ago we were all praying for Goldie's survival. Lisa & RJ first brought this brave Airedale into our hearts when they traveled downstate to bring her back to the safety of their home. ATRA stepped in and provided the support to help Goldie. Andrea spread the word of Goldie and her plight throughout the Airedale cCommunity. Caring supporters jumped in, offering love & financial support. Then Priscilla & Alan took Goldie into their hearts & home to provide her with a Forever Home.

Now, here we are, one year later and I want to thank every single person involved with the miracle of saving Goldie. It is amazing what can be done when we band together!

Although it has not been Goldie's fate to walk again, as we had all hoped & prayed she would, we are thankful that she is a happy girl and instead of dying alone in the forest, she has lived, and continues to live, a life of comfort & love with her human & canine family.

In celebration of the one-year anniversary of her rescue, Goldie recently had a party. I want to share with you the note and photos received from Priscilla.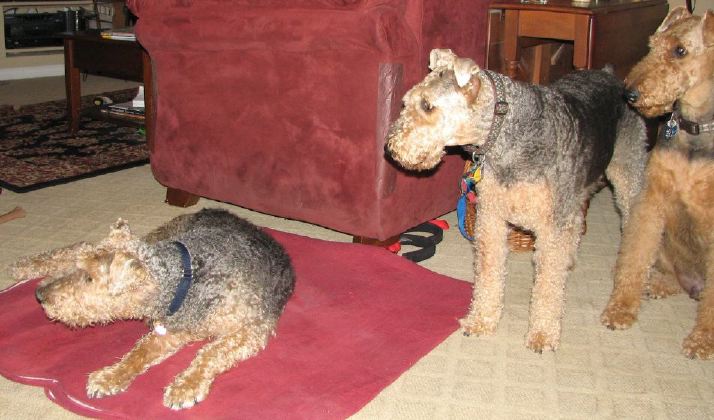 On 1 October, Priscilla writes:

It doesn't seem possible that it was a year ago today that Lisa & RJ made the eight-hour trip to pick up Goldie. We marked the occasion with a little party for Goldie early this evening. Goldie's Airedale friends joined in the celebration. There were cupcakes for everyone! Goldie's cupcake was special because it had one candle on it to mark the year. I barely had time to blow out the candle and remove it before she devoured the cupcake! After all the fun and excitement, it wasn't too long before Goldie decided it was time for a nap to rest up and dream sweet dreams.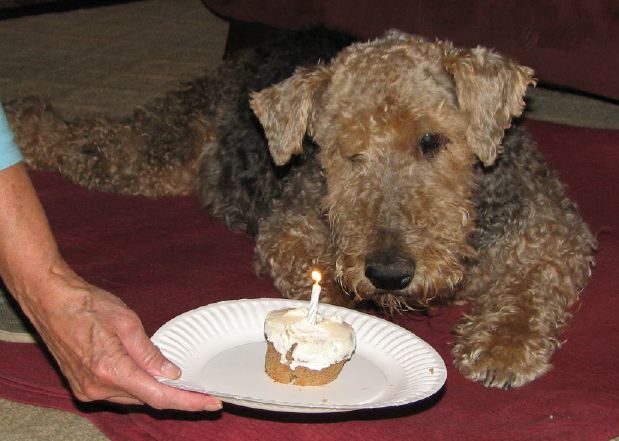 It prompted me to reflect back to the snowy day at the end of last year when we picked her up and brought her back to our home. Goldie's time with us has been a series of ups & downs, creating a mix of emotions. But the one constant in all of it was (and is) Goldie's will to live. Her strength & determination is remarkable. Because of the tremendous amount of care Goldie requires, people frequently ask me how I do it . . . my answer is that she is my inspiration.

Goldie is doing well. Her two favorite things are a walk in her wagon and a nap on the lawn. With the weather cooler now, I take her for long walks almost every day. And if I'm running late in the morning she'll bark until I get her ready to go out for her ride!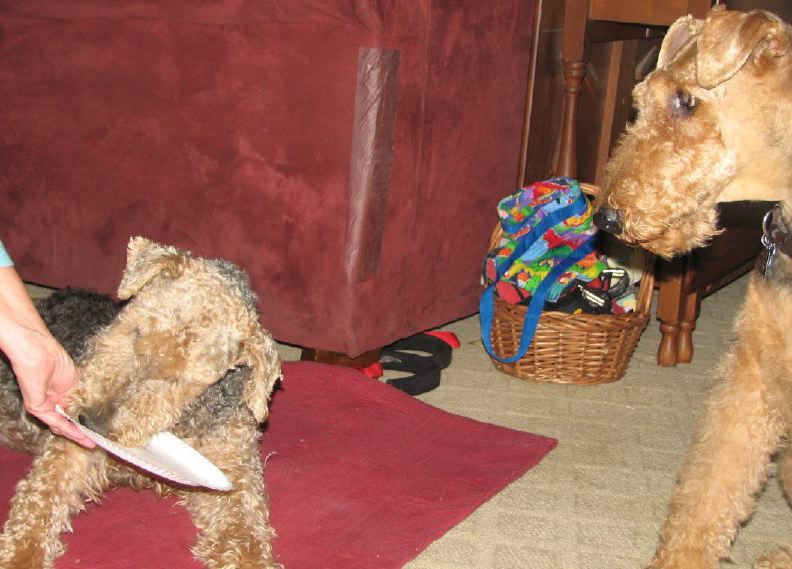 A year ago it was everyone's hope that Goldie would be walking by this one-year milestone. No one wanted that more than Allan & me. We commited much time & effort to make everyone's dream of Goldie walking again a reality. But according to three different doctors, it is likely that will never happen. Although we still believe in miracles, we also believe that Goldie's quality of life is what's most important.

We had also hoped to have oral surgery performed on her teeth but her doctors felt the cancer had to be a priority. Once her tumors were removed, they would decide the steps to take in caring for her teeth.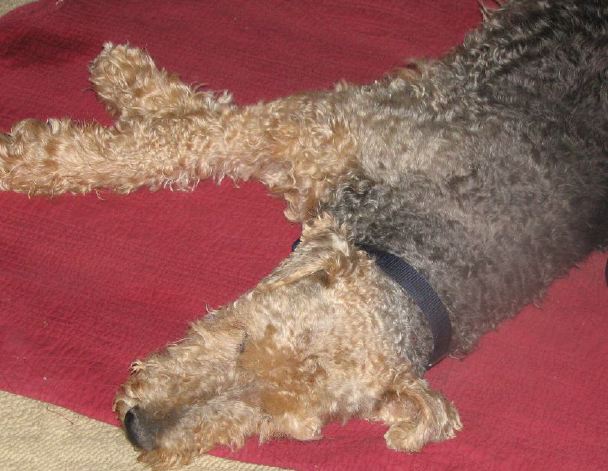 However, the last time she was given anesthesia, she had an adverse reaction to it. As anesthesia would be needed to work on her teeth, the doctors feel it would be too high a risk to do the oral surgery. It is apparent that her gums & teeth are no longer infected as a result of a maintenance dose of antibiotic she takes daily.

All things considered, my assessment of Goldie today - one year later - is that she is without pain, happy, and content. She's doing the things she likes to do and is surrounded by people who love her. She also takes great joy in being with her Airedale pals. Goldie will have a home with us for the remainder of her days. We wouldn't have it any other way and I'm sure she would agree!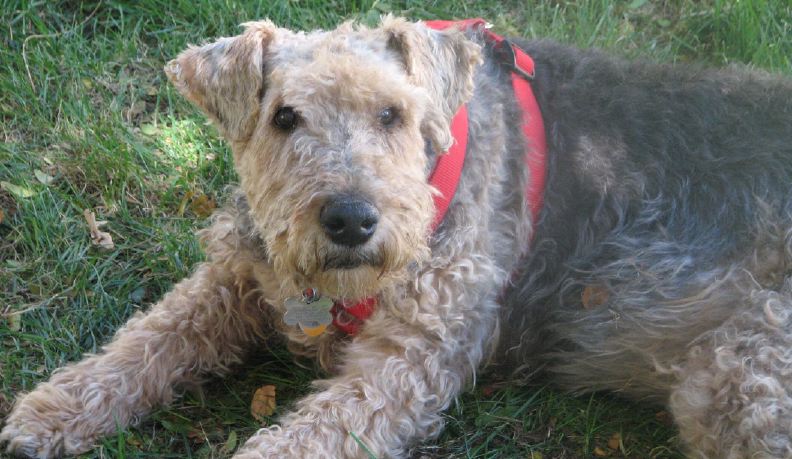 I think her happiness & delight are quite apparent in her photos!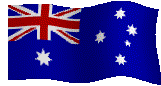 SUE FORRESTER:
We've cried for Goldie, we've cheered for Goldie, and now we lift our hearts and our voices in song for Goldie. The happiest of anniversaries . . . .
One year on - rescued from a certain and unthinkably lonely & horrible death, Goldie is where she belongs, in the safest, most loving & caring Forever Home and surrounded by all who love her with every beat of our hearts, wherever we are in the world.
A thousand tears of gratitude & love for the Rescue Angels in Goldie's life and for Lisa & RJ, and Priscilla & Alan - together, what a difference you have made, and what inspiration we all share as we continue to follow the Star of this story, Goldie herself.
Sue, Bill, Ascha & Aerem & Chester @ Wombat Bend, & Enzo in Sydney, Australia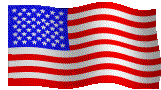 PAULA:

She looks great! She definitely has a lovely face too. I am so glad you are able to provide a loving home for her for the rest of her days!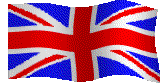 JACKIE McGUINNESS:

Happy Found-You Day, Goldie!

It seems like longer than 12 months, perhaps because it feels like you are in your rightful place under the caring wing of special Aire Angels and you look so happy & carefree. Here's to another 12 months.

SALLY responds:

Thank you, Jackie, and to all who have responded to sweet Goldie's first year of life in the hands of loving ATRA folks. I'll bet it seems longer to Goldie, too, as she lives her new life in the loving home provided by Priscilla & Alan.

I will be forever grateful to each person who has contributed in any way to give Goldie this new life. You are WONDERFUL!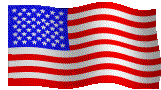 CAROL & TREVOR WALKER:

She looks wonderful! Thank you for keeping us apprised of how she is doing. I have so much respect for everyone involved in her rescue.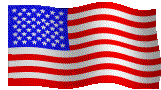 NEAL SKRENES:

Nice story, pages & sentiment. She was rescued, and all the other "hopes" would be nice, but I agree . . . it's better to live for what is than pine for what might be.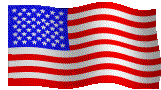 LAURIE:

Thanks for posting this. I've been following Goldie's progress. What spirit she has!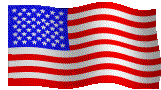 JADIE DAVIS:

Thank you for the update on both Goldie & Enzo . . . what amazing inspirations they are for us whiny (me!) humans.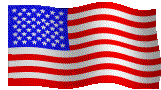 BOBBI PROCYK:

How wonderful to see the new pictures & update of Goldie and to know that she is in her Forever Home and doing so well one year later.

There was always hope that she would walk again but she looks so happy & content, which is the most important thing. Pain-free and a good life; that's what it's all about in the end.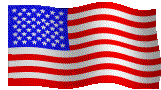 MARY BRABENDER:

You are a vital link in bringing this story of life to the conclusion . . . it was uplifting & beautiful and thank you for being the weaver of stories, Andréa . . . you connect many resources who would never know about each other, both human & canine!

FINISH WITH THE SAGA OF
GOLDIE OF THE GOLDEN MOUNTAINS HERE