Shortly thereafter, two of the pups were diagnosed with Parvo. ATRA paid for the successful treatment for these two. They were now, one-by-one, going to their Forever Homes.

One of the girls, Gussie, went on her way to a new home. They were so very excited to get her. The first week was happy puppy times. Gussie & her new family were in love, no doubt about that.

Suddenly Gussie stopped eating & drinking, started sleeping most of the day, and coughing until you know her little sides had to hurt her so. She was diagnosed with a very bad case of kennel cough; she was put on antibiotics.

Well, her appetite decreased further, her cough worsened, her breathing became labored. Her Parvo test came back negative, thankfully. The antibiotics were switched to a stronger prescription. Still, she didn't respond.

Then the diagnosis was made that little Gussie had pneumonia. She was placed on IVs. Surely this would treat the problem.

In fact, Gussie got even sicker still. She went to the emergency vet where she was put in isolation with oxygen & more antibiotics. She could only stay at the emergency vet overnight, as it was agreed she needed around the clock care & monitoring, and they were not equipped to handle such intensive treatment for this little girl.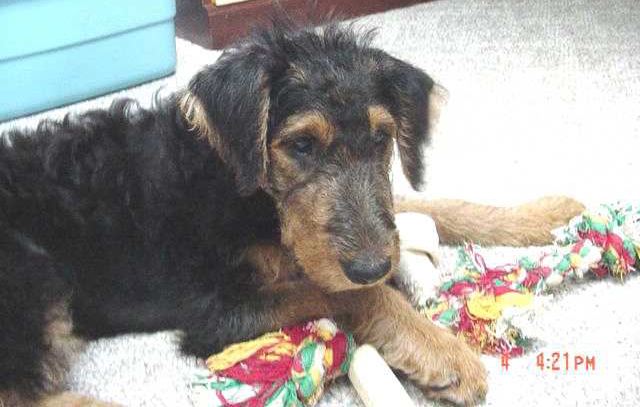 So, IV bags in tow, she was placed in the car and taken to an animal hospital that could handle this crisis. There the x-rays showed stress on her poor tiny little lungs. She was just wasn't perfusing her blood. A swab was done of her lungs to attempt to find a diagnosis, and then a treatment.

This little girl was fading from the arms of her new family; they were heartbroken. They knew she had just started to settle in with them after a rough start to her short life. She recognized them when they would come to the hospital to see her, but was so confused about what was happening to her. They just kept asking her to fight. They had a wonderful life planned for her. One that was worth fighting for, if she could just hold on until the doctors got an answer. All this trauma and too young to even know her name yet.

At one point her little trachea was closing off. A trachea wash was suggested but she was not strong enough to undergo the procedure. The hose delivering air to her lungs had to be stitched to her little nose to keep it in place. It was literally her lifeline.

After four days of around-the-clock monitoring, antibiotics, oxygen therapy and four sleepless nights by a family who just wanted their beautiful pup back home to play, Gussie began to respond to the antibiotics. She began to eat and things turned around quickly. The battle was won for Gussie's life.

She will need to be on antibiotics for a few months and will need regular lung x-rays for a while, but she finally got to come home.

So many trials for one so young and so determined to fight to stay with her loving family. They didn't give up for one second on Gussie, and she didn't give up on them.

As you can well imagine, the vet bills reflect the need for the around-the-clock care that it took to save this pup.

A donation of any size to help defray the cost of $3,500 Gussie's new owner incurred would be greatly appreciated. We are going to do this through ATRA as Gussie was an ATRA pup. Since ATRA is a 501(c)(3) organization, your donations are tax deductible. You can send us a donation in any of the following ways:

PayPal - user name is aml9848@comcast.net
(ATRA's Treasurer)

VISA, MasterCard, Discover - call 517-546-8303

Checks made out to "ATRA" and sent to:

ATRA
1123 Vesper Road
Ann Arbor, MI 48103

Please indicate that your donation is to help "Gussie"

Donations as of 19 September 2006:

Thank You So Much for anything you can send!

On 14 September, Barb writes:

I just got off the phone with Gussie's Mom, Colleen; Gussie is doing much better. She had Colleen worried because she [Gussie] started to not want to eat. But the vet & Colleen think it is just that she needs three to four small meals a day for awhile 'till she is off the antibiotics and things are totally back to normal.

Colleen said it is so good to see Gussie up running, playing & getting into mischief now, when two weeks ago she thought she was going to lose Gussie. What a blessing. Gussie goes back for an other x-ray of her lungs next week.

On 20 September, Colleen writes:

Yesterday, Gussie had her second x-ray and it came back clear as a bell! The doctors have given her a clean bill of health and she completed her antibiotics this morning.

She is full of life and is just a load of fun & mischief! We are walking and she is doing great on the leash although she is a bit skittish & shy with car noises. She is very tentative around strangers, also. Everyone who meets her just wants to shower her with affection!

We are thrilled that she is healthy; I am getting pictures later today to send.

Thanks everyone!!