Rally - A "special" little rescue Airedale

ATRA Rallies to Help a Paralyzed Puppy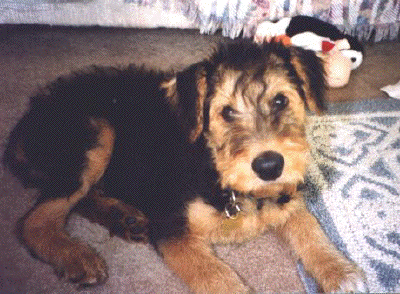 20 February 2000
What a puppy! Just 3 months old.

On Sunday, February 20, 2000, ATRA President Katherine Key took a call from the owner of an Airedale puppy in the Alpena, Michigan area. The owner had gotten a free "crippled" male puppy from a breeder who told her this puppy would adjust or outgrow his problems.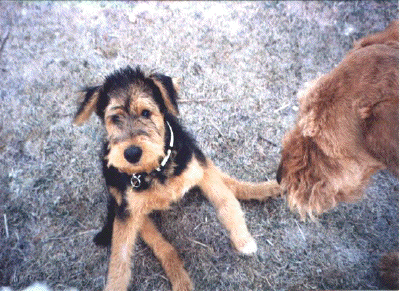 Rally looking up and imploring me not to leave him with the giant Airedale!
Their first meeting in the backyard.

The owner realized the puppy needed medical help and took him to her vet. This vet x-rayed and found three steps in the pup's spine and told the owner he would need surgery. The owner, realizing she could not handle his medical needs, asked ATRA to take him. The very next afternoon, Lynn & Bob O'Shaughnessy donated their time and fuel and flew a small Cessna to Northern Michigan to bring this puppy into the rescue fold.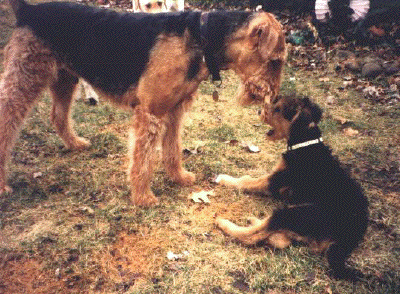 Little Airedale tells Big Airedale to "back off!"
Taken 22 February 2000, when Rally was just three months old.

Volunteer Lynda Dziedzic met the incoming plane and drove the little guy to Waterford, Michigan where he is being fostered by Annette Hall. We dubbed this puppy Rally because of all the wonderful folks who have rallied to his aid.

[On 4 September 2003, Annette Hall crossed the Rainbow Bridge after fighting ovarian cancer for two years. Her In Memoriam and Guest Book pages begin HERE. She will be sorely missed by all the members of ATRA, and her many two- and four-legged friends.]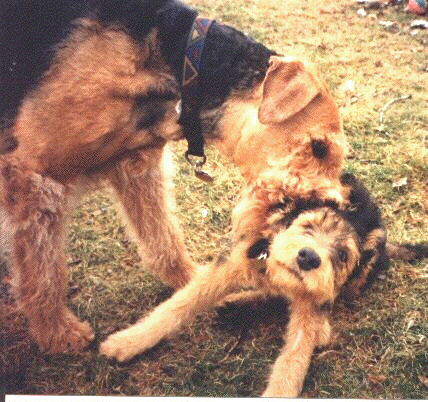 Dr. Hoover does chiropractic adjustment.
While this looks painful, it was all in play - Rally learned the big Airedale, Hoover, is all bluff!