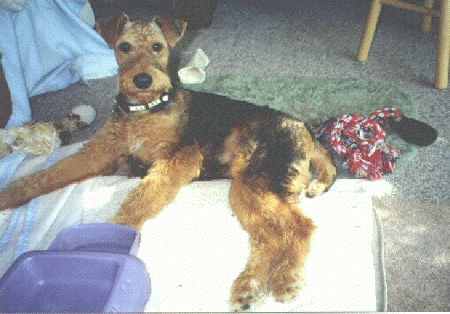 Here's Rally's corner of the world - he has pads and pee-pee blankies under him . . . water and an abundance of toys within crawling distance. He also has a nice view out the patio doors down to the lake - as if dogfosters notice things like that! Mostly he has full time company in the housedogs and kitty, which pleases him.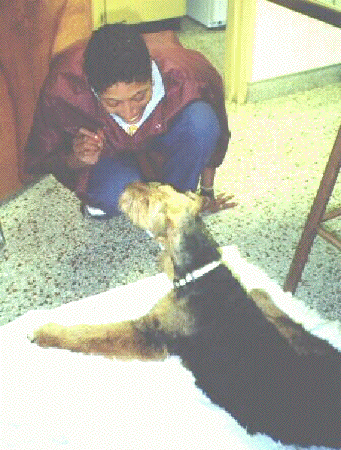 Here's Rally with CoCo, his favorite vet tech at Davison Animal Hospital. Rally really looks forward to his twice-weekly visits. CoCo pumps him up with all her sweet talk! (which makes Rally leak lots of pee all over the vet's office!!!).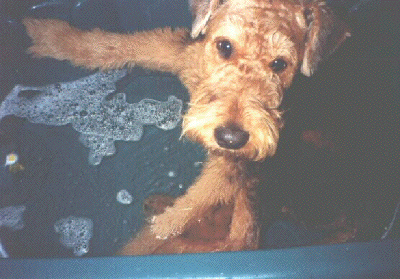 Rally never really learned to love the water but he was good about taking multiple baths every day. You see . . . with his poor bladder control Rally got quite smelly and had several medicated baths every day. He always gave kisses as he was carried to the tub and then thoroughly enjoyed being dried off and brushed after the bath. He's pictured here in the blue tub rescue bought for him, making Tiny Bubbles.

Rally also was pushed down to the lake in his stroller and carried out into deep water for swim therapy. He really preferred to wallow around in shallow waters and roll in the sand where there was goose poop! Rally was very typical in his 'puppiness' and extremely sharp mentally.

Rally is hooked to a very tiny needles connected by wires to a small electrical charger during acupuncture treatments. He usually has around 12 needles total - down his spine and on both hips and back hocks. He can be seen grinning up at the vet - this treatment was not in the least painful and he enjoyed all the hands-on attention. The vets had very upbeat attitudes in spite of not seeing any gains from the acupuncture therapy. Rally's foster mom decided this was the best form of canine socialization and obedience for this paralyzed pup and gladly made the three-hour trip twice each week for over two months.

Rally never did benefit physically from the treatments but it was a special event he looked forward to and therefore was not a waste of time or money. The treatments were finished near the end of May. As opposed to seeing improvements in mobility, there was less and less that Rally could do for himself as he grew.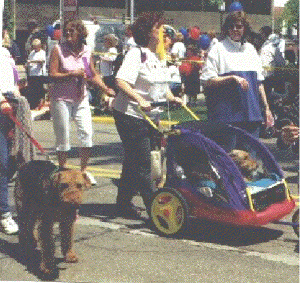 Rally was a happy guy when he got to represent ATRA in a big parade in Birmingham, Michigan on the third weekend in May. After being strolled up the boulevard alongside 70 plus Airedales, he attended a big picnic in a shady backyard where he was the star attraction.