On 9 January 2005, Christine writes:

Because of the generosity of ticket buyers, we raised $1088.79 toward Dolly's surgery and post-surgical care. Dolly continues to improve each day.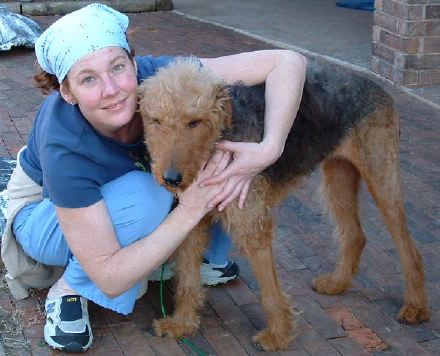 Jan writes:

Thanks again for your support. I will take a pic of Dolly this weekend. She is progressing well; we head back to OSU for some radiographs in two weeks.

She will be an escape artist. She slipped out of her Martindale; a 14" may be too big - need a smaller size, and thankfully she was in the garage and the doors were closed. She is a barker and is very alert. Haven't received any kisses yet; before I put her down for the night I give her a long petting session. Seems to calm her and gets her ready for bed.

On 23 January, Jan writes:

I took Dolly in for her one-month checkup and everything is fine. She can stop using the sling, unless it is icy outside. She can gradually increase her activity; no running or jumping. Docs recommend grooming in the third month of recovery. She gained nine pounds and now weighs 48 pounds; needs only to add five more. If she stayed her weight now, it would not be bad. I will cut her food back by half a cup per feeding. She wants to run somewhere. It must be her youth; No kisses yet.

On 21 February, Jan writes:

Dolly weighs approximately ten pounds more than her 37 pounds when she came into rescue. She continues to be a shy girl; a behaviorist friend said that she is probably in a shell. She recommended an adult home, quiet, possibly with older children. She needs socialization, is frightened of thunder and loud sounds. She still pees like a male, and is a good barker and watch dog.