"He also had to be neutered before they would release him to me. He was so very skinny it worried me and when he couldn't hold down even water today, I took him in to my vet. We have named him Bow (for Christmas - I know I should spell it Beau but Nah . . .) Anyway, he is eight years old. He has pancreatitis and will have to be on I.V.s for the next two days at least. I felt so bad leaving him there after 'saving' him from the shelter (so it is REAL IMPORTANT that he gets well and gets to come home to a safe and kind place. He has lived a hard life - you can tell by how cowed he is. All the Zen for Bow will be greatly appreciated!

"Rusty and crew, who learned that ham was the number one cause of pancreatitis today - never knew that."

On 31 December, Rusty writes: "I have the fine boy home with me now. He is a different dog. He had had very little nutrition since he was picked up on 18 December - no wonder he was so very skinny and barely alive."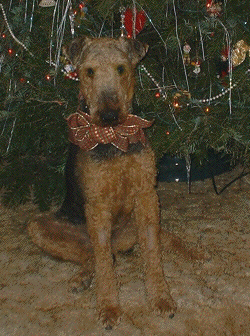 On 31 December, Rusty writes: "I couldn't resist putting a bow on him. He still is skin and bones and it will take a long while for him to gain the weight back but he truly did look a lot better (and feel a lot better) when we brought him home tonight. If I didn't know better I would think he belonged to some homeless person. The house thing is totally alien to him. He shies from your hand above his head but will come to you for pats. He walks fine on a leash and sits when told. He even picked up a toy and ran with it a little bit ago. Sad thing he is right now."

On 5 January 2002, Rusty writes: "Bow hasn't a clue about furniture. Is that possible for a 'dale?? He walks by the others on their couch or chair, and looks at them. He walks around and finds a spot on the floor to lie on. He doesn't seem to even want to roam freely - I'm sure we'll get that one to change. He becomes 'alive' when on the leash. He is starting to gain weight here and there.

"He seems to have adopted my husband. He lies by his computer chair and when Bruce left last night, he curled up at the door and waited for him to come back. We only have three more days on meds and then maybe he won't dislike me so much (as I'm the one giving him those nasty pills).'He has been on a mixture of a 'low residue' food and the regular dry food and hasn't had an episode of vomiting since he has been home from the vet's - that's a GREAT thing& I figure he'll be 'good to go' to a forever home in about 30 days.

"So Bow, the Christmas Airedale, has life to look forward to& and he wishes to thank everyone for donating to Rescue as he couldn't have been saved without the help from National's fund!"