Except for a couple of abnormalities, his bloodwork looks good,
and he does not have heartworms. He does have a kidney infection;
his liver level is high, but that could be the result of his starvation.
They will check that again, along with another urinalysis,
in a few days after he's been on medication.
He is also anemic. They are feeding him several small meals
per day and he has already gained three pounds!
Dr. Kattman estimates his normal weight should be about 70 pounds.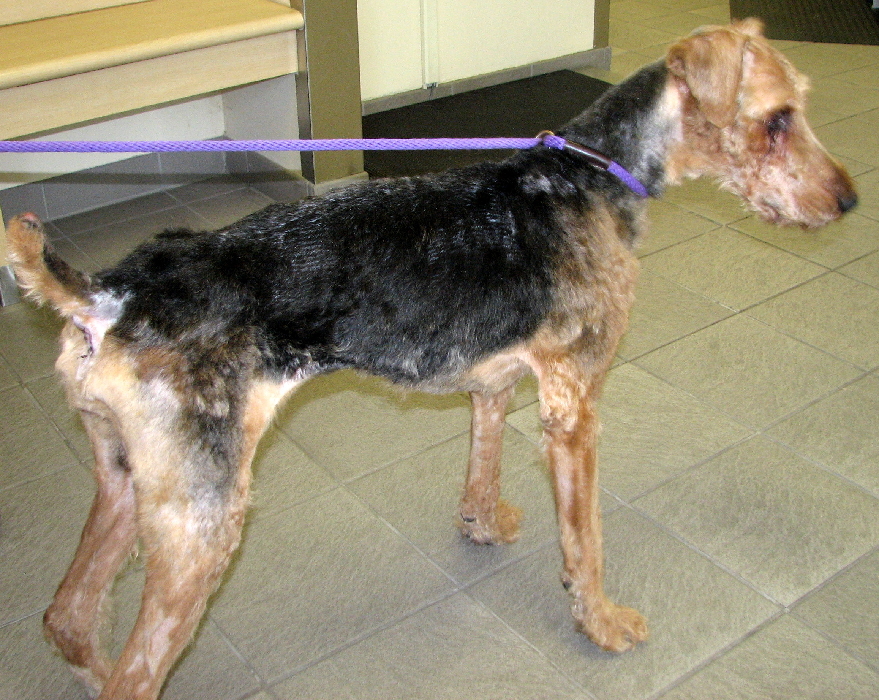 17 September 2011

Amy Waters & Elizabeth Wheeler, two ATRA volunteers,
have been to visit him; they tell me he is such a loving & friendly boy.
They took him outside for some fresh air & sunshine this
afternoon and he really seemed to enjoy it.
Amy says his hair is falling out (from his not having had
any nutrition for so long, and he moans when he sits down
because he is sitting right on his hip bones that have only skin over them.
It must be painful for him, even with all the padding
of blankets for him to sit and lie on.
Despite it all he is a happy boy who has so much love in
his eyes . . . he seems grateful to be alive.

He is going to be hospitalized for several days, possibly weeks,
and will then need to be neutered and have the eye surgery.
Any donations to help with the expenses for this
exceptional Airedale would be greatly appreciated.

---

JUDY HUDGENS:
God bless you for what you have done for Leo. He is a beautiful Airedale and with a little weight on him he will do fine. I am sure that with all the help & love given to Leo, he will be a great dog. My best to you and all of the people who have helped Leo.


NEAL SKRENES:
It is a sad story, but an encouraging ending. I know he'll find a great forever home.