On 9 May, Deb Jones writes:

He went to his new home last weekend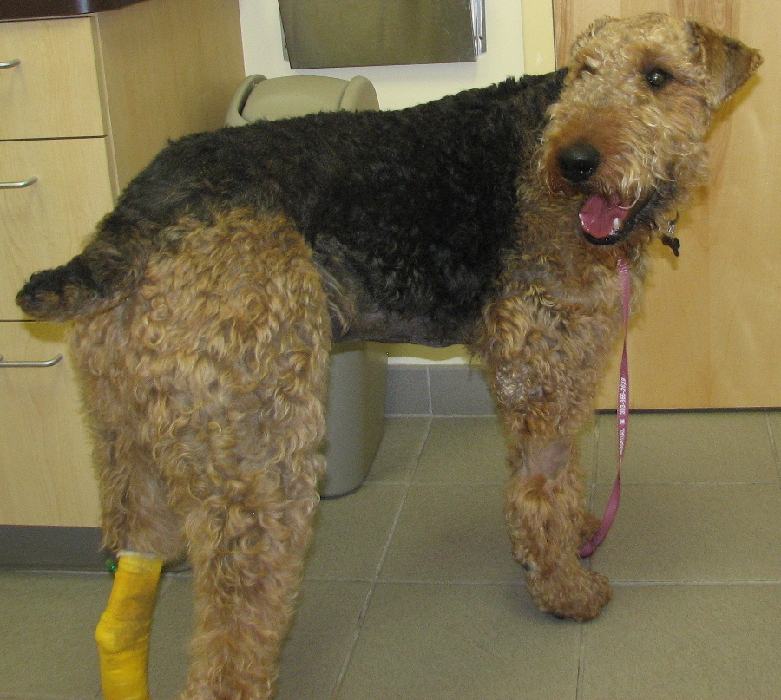 Priscilla Lundblad writes:

I am writing to give an update to you on Mac. He is loving life with the children! Some of the neighbor kids are also coming over to his new home because the word is out in the neighborhood that playing with him is so much fun! His new mom is spoiling him and his new dad is trying to keep her from overindulging Mac too much, but he does his share of it, too!

I received the results of his blood profile from the veterinary hospital and everything looked great. The vet told me Mac is as as healthy on the inside as he is on the outside.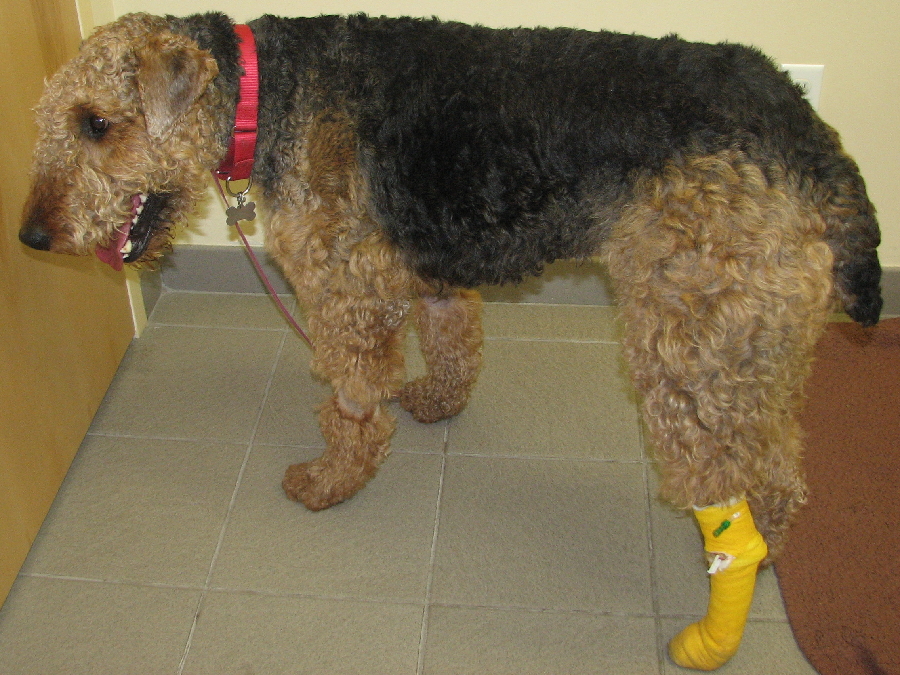 On 10 July, Priscilla writes:

A LOT has gone on with Mac since he went to his 'foster to adopt home' here in Colorado. That's why I've delayed sending an update. It's been an ongoing saga, but here goes:

Mac settled in well with his new family and they had decided to adopt him (I began to write an update), when I received a call from his new dad telling me Mac was acting lethargic and not eating or drinking. I told him to take him to the vet immediately, where they discovered (after an ultrasound) that he had a large object lodged in his large intestine. He had to have emergency surgery because the intestine had ruptured and was leaking out. They removed another foot of his intestine. As it turned out, it was a sock, but not a sock that belonged to his new family.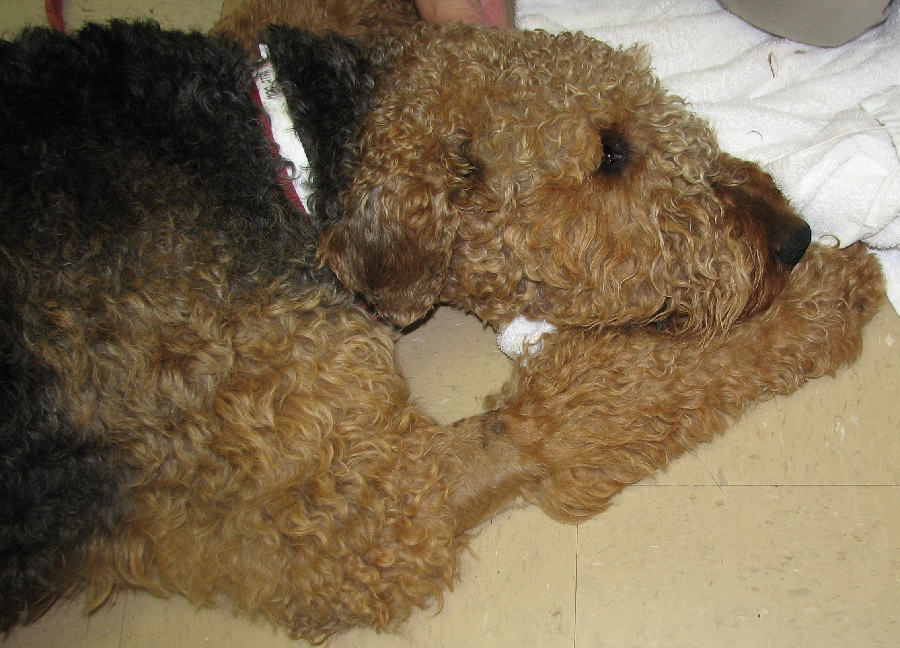 OOOOOHHHH, MY ACHING TUMMY . . .

He was then home for two weeks and making nice progress when he started with the same symptoms again. They took him to the vet and after another ultrasound it was discovered he had a new blockage but not close to where the last one had been located. So surgery number two. At least this one was not as serious because the sock and shoelace hadn't been in there very long.

His family said that this sock and shoelace did not belong to them either. They have been remarkably committed to him and have been most cautious about leaving nothing for him to ingest since he first went to live with him.

As it turned out, there is a common fence between their backyard and their neighbor, who has a Lab that loves to dig holes under the fence and push his toys and balls under it. The family recently remembered that the neighbor gives their Lab old socks tied with a shoelace or knotted for him to play with . . . so now we think perhaps Mac received both of the socks from the Lab next door!

As I said, this family is remarkable and, after talking to the surgeon, they took his advice and purchased a special muzzle for Mac that he can drink with, but not eat.

The first episode happened when I was writing up the permanent placement contract, so it was delayed, and then I scheduled another visit to sign the adoption papers and then episode two. So they still have not adopted him and all of his expenses have been charged to ATRA. They still want to adopt but also want to make certain that his sock eating can be managed for his sake.

I visited Mac and his home last week and realized two things: Mac's new family adores him, but are so frightened that he will eat another cloth object that he is restricted to his muzzle, his long lead line attached to the sofa leg or his crate. It was incredibly sad to see and I tactfully told them this was not going to work and I think they had already realized the same thing. So with many tears from his foster family, Mac came back into rescue.

It is so unfortunate because he is just a sweet, sweet boy. He was great with the children and a loyal companion to the parents. It was as perfect as a placement could be except for his sock-eating issues.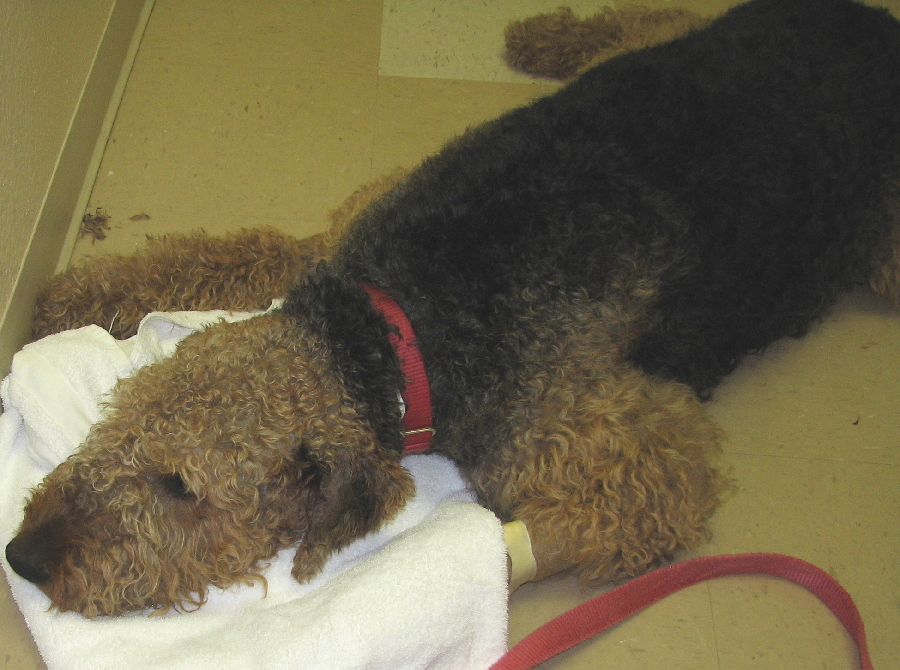 Mac is now in a boarding facility. I felt he would be the safest there. I had a long talk with the manager/trainer and she told me she thought it was most helpful that he was out playing with the daycare dogs everyday as he was unsocialized regarding other dogs when he first came in and it appeared he had never received any training. I found the same thing to be true when I took him to the vet.

So after almost $10,000. in surgery bills and now boarding & training expenses, we are hoping that those of you who read about Mac earlier will be able to help us with his expenses. Any little bit you can afford will help defray this very large debt.

After he has completed his training; I will be looking for a home where he can get LOTS of exercise, another dog to play with and a very neat home with adults only.

For more information, contact Priscilla Lundblad HERE

DONATE TO MAC'S CARE WITH PAYPAL, CHECK OR CREDIT CARD HERE