He loved his cart rides so much. We would stroll him through the neighbourhood enduring laughter & comments, but always told everyone that my baby's looks came from my husband's side of the family. When someone would make fun, I would tell Lance that everyone was jealous because he had a better parka & nicer stroller than the skin-kids did. Sure, everyone thought I was warped, but we had a lot of fun. It did not take long for Lance to capture the neighbours' hearts; they would run out of their houses as he passed just to talk to him and give him a snuggle while we waited patiently. Sometimes, if we were really lucky, they even acknowledged that Cam & I were there.

At the park we would lift him out of his cart and set him on the ground facing an open area with no obstructions. He would immediately take off in a straight line, so determined, past people, past dogs, not looking back, and not stopping until he got tired and sat down. He'd sit there facing the same direction for a few minutes, then he'd turn his head to signal that it was time for us to bring his chariot, like we were a valet service.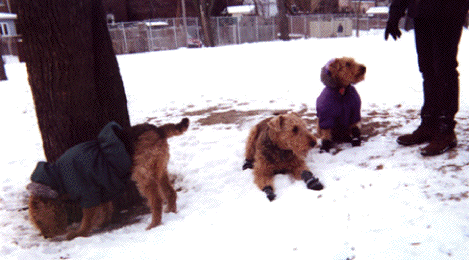 In better days when Lance had more energy, he would lie on the floor and bang his paw down to get our attention. Then we would play with him by batting the floor in front of him with our hand. He would get excited and bat the floor and so it went on until he got so excited he fell over on his side then he'd flop back & forth, back & forth, all the while wagging his tail & smiling, proud of himself for teaching his Mom & Dad a new trick.

He was the happiest little boy, right to the end. He still had a lot of Airedale spirit left in him, but his body was failing rapidly. He couldn't eat, he could barely stand up and his blood pressure was very low. I am very selfish and did not want to lose him, but we had no choice but to help him over the Rainbow Bridge.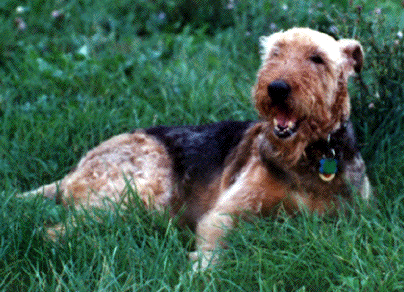 Lance's bravery touched a lot of people, but we hope that his legacy is that people will remember his story and not turn away from a senior dog or one with special needs. You don't have to be extraordinary to care for and love a dog like Lance; believe me, Cam & I are quite ordinary and far from being saints! You also don't need to change your lifestyle, but your lives will be changed and you will be richer. Lance did not need 24-hour nursing; all he needed was a forever home & love, just like every other dog.

A short time after Lance crossed the Rainbow Bridge, Lana & Cam drove to New York to donate Lance's cart to Moses Sprankle (@RB). You can read his story HERE.