On 7 March 2003, Christine Votel-Sheffer writes to adtlovershome list members:

I got a call that there is a Rescue Airedale 30 minutes from me, can I do the foster? Well, Bristol just had surgery on her ear, CeCe is coming into season, the outdoor separate run is full of snow, it is cold, I am tired . . . my first thought was this is not a good time. Tim comes home and says, "Christine, there is never a good time to get a foster dog, only a right time."

We agree to take the dog.

I call the woman who has the dog for more information. She adopted the dog and brought it home. Her older Brittany mix went after the Airedale. As Airedales are known for, Trudy Adeire did not back down. There was a fight. The dog cannot stay. They take her back to animal control. Meanwhile the woman is worrying about the fate of this 'dale. She had never heard of rescue but she found ATCA rescue on the Internet. (Good job ,web-keepers!) She will readopt the dog and bring it to me. Animal control is cooperative and wants to work with NY Rescue.

We set up a drop off time for 4:30 Thursday. At 4:20 they are in my driveway.

Trudy's paperwork from animal control says she was picked up "recumbent and hypothermic. Unable to walk.' She was infested with fleas and started on Advantage, but not given a bath.

She was with us 20 minutes before we packed her off to the vet. Two hotspots, some shots, a laceration on her neck treated and a good checking over later we were back in the car. A car she could not jump into herself.

Into the house, to find she does not know how to do stairs. Into the bathtub for what may have been her first bath. I could not watch, but Tim reports the yuck and dried blood ran off her for two shampoos.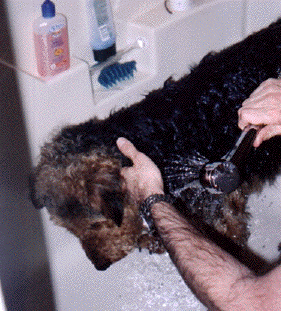 Trudi gets her first bath

She got out of the tub and actually wagged her tail and hopped around a bit. I would not exactly call it 'play'.

Being ten pounds underweight, she got another special meal complete with meat. She was frightened of the bowl. She did not know how to eat a dog biscuit; instead she crumbled it and licked it off the floor. (I had the vet check her teeth and they look good.)

She slept soundly in her crate right next to my bed with Bristol lying right against the side of the crate. She had a warm bed, good food, and a friend. Is this the first time?

Tim was right. There might not be a good time to foster, but this was certainly the right time.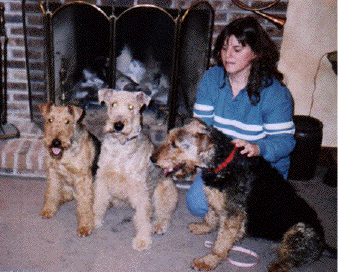 Trudi with her foster mom, Christine and CeCe & Bristol

The next day, Christine continues: Trudy, Day 2

Trudy Adeire becomes more of a dear each day.

Things we now know about her:

1.  I came home and put her in the run. She did her business and I was pleased. Let her back in and she promptly peed on the oriental rug in the dining room. Why is it always the good rug? Two rolls of paper towels later, I can tell you she is not house trained at all. We are working on it.

2.  She likes Bristol but cannot speak any Airedale language - not even play signs. CeCe is still being introduced on lead and in small doses.

3.  She learned to eat out of the bowl and I did not have to put food on the floor to tempt her. Funny how quickly they learn things like food and cookies. I think she will always need to eat well-separated from other dogs.