And on Sunday, Christine writes: Trudy Goes Home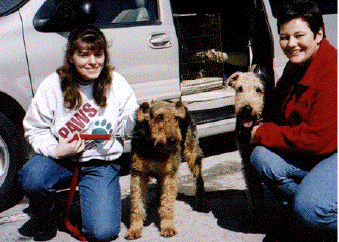 Christine, Trudi, Teddy & Monica Mahn

We just got back from taking Trudi to meet her forever family. She packed up her favorite "baby" and off we went. She got in the car with them and took a peek out the back window. She was smiling. I hope she didn't see me crying.

Healing her, grooming her, and loving her are all easier than leaving her. Even though she has the best forever family in the world. We are already planning to meet them in May for a reunion.

She has arrived safely in her new home and is busy taking over. She does indeed have the Airedale spirit. When she is recovered, I believe there will be one highly energetic Airedale bouncing around.

Everyone send some Zen to Trudy as she continues to heal both her body and soul. She is in a wonderful place to unpack her baggage. She has indeed won the doggie lottery and her new family has also won the jackpot. A win-win situation.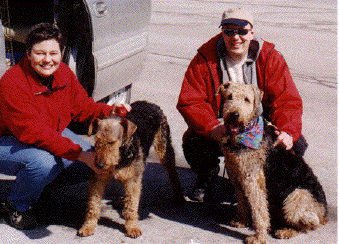 Four makes a family! New family: Monica, Trudi, Tim, Teddy

Tim & Monica Mahn write:

Trudy has now curled up to sleep in Teddy's bed under Teddy's watchful eye. I think he knows that she needs some extra TLC.

Christine is right - we have won the jackpot! This precious Trudi 'dale is already part of our family!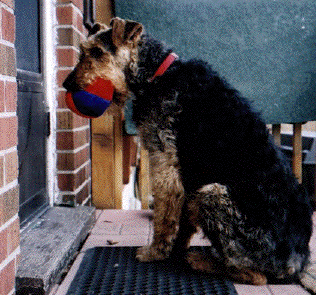 Trudi wanting to take her baby back to her crate where it belongs

On Wednesday comes the news: Mommy Trudi

We took Trudi to see the vet yesterday to have her sutures checked and to establish a relationship at the clinic for her. The vet was extremely pleased and said that her recovery was remarkable so far! He also said that Trudi is experiencing a false pregnancy as a result of the pyometra and the spay. That completely explains the way she's been nesting and mothering her toys (and my slippers)! That also explains her reluctance to leave her crate and her "puppies". The look on her face when I tossed a squeaky toy for Teddy . . . she had to beat him to it and "save her baby"! Needless to say, we won't be doing that again for a while.

This afternoon Teddy was walking around with a squeaky "hamburger" . . . oh boy, did he get told in no uncertain terms by Trudi! The hamburger is now her newest baby . . . she's carrying it everywhere to protect it from Teddy's jaws.

I keep telling Trudi what a good Mommy she is and how all of her puppies will be all right even if they're not nursing or responding to her licks and nudges. I don't know if she understands but she listens to me as if she does.

The vet assured us that this phase will pass soon enough. Apart from that the vet also said that Trudi was a great dog (but we all already know that!) He has a heart for rescue and can really appreciate what Christine & Tim have done for Trudi.

Trudi has started to greet us with a wagging tail and kissies - what a nice surprise! We had to wait much longer for kissies from Teddy - but then, he's a boy . . .

She hasn't had an accident in the house in over 24 hrs - she's starting to figure out our routine and we're getting better at reading her body language.

And on Sunday, 24 March: Trudi update

Trudi is settling in. Her appetite is increasing and we're hoping that it's an indicator of the waning of her false pregnancy. When Christine handed us a big bucket of food with the amounts that Trudi was being fed I could hardly believe that a dog this small could eat so much. Most of this week we've been glad to see her eat half of what Christine recommended - but the last couple of days she's been almost finishing her whole meal! Teddy's getting less and less leftovers - which won't hurt him any! LOL

When we came home last night from Michigan we were greeted by two blur-wagging tails! Trudi was as happy to see us as Teddy was. I'm sure most of you know what it feels like when your furkid starts to recognise you . . . I just turned to mush.

Trudi is still adopting toys. We're hoping that will pass too and that she'll learn to play with them. Poor Teddy still gets in trouble when he tries to go frolicking off with one of his toys/her babies.

I left Trudi & Teddy loose again last night and they were fine. This morning Trudi met me with bumwagging and bouncykissies. This was much the way that Kodi was and its great to see that "joy of life" in Trudi as well.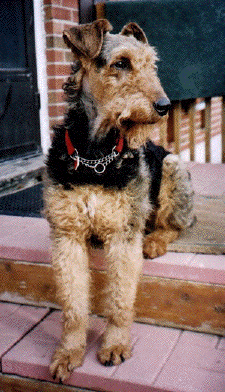 Trudi on the back steps.

On Tuesday, 1 April, Monica writes:

She is such a TREASURE! Little Trudi has started to show some of the same characteristics that I loved so much about Kodi . . . She jumps lightly straight up in front of me with a big grin and a light in her eyes - just all-out happy to be alive!It's such a joy to watch her blossom!

She's recovering very quickly from her health problems. Her new soft hair is growing in nicely, she's gained weight, her step is bouncy and her eyes are bright.

Am so grateful that she's alive and that she's part of our lives!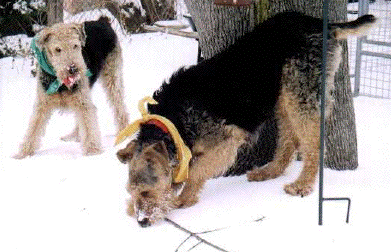 Teddy with a ball playing keep-away, and Trudi pretending to be more interested in the stick just to tease him

On April 4, Monica writes:

We're in the middle of a really awful ice/sleet storm here. Trudi went out this morning and pranced around on the snow/sleet that fell overnight and I swear she was playing with the wind. She was ducking & playbowing & faking left & right . . . she was totally loving it! What a great way to start my day . . .

Trudi on the left, Teddy on the right (and me)