On 13 August 2006, Lydia Ross writes:

This is a request for help. We (NW Airedale Rescue) need a ramp, an XLARGE wire crate and/or money to purchase these items and pay for Meghan's surgery. The items don't need to be new . . .

[Ramp has been donated . . . as has the wire crate. AireZen always welcome!]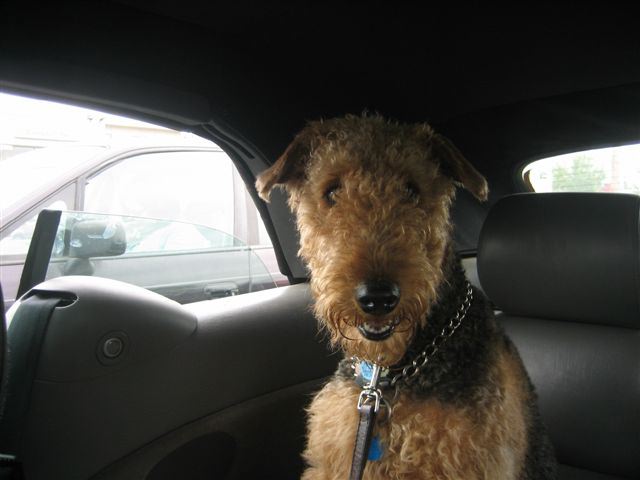 Meghan is a beautiful four-year-old who was was turned in to Washington Airedale Rescue. Sadly, she needs back surgery, which she is going to undergo on August 17. She is in a foster home and they need help in moving her around. That's where the ramp comes in . . . the ramp will be used to help Meghan get in and out of the car post surgery and, also, to go over the top of a short staircase at her foster home. The XLARGE wire crate is needed to keep her still, confined and safe, but allow her room to stretch out after surgery.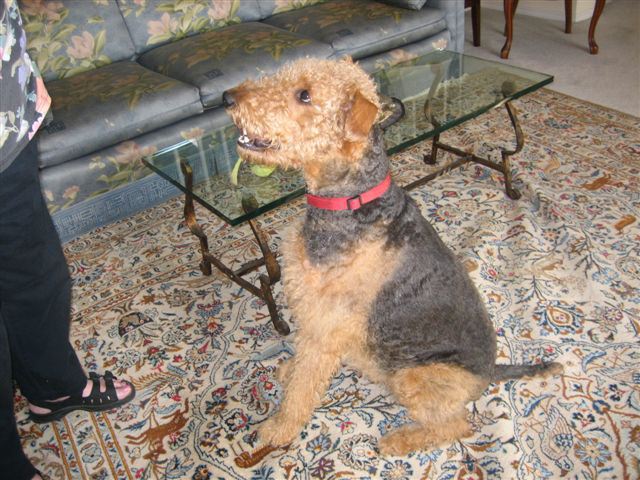 Meghan has what we would know as sciatic pain resulting from a disc compressing the nerves in her lower spine. The vet will go in, remove the disc and place two screws in there. It is, surprisingly, quite a common surgery, with wonderful results.

The problem usually is keeping the dog quiet for two weeks. She will stay at the clinic for two days and then go back to foster care. She has an MRI scheduled for Tuesday, 15 August, to prepare for the surgery.

The technical diagnosis is lumbosacral stenosis. If left untreated, she would eventually become incontinent and unable to get up from a down position. We have been treating her with low-dose prednisone when necessary, [but[ every so often, she can't get up in the morning and whines with pain.

They don't know what causes the problem . . . could be genetic, could be from jumping, twisting, etc. . . . no clue.