"Thunderstorms don't seem to make me upset, but I prefer to be around my foster mom when they come instead of by myself.

"My foster mom has given me a bath and a haircut. She has also cut my toenails and I don't seen to mind. However, I do not like it when she tries to wash the crust off from around my eyes or to clean my ears. I wiggle and try to get away. If I feel any pain at all when I am touched, I just yelp, but I do not bite. It took two to three weeks of being at my foster mom's but I now wag my tail occasionally and will come up to her on my own and give a loving sniff or kiss.

"I love to be outside but my foster mom does not have a fenced yard. I am let out to do my business on a leash. One time I pushed my way through an open door and ran away from my foster home - forgetting that I had to remain quiet for my heartworm treatment. My foster mom had to come looking for me and found me in a neighbor's garage with a big Doberman. I hope I have a fenced yard to play in when I get my permanent home. I have no obedience training. My foster mom has taught me how to sit and give me pills and clean my eyes, but I am not supposed to be exercising, so I can't learn anything else yet.

"There are two methods to train a dog - be firm or be gentle and reassuring. I will need the gentle and reassuring method. If I hear firm words or loud voices, my tail still goes between my legs, my ears go back and I cower. I have responded well to me foster mom's words of praise and a gentle pat on the head when I do something right. I am quite attentive and a quick learner.

"Until I get to know you, I may revert to my shy self when I first come into your home. Please be patient and kind with me. After a few weeks, I am sure we will become fast friends."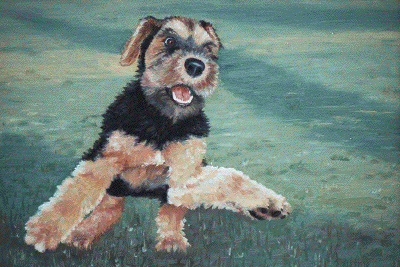 Painting of Dusty ©1996 Lynn O'Shaughnessy. Photo taken in 1991.
Lynn does paintings on commission. Visit HERE for more paintings & information.

---
Lynn writes: "Two different placements were tried for Katy, but it seems that she was depressed. She missed her foster family. After returning from her second placement, her foster parents, Bob & Lynn O'Shaughnessy, decided that Katy would have to look no more for a home. She is back where she belongs and doesn't stop wagging her tail to show how much she appreciates it!"

---
Lynn is now the editor of the ATRA newsletter, AIRE-MAIL, and has become a member of ATUR (Airedale Terrier Underground Railroad), for which she is ready to fly a SpareDale to its Forever Home. And here is Dusty, ready to help!.