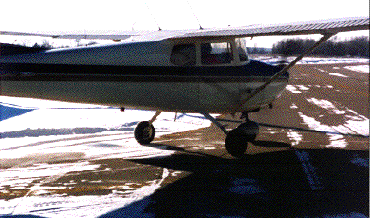 And they're off!!

On 29 January 2000, Gary writes: "A quick note to let you know that Sadie made it home with us about 3 PM yesterday. We had a wonderful visit with Lynn at the airport - thanks again so much for flying Sadie over to us and saving us a nine-plus-hour drive. We really appreciate that a lot.

"Dana cried a lot and I had a lot of tears in my eyes when we first saw Sadie. She is so beautiful. She was really great, letting us approach and pet her, although her tail stayed firmly tucked between her legs.

"We could not get Sadie to go to the bathroom at the airport or drink any water. So we packed up and headed home. When you said she could easily jump into the back of an SUV you were not kidding. Now if only we can teach Gromit & McKenzie to do that. McKenzie used to jump up into the vehicle when we first got her. But then she saw that Gromit got a boost assist and now she needs to be picked up and put into the Cherokee.

"Dana sat in the back seat on the way home to keep Sadie company. Sadie laid down and slept.

"We got McKenzie out in front of our house for first introductions on neutral territory - there was a little tension but it did not go too badly. We then took everyone into our backyard for further introductions. Sadie finally went to the bathroom.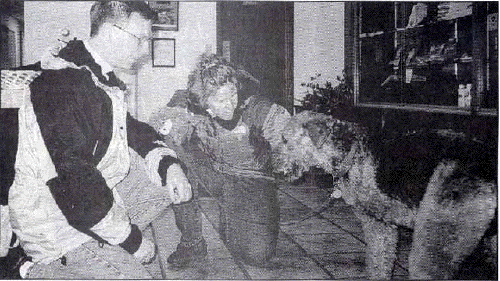 "Later we made dinner. Everyone ate, including Sadie. Sadie is drinking lots of water and going to the bathroom when she sees McKenzie go. First McKenzie goes, then Sadie in about the same spot and then McKenzie again in that same spot. She also pooped last night. Sadie is actually taking treats from our hands (at least the ones she likes).

"Last night her tail only came up when playing outside with Gromit & McKenzie. This morning it was actually up and wagging while playing with Gromit & McKenzie in the house.

"Gromit is in heaven - two playmates - life does not get much better than this.

"Dana led her over to a dog bed in our living room last night and she has gone back to it several times. McKenzie slept in front of dad last night while watching a video, Sadie was on the bed nearby in front of the fireplace, & Gromit was on a dog bed near the front window. We had to turn the fire off, Sadie was really starting to pant in front of it and seemed so comfortable on the bed that we did not want her to have to move.

"When we finally got up and ready to go to bed we went through our evening ritual - 'giving everyone the love'. We each go to each dog in turn and give them some personal attention in the location they are lying before we get ready to go to bed. Sadie & Gromit moved to different dog beds and McKenzie came in making a little Airedale triangle with us in the middle. As I was petting Sadie and telling her how much we love her, she gave me two small licks on the nose. My heart melted. We are all so very happy she seems to be settling in quite well.

"She came into the bedroom last night and went into her crate beautifully. She had to come back out several times and check everything out, but went back in with a simple request.

"This morning she is doing wonderfully as well. She ate with everyone else and drank some water. We all have gone outside several times to play.

"Life is good with the three Airedales. Everyone is getting along wonderfully.

"We will continue to give you both lots of updates.

"Thanks so much for helping to bring another wonderful Airedale into our lives. We love them all so much. They truly are our children and our best friends."