This little mite is the best (worst) countersurfer we've ever seen. but has learned that we would prefer she not so she doesn't. Much. She has also discovered that little dogs who sit nicely during dinner get a treat; little dogs who climb on the table don't. A bright little monkey is our Miss Courtenay.

She seems to like a crate -- happily crates herself when she wants a nap or at bedtime -- so she is now the owner of a wonderful new collapsible crate with a cover that will fit in our RV.

She can gut a talking toy and remove the plastic noise box in five minutes so the talking toys, to Angie's distress, have been put away for now. The ones that no longer talk anyway will undergo sqeakerectomies for safety.

Courtenay plays a splendid game of keep-away but is learning that dogs who come when they are called get yummy treats. In ten days, she has discovered that mom always has a cookie in her pocket and Little Miss C comes running now instead of dashing off in the opposite direction.

Angie on the left, Courtenay in the middle & Saffy, a Montana rescue we placed up here, on the right. [And Maureen in the middle.]

Angie thinks she's kind of cute and puts up with her puppy antics although she gives her THE LOOK quite often, especially when Courtenay walks all over her. The two are becoming inseparable and often tumble about outside, playing happily. Courtenay will come up to Angie in the house and dump a toy on her, hoping to get some action. Sometimes it works but Angie knows that roughhousing normally happens outside. Pifflesqueak thinks Courtenay has been added to the household specifically for her to dominate. Doesn't realize that Courtenay would like nothing better than to curl up with her for a snooze. Poor Squeak -- she'd like that, too, but has no idea her alpha streak gets in the way.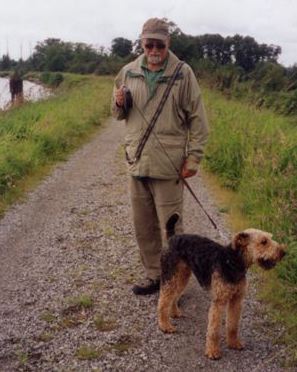 Jim with his new little girl

So, the huge empty space in our hearts that Murphy the Wonder Dog left behind is a lot less empty these days. Courtenay seems to fit in there very nicely. We think Murphy is watching and nodding in approval . . . .