"They" say that "a picture is worth a thousand words", but Maureen's words belie that . . . read for yourself . . . .

In August 2004,Maureen writes:

The incident of the sticky paws occurred while we were on our recent holiday.

My husband [Jim] is passionately fond of maple syrup. We buy it in liter-sized bottles from a big box store. The bottles are made of bullet-proof plastic and look like little brown jug whisky bottles. They have a small handle on the neck and a screw-top opening about an inch in diameter beside the handle.

One morning, we had pancakes with maple syrup for breakfast. After we had finished, I began to clear the table but my husband called me outside to help him for a moment. I went, leaving the table to its own devices.

Back in a few minutes later and checked the table. Nope. All clear. Began to wash dishes. Waaaait a moment! Where's the maple syrup?????????????

Oh no!!!!! Quick search. Ask Angie for help. She shrugs. Pifflesqueak, the tattletale, points righteously.

The maple syrup jug is found in our bed! The handle has been devoured and the screw-top has been chewed off. The Littlest Lunatic is lying on the bed happily licking maple syrup off her paws and furnishings.

The jug is, by some stroke of magic, still upright!

Little Miss C has no idea of how narrow an escape she has just had . . . .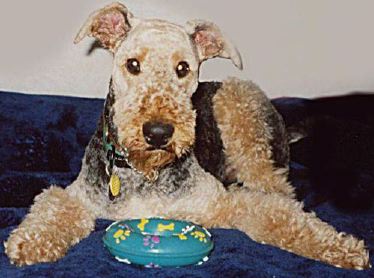 Here is our Murphy lookalike.

---
---
Angie A, Courtenay (aka the "Littlest Lunatic") & Pifflesqueak the Toy Poodle have arrived home from their summer travels. All have survived although, where Courtenay was concerned, it was a very near thing.

Living with three dogs in a fifth wheel for two months, two of them Airedales, one of them horridly busy, very immature and overwhelmingly disobedient, is definitely right up there with hanging by your thumbs as an amusing activity. I threatened innumerable times to make Little Miss C into slippers. Apparently, she didn't believe me (well, who would in all honesty?), but merely wagged her silly tail, grinned and grabbed the dish rag for a frenzied game of keep-away in our 22-foot mobile dwelling! I have lost so many dish rags to the jaws of death that the J-Cloth folks must have turned a healthy profit this quarter.

The holiday was not a stunning success. We encountered a huge number of very bad forest fires and were fairly restricted as to where we could go. Fishing was off as well due to unseasonably hot weather in June. Hubby was disappointed; the girls & I were bored. It was often too hot or too buggy to walk or groom or train outside.

Angie got to attend the Whitehorse, Yukon Airefest and had a whale of a time -- played & played & played! Courtenay, in the end, was left in the RV with Pifflesqueak for company. We judged she wasn't ready for an onslaught of Airedales, no matter how friendly.

Courtenay spent each day happily driving us nuts. When Jim & I went out fishing, she got on Angie's nerves instead. At times, we would return to find we were suddenly wearing poor Little Miss A who would climb pathetically into our arms, bury her head & moan, "Take her away! Please, please, make her into slippers!" And Courtenay would wag her silly tail, grin -- and steal the dish rag!

Travelling with a visually-challenged rescue one has only met several weeks earlier is definitely an interesting, and at times, entertaining experience. Being unable to see exactly what was nearby -- upright, dog, c*t, gopher or grizzly bear -- Little Miss C barked ferociously at EVERYTHING. Most dogs took umbrage. The bear snorted and faded away. A few c*ts had heart attacks and the gopher fled down a hole. A number of uprights snarled at us and wondered why we would have such a troublesome noisy little creature. "It's an Airedale!" we said, as if that explained everything.

By the end of the trip, though, the Littlest Lunatic was starting to settle. She began to learn we were quite able to keep her safe and she barked much less. Instead, she'd wag her silly tail, grin mightily and . . . race off with the dish rag!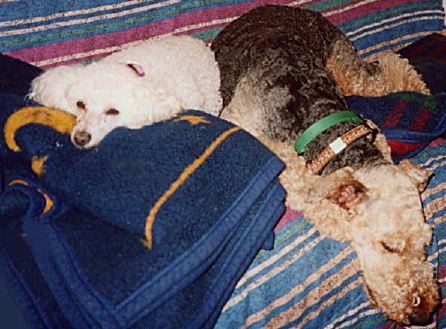 The end of a long hard day of having fun on holidays.

---
---
In September 2004, the saga continues . . . .

Yikes! Whatever did I do to deserve the Littlest Lunatic?

We have a friend whom we have not seen in years coming to say this weekend. In her honor, the house has been tidied (okay, I had to rent a backhoe but it was worth it!), the table set nicely with matching cloth, placemats & napkins in silver holders, the floors washed or vacuumed and the beds tidied. The guest room bed has been defoliated so no Airedale haires remain on the lovely peach-colored spread. The afghan on the living room couch is arranged neatly and pillows are spread around invitingly. All the dog toys have been returned to their baskets. We are awaiting our friend's imminent arrival.

I've been working on the computer to pass the time. Having responded to various messages, I wandered out into the main part of the house. Oh my . . . !!!!

The rugs are at sixes & sevens. There is water all over the kitchen floor. All the pillows on the couches and the beds have been tossed around. There are muddy footprints in the bathtub. A fuzzy technicolor giraffe has been buried in the guest bed which is, of course, covered with bits of Airedale, chewed tissues and, inexplicably, my husband's shorts. The napkins have been removed from the table, elegant silver holders and all, and are stacked neatly in the middle of the Oriental rug which is also crooked, despite being weighed down with some very heavy furniture. The house is awash in toys, rubber balls & rope chew bones.

COURTENAY!!!!!!!!!!!!! I howl. Little Miss C presents herself, looking worried. When she is anxious, she ties her ever-so-mobile ears in a knot behind her head and wrings her large Murphy-like paws. The ears are indeed knotted and the paws are in mid-wring.

Oh rats! I mutter. She looks soooooooo forlorn. She has that "What did I do now, Mom?" expression on her funny Murphy-like little face. I give her a big hug and a cookie and start putting things to rights . . . . How can you get angry with a face like that?