The anecdotes continue . . . this one is from 23 September 2004:

Pay-back time!

Poor Littlest Lunatic! She's having a tough week.

First, Jim disappeared to go fishing and declined to take her along. Littlest Lunatic tried to convey to him in all sorts of ways that she wanted to go -- wagged, jumped up and down, offered kisses, got in his way and finally cried pitifully. Didn't work. He took Angie instead. She then spent the rest of Monday searching dolefully for both of them. Finally, she collapsed in a ragged heap by the front door and looked so miserable it was enough to wring your heart.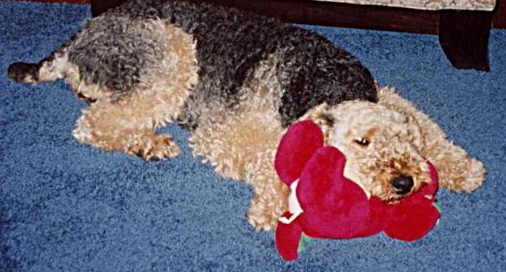 Courtenay cuddles up with her favorite toy, a dragon. Unfortunately, just after this photo was taken, she decapitated the poor thing!

Today, the grandkids were here. Courtenay adores them but an adoring Airedale can be a trifle overwhelming for children who are only three and five. She nearly drove them nuts so I spent most of the day running interference. This involved crating poor Littlest Lunatic -- mind you, accompanied by Kongs filled with peanut butter and treats but still . . . Littlest Lunatic felt she was unjustifiably jailed.

When her howls started to drown out the movie I rented to keep the boys entertained, I supplied her with a juicy big bone and sent her outside. This kept her contented for quite a long time. The last I saw of the bone, it was outside on the lawn and appeared to be liberally coated in mud and grass clippings. I made a mental note to go pick it up but got sidetracked . . . .

A short while ago, I happened into our bedroom for something. There was the Littlest Lunatic, cozily stretched out on the bed, her head resting on my pillow. In her mouth -- well, you've guessed by now! The mud-dripping, slimy, well-gnawed knuckle bone from this morning!!!

Now the Littlest Lunatic has some resource-guarding issues which we are addressing. There are a number of items I can actually remove from her mouth these days. However, instinct whispered that this icky bone was very likely not one of them. It was something about the look in her eye . . . the one that said, 'I'm not having fun this week and it's pay-back time!'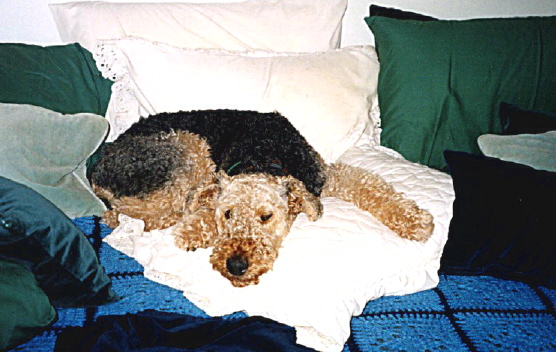 Her Majesty makes herself cosy. Note that she has rearranged every single pillow on our bed to ensure her comfort&33;

And in October 2004,Maureen writes:

And the Osc-aire goes to . . .

. . . (drumroll) (fanfare) the Littlest Lunatic for her sensitive and hilarious portrayal of a starving dog in the animated short movie, Deprived!

Well, that's how it should happen if dogs were to receive Academy Awards for superb acting ability!

This is the script:

On Wednesday, the Littlest Lunatic countersurfed an entire pound of hot dogs that had been set out to thaw as a treat for the grandchildren's lunch. Fortunately, Jim managed to wrest the plastic wrapper away from her just before it disappeared along with the wieners in question.

Thursday found LL suffering from a serious tummy ache. She laid about the house, moaning and groaning and muttering to herself and wasn't too keen on breakfast. Any approaches by Angie or Squeak resulted in sharp barks of the 'go mind your own business' variety. LL burrowed into our duvet and refused to be tempted out for any reason. Sensibly, we let sleeping dogs lie and went about our business. After all, the forty-pound Lunatic had consumed enough fat, dubious meat and nitrates to require an entire large family be detoxed for a week.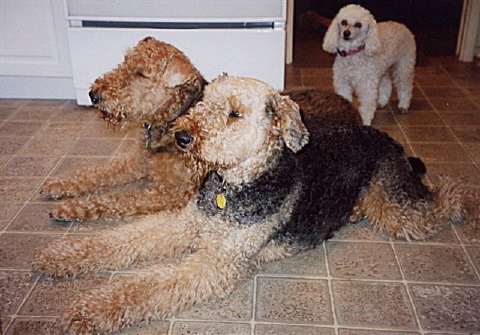 Good friends waiting patiently for supper with Pifflesqueak dancing in the background.

Along comes 6 o'clock and LL appears, apparently looking for dinner with the other grrrrrls. Nope, says I, you've already eaten enough food in the past 24 hours to keep you going until Saturday. Puleeze? she begged. Are you really hungry? I ask. Dumb question. LL is always 'really hungry.' She wags her silly tail, grins mightily and grabs for the dishrag which I snatch out of reach just in time. Well . . . I say, maybe just a little dinner . . . . She wags harder and leaps for the dish rag. Okay. She's feeling better but, still, I don't think she should have too much to eat so I reduce her portion substantially.

Hand out the dinner bowls and watch as the food vanishes in seconds.

Angie & Squeak trot off for a postprandial nap. LL stands and looks piteously at me. I stare back stonily. You've had enough, I state firmly.

The Littlest Lunatic flops to her belly in front of the food bowl and makes huge starving-child eyes at me. Uh-uh, I say. You chose to eat the hot dogs. No more dinner.

LL wraps her front paws around her bowl and begins pathetically licking the empty dish, all the while watching me out of the corner of her eye. I ignore her.

Next she busily and very obviously cleans the outside of the bowl and looks up hopefully. By now, both my husband & I are chortling with laughter. Poor LL sniffs sadly and commences to lick the floor around the dish . . . .

And so it went until, tired of watching her uprights roll about on the floor laughing their heads off, the Littlest Lunatic finally stalked off. The last we saw of her for a very long while was a stiff little tail, vibrating slightly in indignation, disappearing down the stairs . . . .

Clearly, a great performance, even for an ever-so-dramatic Airedale!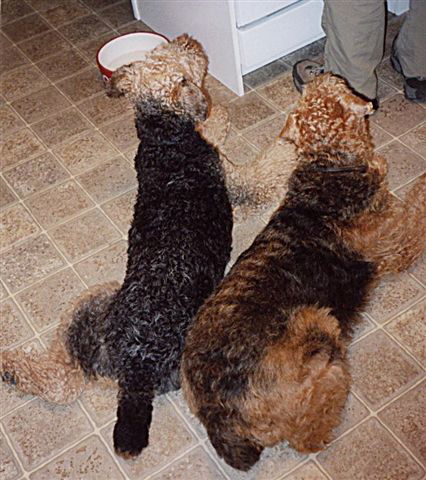 Where's dinner, dad? (Is this what they mean when they say two dogs are such good friends they are joined at the hip?)