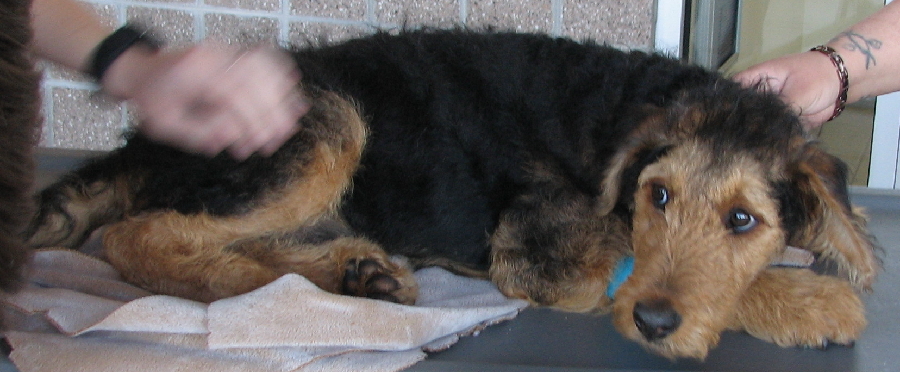 Priscilla Lundblad of ATRA writes:

I took in a four-month-old male Airedale today named Scout. He is an adorable little boy who was hit by a car two days ago. He has serious injuries to his left hip and a hairline fracture in his right hip and is in an incredible amount of pain. His family took him to their vet following the accident to have him euthanized and even after hearing that ATRA would take him and have the surgery done to save his life, they still wanted to put him to sleep. It took a lot of convincing on their vet's part to finally convince them to surrender their dog to ATRA.

He is presently at Alameda East Veterinary hospital in Denver and was awaiting surgery tomorrow morning. However, the hospital has found out through testing that he is severely anemic and will not be able to go to surgery until the condition improves. He has received two blood transfusions this evening and hopefully he will be well enough to have the surgery as planned tomorrow.

Amy Waters, one of our volunteers, went into the hospital to see him where he is in the ICU. She told me he looks so sad and is connected to I.V.s and a catheter. She said she felt like just scooping him up and taking him home. Fortunately Amy lives about a mile from the hospital so she will be a regular visitor to boost the morale of this little guy.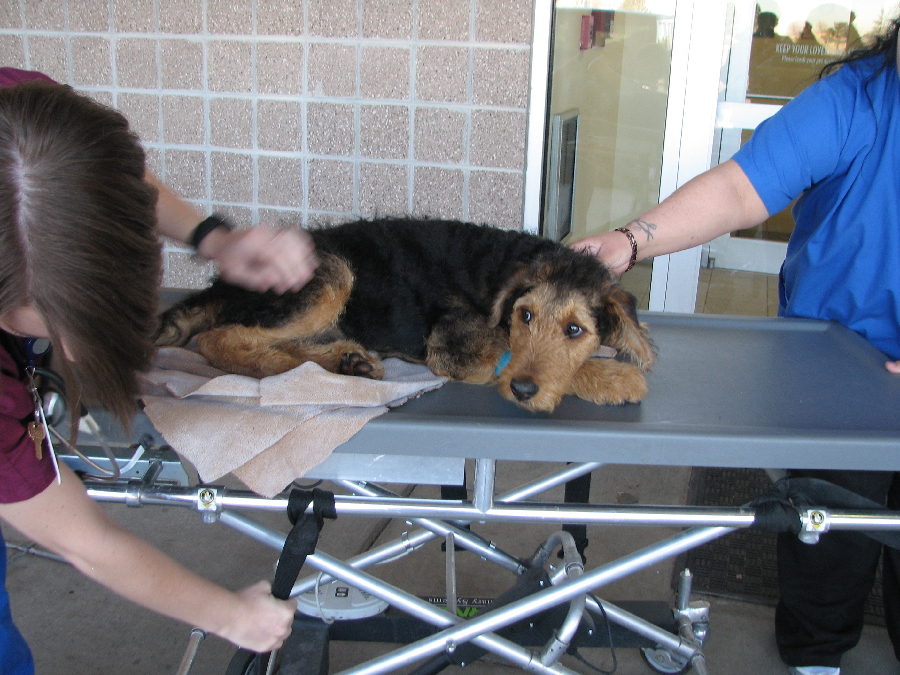 We are asking for your thoughts & prayers for Scout that he will have a successful surgery tomorrow and a good recovery. As the surgical procedure he is going to have is costly, we would also greatly appreciate your donations to help defray some of the expenses that will be incurred to help this sweet boy.

Priscilla adds on Wednesday morning:

I talked to the veterinarian this morning and Scout is having his third blood transfusion this morning prior to going into surgery at noon today. He also told me that Scout's condition is more stable this morning.

He told me the anemia is not uncommon in a dog who has been severely injured, i.e. hit by a car, etc., as they sometimes bleed out into their organs and their anemic condition is a result of that.