By 2000, Moses was barely walking to go outside to the bathroom and his hearing was gone. He developed a tumor on his front foot and part of the foot was amputated. All this endeared him to us even more. Moses was needing help more and more. leaving us little time for the continuous flow of foster Airedales. We had to carry him now and he was no lightweight at 75 pounds! But he was happy for whatever he had and still wanted to play with any Airedale puppy that would play 'bitey-face' with him.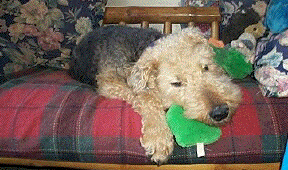 Too much party for Moses!

Cam & Lana MacInnes of Toronto had just lost their beloved special needs Airedale, Lance (whose story can be read HERE). They had purchased a really cool buggy to wheel Lance around in during his last two years. Their generous hearts wanted Moses now to use this buggy and they drove to New York where we picked up the new "Moey chariot".

Tooling around the cities and parks with an Airedale in a buggy sure gets lots of attention. Better yet, it provided us the opportunity to spread the word of Airedale Rescue and the joys of a senior fuzzy one. This was so much fun!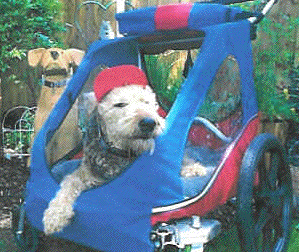 By July 2003, our household consisted of a 10-year-old Airedale, a 12-year-old Airedale and Moses, who we think was close to 16 years old by now! "The Geriatric Home for Wayward Airedales" was soon the title bestowed on us.

Moses developed 'congestive heart failure' and we knew his Rainbow End was not far away; by August 4, he was gone. Once again, he was free of his disabling body and continued on to show that the Airedale spirit wins every time! Now as we continue on with our own senior Airedales, we only take the senior kids to foster. as their never-ending love reminds us of Moses.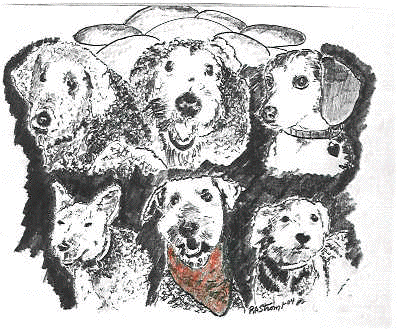 The Sprankle-Brighenti ATRA Rescue Kids
Top: Sadie - Moses (he's in the clouds) - Millie-Moe
Bottom: Stoney - Jake - Shelby

Artist:Richard Strom, Canton, Ohio