Her first diagnosis was in May 2010, and was called Panosteitis.

When she was released to Airedale rescue she didn't present any issues for two weeks. She first started with a slight limp on her right shoulder. I had never experienced Panosteitis, so I spoke with several members of our rescue team who have and did research on the internet.

A home from NEAR (NEW ENGLAND AIREDALE RESCUE) became available. I spoke with the potential new home for hours regarding Thistle, her potential condition and her training accomplishments.

I sent all the vet records I had from her first vet and x-rays from her shoulder done by my vet. When the forever family took her to their vet for a wellness check, he scanned her spine & joints and discovered she needed right hip FHO surgery.

(FHO is Femoral Head Ostectomy, which is explained HERE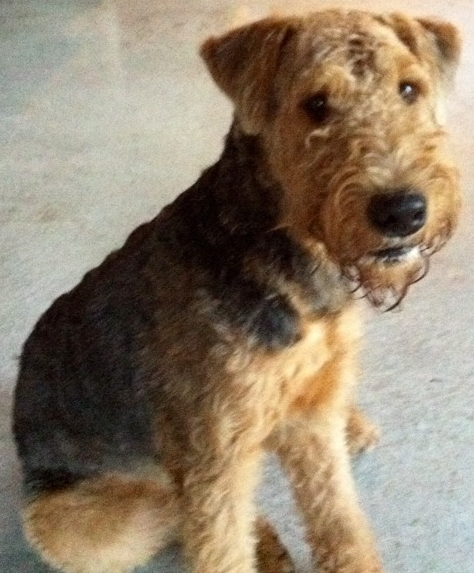 FosterDad Hugh Mohr writes:

We find that Thistle has a dislocated right hip, or more precisely, a femur head that cannot stay seated in her hip socket. Normally, there is a ligament attaching the socket and the femur head that prevents such movement, which is either compromised or missing, in this case.

The Prednisone and some other meds most likely masked the actual situation.

That is, when Thistle is putting weight on her right hip hind quarter, her front shoulder dips to compensate for the limited weight that the hip is carrying. The result is the appearance of a limp emanating from her front left shoulder. However, this is not actually the case.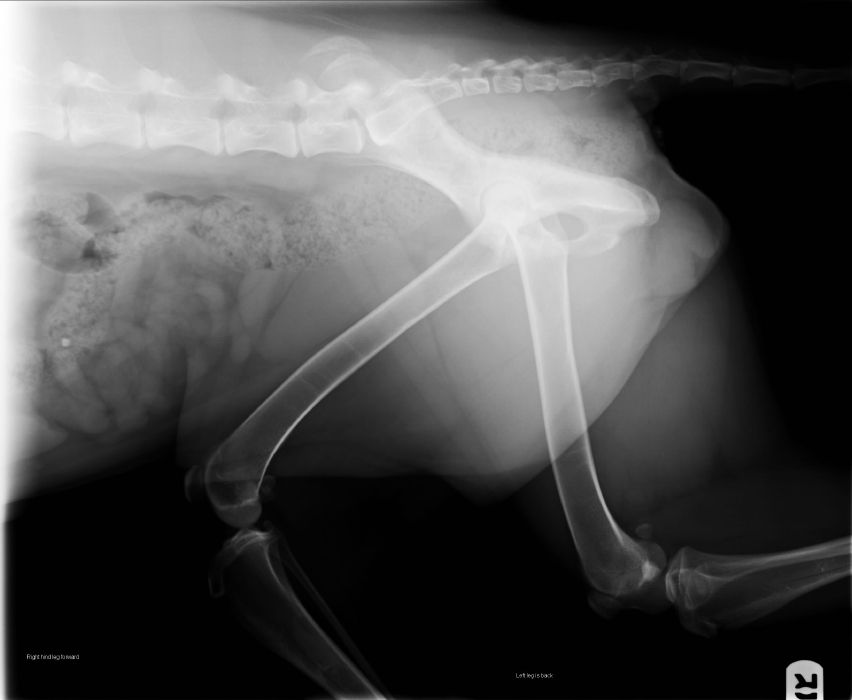 The pain medication, begun today, is allowing some weight to be shifted to the dislocated hip, resulting in the shoulder dip action. The quad muscles of the right hind leg are atrophied, attesting to her favoring of the leg, to keep weight off of the malfunctioning joint.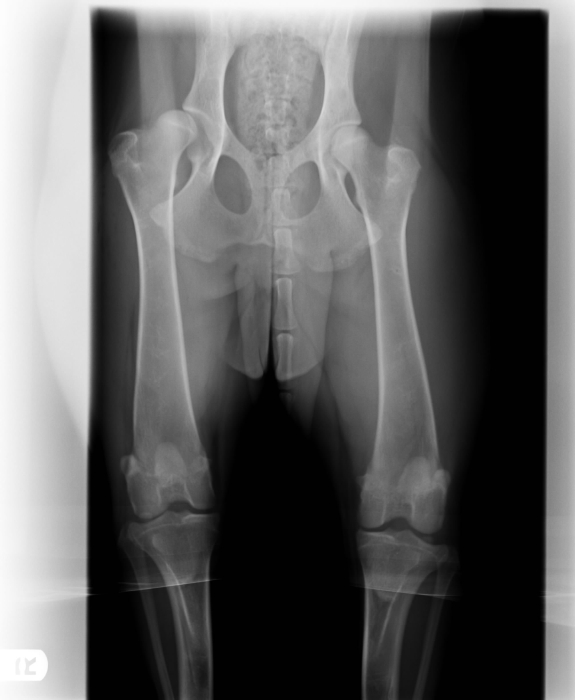 X-rays were taken on 11 November 2011

She remains very happy, on three legs or four. She was greeted & welcomed by more well-wishing friends today; loves & trusts Dr. Cahill; had special visitors here at the house, and has been "aire-chomping" several times throughout the day.

We believe that matters are well in hand, at this time.

Dr. Cahill writes, in regard to the x-rays:

Today was very helpful. We got excellent x-rays on Thistle's hind end. The films clearly show that the condition of her right hip has worsened since her films this past May. Also, although her left hip is in decent shape on the x-rays, we are able to subluxate that hip out of position transiently with her sedated. This does not mean she will have an issue with it moving forward, but it does imply less orthopedic stability than normal.

Barbara Curtiss, President of NEAR, writes:

My experience is that the FHO is highly successful, even if both hips are done. It should cost about $2000 for each hip. The recuperation requires some physical therapy and quiet time, no steps or jumping off the bed, etc. for a while. Depending on the actual problem, there are several surgical techniques, but I think the FHO is the least expensive.

I have known several dogs to live normal (okay, not agility competers) and full lives. The most inspirational of all is Rusty who had an FHO on one hip when he was two years old. He did fine. When he was ten he developed cancer in the other hip and had to have that leg completely amputated. Thus, from ten to fourteen, Rusty lived with one rear leg and that leg had no hip joint at all.

Lisa Ashton adds:

Thistle has blossomed from having just a tiny bit of manners
to becoming the most eager, smart, loving, curious,
sweet Airedale I've enjoyed working with.