Then Evie writes:

Marilyn has a foster home in Utah ready and waiting! The foster mom Nicole has a forever home already ready and waiting for some combination of the three, but I'm not sure what. Things are moving fast!

And a little later . . .

I just heard from the Tulsa Humane Society person who is Marilyn's contact for the mom and two baby 'Dales. She's got them out of the shelter at her house, waiting to hear from Marilyn what the next move will be! Oh, I forgot to ask her, but it sounds like maybe there won't be any shelter fees. That'll help!

These three are going to have a life, thanks to all of you!

SO HERE'S THE DEAL:

For every $5.00 donated to THE TULSA TRIO, you will receive one doggie 'dana from ANDREA'S DOGGIE 'DANAS in SIZE LARGE. You can choose the month(s), but the fabric design choice is up to Andréa.

ALSO, for the first 20 donations of $20.00 or more, Linda Cunningham has donated HOME AT LAST pins. (made by Linda & her mom). Bandana and blanket colors may vary. The dog measures .5" x 2.5"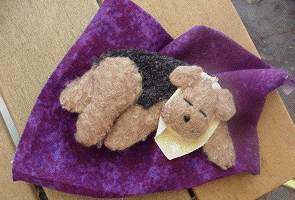 The accompanying card states:

This "Home at Last" pin is yet another adaptation of the drawing by Christie Williams. It depicts an Airedale puppy who had a rough time during his first six months of life. Like Christie' own Erin, many Airedales who enter Rescue, do so before their first birthday. This is because the cute little fur balls surprise unprepared owners by quickly becoming large and sassy and out of control. Often these sweet puppies find themselves abandoned or abused because their owners don't understand the Airedale spirit that is appreciated by true Airedale lovers. But this puppy is one of the lucky ones. He was rescued from his terrible situation, fostered by loving supporters of Airedale rescue, and matched with his perfect "forever home". He is shown sleeping soundly, after a rowdy walk in the woods. Like many of us, his loving owners provide only the best, and have allowed him to sleep on a treasured quilt while chasing squirrels in his dreams.

If you have PayPal, it can be used for payment. Click on the button below. Choose either the "quasi-cash" OR "goods" option and put "TULSA TRIO" in the message, as well as your address and which month(s) you would like for your 'dana(s).

The user name is adenning@wi.rr.com


CONTACT ME HERE to make arrangements for snailmail donations.