In November 2001, Lori Walker writes: "Airedales Everywhere

"They say confession is good for the soul, so here goes. Ten days ago the herd grew by three and will soon explode . . . . My friend wanted help in finding a new puppy. She liked Tweed so I saw an ad for ADT puppies and called just to find out what there was. We needed to find a girl. Well, only males were left but the breeder was very friendly and we ended up talking for a long time. The next day he called me back and asked if I'd be interested in a bred female. He is very elderly and wanted to cut back on his dogs. So we went to look. We looked. He had very nice dogs; they were kept in a kennel and sort of shaggy. The puppies were adorable, the first ADT puppies I had ever seen, I've only had 'used' dogs; never a fresh one. We talked some more; he really was a nice guy but the dogs weren't family to him, just dogs. He offered me my choice of two bred females for a mere song, he also said I could have the mother of the litter of pups if I wanted her too.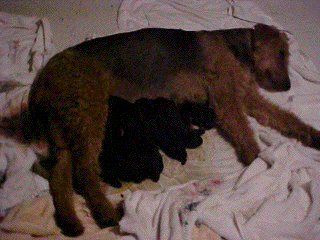 "Well, we went home to think about it. We went back the next week and got the bred female, Pixie; the old female, Daisy; and he threw in a male puppy, Tartan. Tartan is so darn cute I can hardly stand it, not to mention gifted and talented. Daisy is around nine years old but acts like a puppy. She look horrible when we got her huge patches of fur rubbed away but after a hair cut she is a very nice-looking girl, very pale tan and grizzled gray saddle; oh, and goofy greyhound-looking ears. I thought at least by taking her she could have a happy retirement living in a house. She has taken to my husband like a long-lost lover. For a dog who was never in a house she must have read a book about it; she is sleeping right next to Jeff now.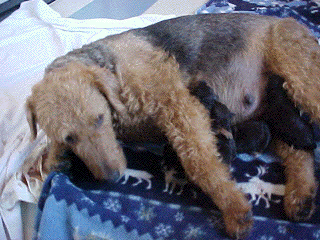 "Pixie is very very pregnant. She was scared at first but has warmed up and is even counter-surfing now. It would be easier if her rump wasn't as big as a Buick. She is two years old and this is her first litter. So, know anyone who wants a puppy???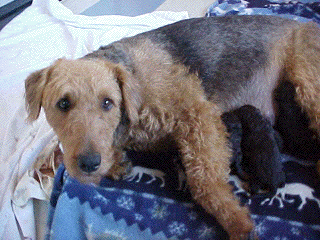 "We have a whelping pen all set up for her; she should be having the puppies sometime late next week. She seems to grow fatter every day. And to top this all off, my friend went and got a very ugly mutt. I can't believe she couldn't wait for a beautiful terrier.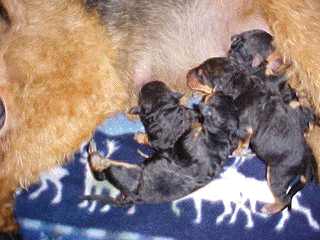 "Tweed has taken this all in stride; he likes the girls and plays with Tartan. Jeff has a hard time remembering names; the first morning he let the dogs out and when he called them back in he couldn't think of Tartan; he knew it was a cloth name and all he could think of was flannel. Well, I'm sure you will hear more about the herd in the days to come. Any helpful advice will be greatly appreciated."