Of course there is! CRUSA's BJ Isaacs to the rescue!

On Friday, a volunteer will bring Pyewacket to BJ,
and he will start his new life, healthy and loved.

They will watch Bell Book and Candle together.

PYEWACKET'S STORY

Kathleen, Director of the
Grant County Animal Shelter, writes:

On April 2nd, a man walked into our small rural county shelter,
toting a 16-pound dog under one arm like a sack of flour.
All I could see were ears, tired eyes, and a dirty, scared dog.

The man said if he didn't get rid of his animals,
he would be evicted.
He [had] found homes for the others,
but no one wanted the 10-year-old Westie mix
with tired eyes and bad teeth.

He said we should [be able to] get him a home with no problem.

I told him that people generally aren't coming to a shelter
to look for an older dog with health issues.

He said, "Do what you can";
with that, I responded, "What if that is euthanasia?"
He was ok with that, filled out the required paperwork
and left without a second thought.

My heart breaks for the animals that enter shelters;
my heart breaks even more for the discarded seniors no one wants,
just because they are old and maybe a little bit more needy.

I tried desperately to find a rescue for him,
contacting coordinators privately.
When the responses were generally the same, "So sorry,
we are full", I decided to reach out on Facebook with his story.

[It is] amazing how Facebook can be such a helpful tool.
Little Pyewacket, named from a character in a book
[by Rosemary Weir, altho the cat in the movie, Bell Book and Candle,
predates the book by 11 years],
has to be one of the sweetest little dogs we've gotten in a while.
He's very quiet and tidy in his run; he never makes a peep;
he goes as far to the outside portion of his run
that he can get to relieve himself. He didn't flinch when
vaccines were given intranasally or SQ.
This is one amazing little dog.

He's afraid at the shelter; I've kept him in a more quiet
and secluded spot away from the barking and howling.
He loves his soft blanket and canned food.
He really just wants a place to crash and call home.

I believe he would be perfect for someone who is home all the time
and not very active; I believe he would make an excellent lap warmer.

Thank you so much, BJ, for contacting me and taking him into your care.
We wish him the best as his journey continues.

---
---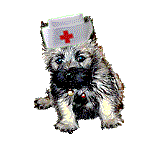 PATRICIA YARNOT:
We'll be sure to give him plenty of pampering and love.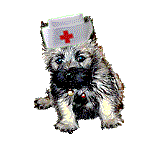 MARY BING:
What a sweetheart. I love the Baggage poem.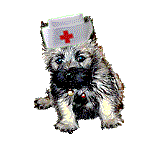 MAUREEN SCOTT
In Canada:
Tears . . . Poor old dog!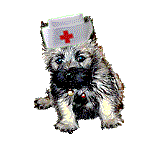 PAM SIMPSON:
Oh, he sounds so sweet. I wonder if his ears are dirty or that color. That is cool if so.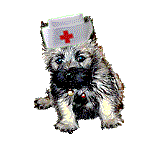 KEN DeKOVEN:
Very happy that BJ is able to help this sweet little guy!