I didn't stay at my favorite place, Clarion Suites of Yuma, because they wanted to charge me a $25-PER-NIGHT "pet fee" for Rico. This charge had begun on 1 January 2005, which is why I hadn't had to pay it previously.

I had made reservations at Best Western Coronado MotorHotel 'cause the dog was free . . . but the place was a dive, so I switched over to Comfort Inn, which was $30/night cheaper than Clarion, and charged "only" $10/night for the "pet fee" ("For what," I asked. "For the smell and the extra cleaning," I was told. "That's a real insult to my dog," I told the receptionist).

When I got home, I looked through some of my correspondence with the Clarion folks about this situation (I had been trying to get them to waive the fee, seeing as how I'd be spending almost a grand there in ten days), and realized that both Clarion and Comfort Inn belonged to the Choice Hotels International chain. So they got my dollars anyway, albeit a lot fewer of them. Small comfort there (pun intended).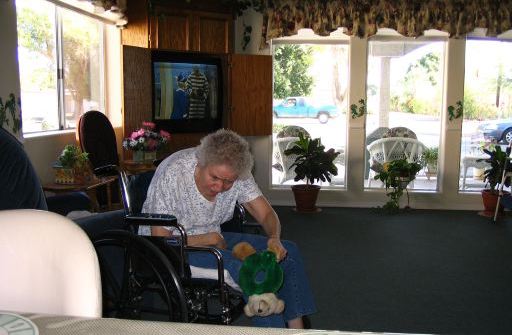 This is Joan, who, according to my Mother,
hadn't smiled or spoken to anyone
since she (Joan) moved in . . .