On 31 December 2011, Debbie writes:

Tomorrow is our first training ride of the season.
We are doing an organized ride called the POLAR BEAR METRIC.
It is a metric century 60+ miles,
and the kick-off for my June fundraiser.
Wish us luck.

The next day Debbie writes:

It is currently 41 degrees F in Greensboro, North Carolina,
and I'm leaving now for my first training ride of the season.
We try to take advantage of organized community rides
as they offer SAG (Support And Gear) rest stops along the routes.
I anticipate being a bit slow and out of shape,
since I haven't been on my bike since 22 October
when we did the 100+ mile ride.
There is no time like the present and it is only
a little more than five months until my big adventure.
Praying that it warms up a little;
41 degrees doesn't sound bad,
but when you're whizzing down the road with the wind,
it gets a bit chilly.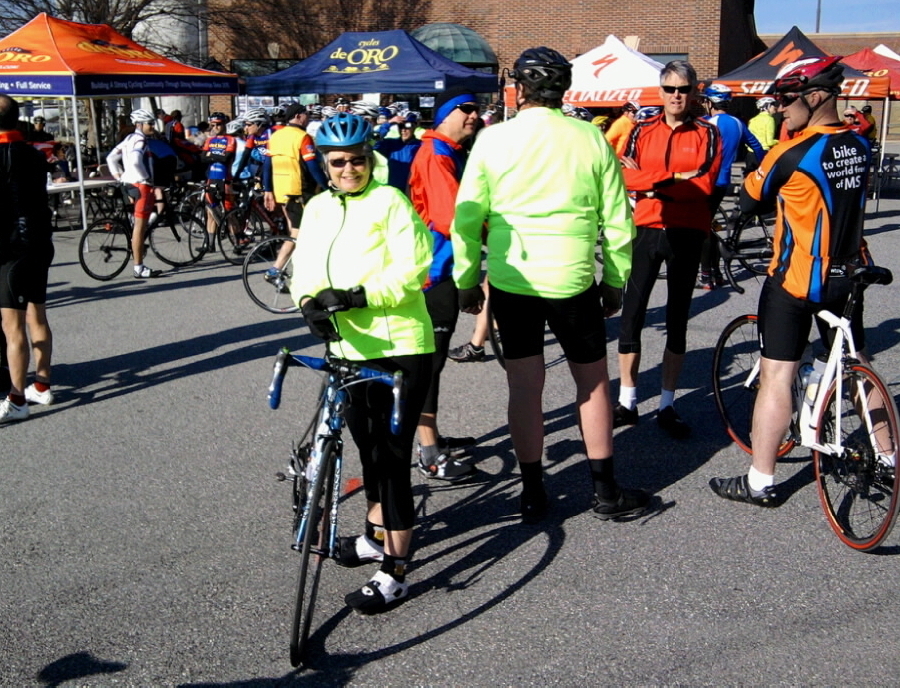 At the beginning of the ride

Later that day, Debbie writes:

We ended up riding 41 of the 62 miles.
Ugh, I'm a bit out of shape.
All in all it was a good kickoff to the beginning
of our training for the fundraiser in June.