I contacted the owner numerous times by cell phone & email to get her to release Ruth to Cairn Rescue. She was asking for a rehoming fee, which was not paid. The owner kept changing the pickup dates and finally I drove out to her apartment this past Thursday after work. The woman and her two teenage children did not want me to see their apartment but handed Ruth without showing any emotions. They did give me her wire crate, blankets, toys, salmon oil, medical records & receipts.

It seems they were so ashamed of how Ruthie looked they only took her outside long enough to do her business. In the photo above you can see the black skin and missing fur on Ruth's neck, chest and front legs. Her fur is hot and sticky in these really bad areas.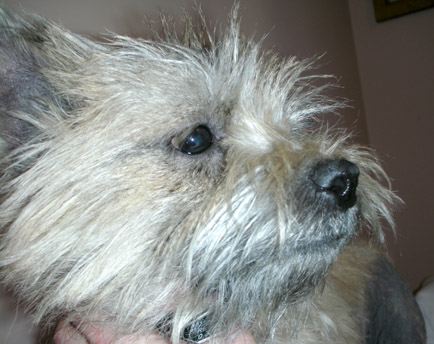 Ruth was kept in a crate most of her life and the kids fed her junk food. The owner paid $679 for Ruth as a puppy in June 2003 from a local pet store. According to the "Pedigree", the Thunder Hills Kennel out of Missouri supplied Ruth to the pet store. My Internet research shows Thunder Hills is a puppy mill that squeezed four dogs into one crate for shipping to pet stores; this is not against Missouri law. In the picture above, you can see Ruth's right ear is black and reddish inside from her untreated allergies.