On 11 September 2001, four American commercial jetliners were hijacked by terrorists and flown into three buildings and a field.

Two planes hit the towers of New York City's World Trade Center, collapsing them and several other buildings in the vicinity.

One plane hit the Pentagon, collapsing a section of the building.

One plane was diverted to a field, crashing and killing all passengers and crew.

Three hundred SAR (Search And Rescue) dogs of all breeds were brought in to find survivors and, ultimately, to find the dead. Two dogs have already lost their lives.

These SAR teams are voluntary; handlers pay for their dogs'training and their travel, lodging and food expenses. They put themselves and their beloved dogs at risk to save the lives and retrieve the bodies of humans.


Stories and pictures of SAR Teams in action and at rest:

A picture of an exhausted SAR team

A picture of a Boston K-9 unit getting ready to enter a building

[thanks to Cherry Welsh of adtloversHOME list]

Nine pages of photographs & articles on the FEMA PAGE

National Review article from November 12, 2001

[thanks to Rick Parker of adtloversHOME list]

Area handler, rescue dogs helped in N.Y.

[thanks to Evie Feisler of adtloversHOME list]

An article with several pictures of SAR dogs

[thanks to Teresa Stevens of adtloversHOME list]

Articles about SAR dogs, bombsniffing dogs, reunification with dogs after the WTC disaster, and dogs helping to deal with stress

[thanks to Robin Curry of CanineL]

Letter from a World Trade Center Rescuer and his Dog

Dogs are state-of-the-art search tools in terrorism attack

Dogs vs. Terrorists Around the World

Dogs play vital role in search and rescue

[the above articles thanks to Debby Spendolini of adtloversHOME list]

From the Wall Street Journal, 25 September 2001:

. . . dogs have to be trained to overcome their instinct to dig in with their nails when footing grows unstable. Instead, they learn to spread their legs to brace themselves and spread their toes -- thus many cannot wear boots, and that's why many are getting cut paws treated.

[thanks to Tonya Short of CanineL]

QuickTime Movie of SAR Dogs in Action
Heroes with Four Paws

[thanks to Peg Banks of CanineL, who wrote the script]

Download
SAR DOGS TRIBUTE SLIDE SHOW

[thanks to Patricia Orlandi of CanineL]

From DOGFANCY, April 2002:

AFTERMATH: STUDY STARTS ON HEALTH OF SEPTEMBER 11 DOGS

When experts concluded that the long-term health of 9-11 search and rescue dogs was at risk, other people immediately stepped up to provide the money needed to monitor these dogs for the next several years.

Now, $400,000 is at work at New York City's Animal Medical Center (AMC) and the University of Pennsylvania, where teams of toxicologists, behaviorists, radiologists, veterinarians and others are keeping an eye on more than the 300 dogs deployed at Ground Zero.

The money, granted from the AKC Canine Health Foundation, is being used by the AMC and UP to collect medical and behavioral information on the dogs, monitor them for up to three years, conduct chest x-rays, and more.

"Because no one has ever done this before, we have no idea what the implications may be for the dogs," explained Dr. Philip Fox, AMC. "Most problematic," he said, "is the long-term damage they may sustain from the heat, toxic fumes, air-filled soot and ground-littered debris they encountered."

Besides helping the 9-11 dogs, the data will help improve safety, health, working conditions and monitoring of dogs in any future emergency situations.

MORE INFO: AKC Canine Health Foundation Search and Rescue Dog Health Fund, 1-888-682-9696 (toll-free).

QuickTime Movie of SAR Dogs in Action
IN MEMORIAM - SIRIUS

[thanks to Jane Kavcak]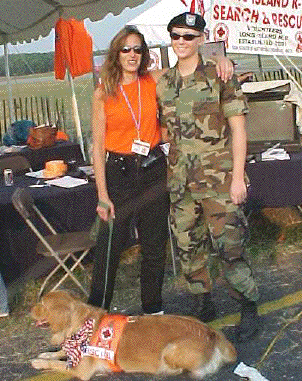 Pauli the Golden Retriever SAR dog is wearing a SAR Fundraiser 'Dana!
Pauli's DogMom is Joni; the soldier is Joni's daughter, Dana
Saturday, 20 September 2001 in NYC


On 12 January 2002, our first check for $2140 was sent to NASAR. Read the letter we included HERE

Read the Thank You Reply HERE
On 9 July 2002, our second check for $2000 was sent to NASAR. Read the letter we included HERE

This SAR Fundraiser will continue so long as we have decals, 'danas, and other items to sell.

SAR FUNDRAISER SHOPPE is now open.

SAR FUNDRAISER SHOPPE CONTRIBUTORS are listed HERE.





DUNCAN THE PATRIOT DECALS FOR SAR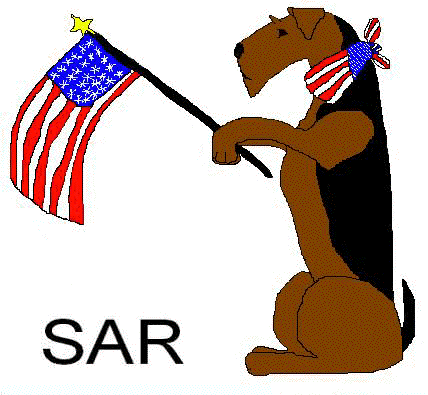 Lesley Mattuchio has lent her artistic talents to create a decal featuring Duncan the Patriotic Airedale. This decal is available for $7.00, including shipping in the USA, and ALL PROCEEDS WILL BE DONATED TO THE NATIONAL SEARCH AND RESCUE ORGANIZATION.





DOGGIE 'DANAS FOR SAR



Andréa will be making Doggie 'Danas, with all proceeds to go to NASAR. Fabric design will be red, white and blue, but no choice - I am making them out of appropriate fabric (flags, stars and stripes, etc.), as it becomes available. 'danas will all be $5.00, including shipping within USA. SEE SIZE CHART BELOW. E-mail Andréa for shipping out of the USA.


If your dog doesn't tolerate 'danas, or if you don't have a dog (I understand c*ts do not wear clothes of any kind) . . . you can still donate through this fundraiser. All donors will be acknowledged on the SAR DONORS PAGE. Also, these 'danas make good humanwear - as headgear, headband, or neckerchief.


These sizes are available:


SMALL (20" around the neck - Yorkie, Aussie)


MEDIUM (24" around the neck - Cairn, Scottie, Whippet)


LARGE (29" around the neck - Airedale, Rottweiler, Boxer, German Shepherd, Weimaraner, Standard Poodle)


Other sizes such as XLARGE or XSMALL are possible - e-mail me to make arrangements.


(All measurements are approximate. BE SURE to allow measurement for tying the bandana around the neck!)


All orders for DECALS AND FOR 'DANAS will be processed through Andréa; e-mail with your order AND YOUR ADDRESS; you will be sent my address for sending your payment.


If you have PayPal, it can be used for payment. If you wish to enroll in PayPal (this is particularly convenient for out-of-USA payments), click the PAYPAL button to register.















If you have any questions, please e-mail Andréa Denninger.