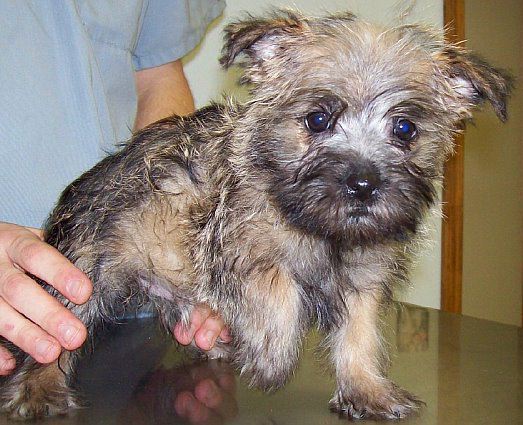 BEN went to Mt. Vernon, Missouri to be fostered by Heather Scharbach, who writes:

Oooooh, we picked up little Ben. OMG, he is SOOOOO cute. We've been laughing at him all night; he's a little pistol.

He came home and checked everyone out, loved the girls, wasn't too sure about Dangerous Dan & Leah, thought Kobie was pretty cool, and tried & tried to play with Nanny (Nancy Ann of The Senior Squad). She originally thought he was pretty interesting, and chased him around the office trying to get a good sniff in, but he would have none of it. Then when HE started getting interested in HER, she growled at him a few times; when he went away, she started playbowing at him. They've got it all worked out finally, and were sleeping together earlier.

Anyhow, the girls have barely let the little guy's feet touch the floor all day. He's been well-loved, well-fed, and well-played-with.

I do have one question though. He is FAAAAATT. His little belly is so round he waddles. And it feels a bit hard. He has pooped several times since he's been here, and he's eaten several times, so don't think there is a problem there, it's just that he's REALLY fat!!! (And really adorable)