RosieViola, Miss RosieVi the Shy, Princess Rosie II . . . is now the official Princess of the Skrenninger Gang of Four. She is the oldest of the Four, and we hope she continues to progress to becoming a "normal" dog. And if not, well, that's ok, too; we love her as she is.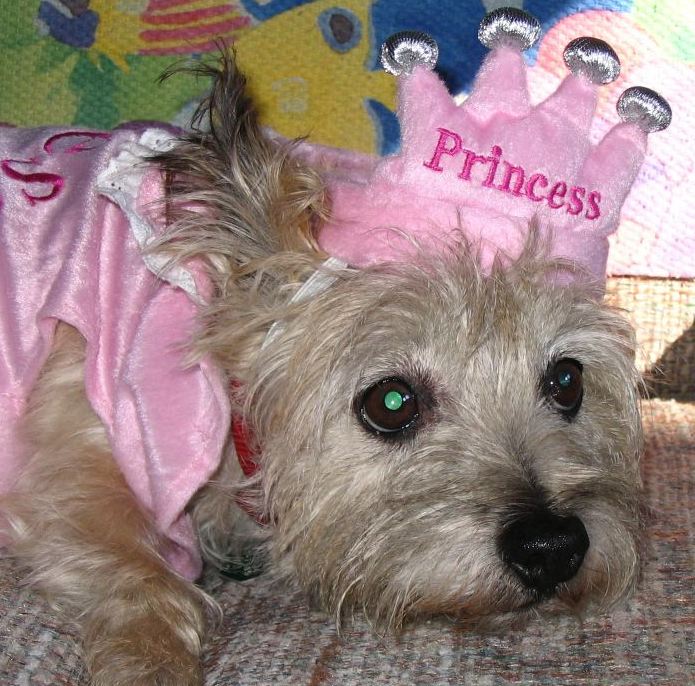 31 October: RosieVi & Daisy2Legs go to the vet . . .

. . . for their three-year rabies shot. Simple and straightforward, right? NOT!

First of all, Daisy has to be carried because I don't want her walking across the parking lot cement, scraping her back legs. Secondly, this is Rosie's first visit - in fact, it's her first 'out-of-house' experience since she came to us in November 2006 - so she has to be crated.

Since CairnDaddy is still on crutches due to knee surgery, I planned to do this alone . . . Daisy in one arm, Rosie's crate in the other hand.

Rosie's crate has wheels, which I didn't realize. I buy crates at rummage sales, find them on the curb for free . . . so I have quite a collection and never really looked hard at the bottom of this one. Even had I known this, I wouldn't have used them 'cause the noise of the wheels crossing the parking lot cement would have terrified Rosie.

So, we arrive 30 minutes early for our appointment; my vet is out to lunch (literally, not metaphorically), so I sit to wait, reading the newspaper I brought along. I tie Daisy to the crate by her leash.

About 15 minutes into our wait, the Vet Tech opens the waiting room door, calls out "Rosie & Daisy" . . . Daisy, being the obedient dog she is, takes off in answer to her name . . . 'loping' in that strange way she has when she runs, dragging Rosie's crate behind her. The smooth ceramic-tile floor enabled this two-legged dog to get clear across the room before I even realized what was happening . . . and everyone had a good laugh.

Rosie, of course, was not amused. But then, she never is.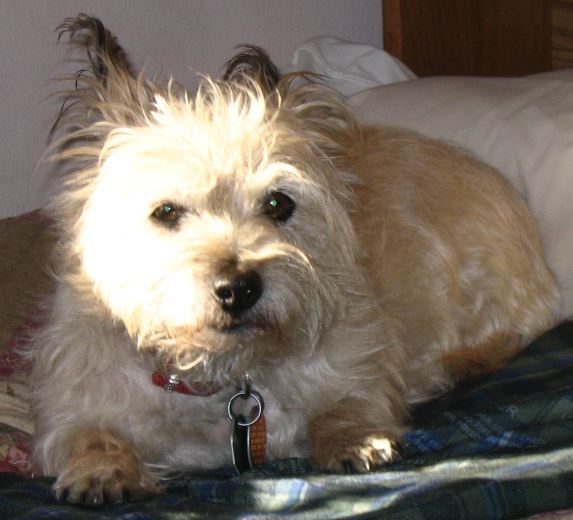 16 November: We had a small miracle here this morning . . .

CairnDaddy's 'breakfast and movie' buddy, Jim, brought him home after Friday breakfast, and stayed a while to get his weekly 'canine fix', playing with Rico & Daisy & Cari. As she did last week, RosieVi 'danced' around the perimeter of the games, in the room, out of the room, in the room, back to her hidey hole. We let her do this without looking at or talking to her (that drives her away) . . . maybe because he doesn't have a beard like CD, Rosie isn't as afraid of Jim as she is of CD.

Anyhow, after gettin' the dogs nice & tired, Jim left. I sat on the couch to read the morning papers. Suddenly, on the floor next to me, with her feet on the couch cushion, was RV. "Rosie Up?" I asked her (my command for when I'm lifting her onto the bed). She looked at me, but didn't move when I reached down and put her up on the couch. Slowly, she sat down. Even more slowly, she lay down.

Of course, Daisy wanted "Daisy Up!", and came right next to me during this . . . and laid her head on Rosie's rump. The two of them slept like this for more than 30 minutes . . . the only reason it wasn't longer is that I finished the two newspapers I was reading and had to get up to get something else to read . . . .

Since we decided to keep her, she doesn't just improve by baby steps, but by leaps & bounds. Having her feel as though she is part of the family and actually WANT to be with us is like Superman leaping over tall buildings. I'll be curious to see if she does it again tomorrow morning when I sit in the living room for a while . . . .

17 November: RosieVi sez: "I DO IT MYSELF, MOM!"

Yep, she's doin' it herself . . . jumped up on the couch this morning - TWICE! I didn't think those stubby little legs of hers could do that, but she jumped up like she'd been doing it her entire life.

And to top that, she came outside - by herself - while CairnDaddy was blowing leaves in the backyard, Rico was attacking the leafblower, and CD was yelling at Rico. I swear, with all that noise, *I* would have gone inside, but no . . . Rosie stayed out with us (with me, actually) for the entire yardcleaning session.

She is now zonked out under my bed . . . jumpin' & runnin' is tiring work!