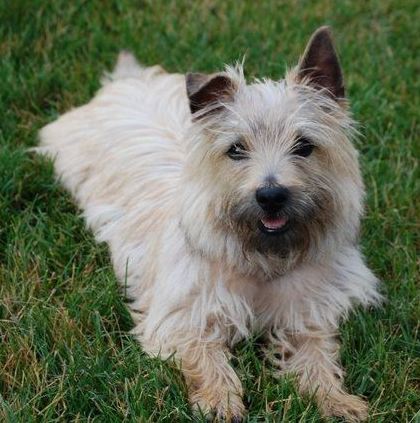 Shell Lewis writes:

Those of you who live in the Chicagoland area know how terribly hot it was this past weekend.

Little Sinclair - so named because of where he was dumped - was left tied a fence outside a gas station in Waukegan, Illinois, 35 miles north of Chicago.

Poor little Sinclair sat in sweltering, mid-90 temperatures for SEVEN hours and no one inside the service station bothered to check on him or even offer him so much as a bowl of water.

Lucky for Sinclair, a "good Samaritan" delivery man noticed him, stopped into the gas station to inquire about his situation and brought him home.

It turns out that the delivery man's uncle is an active member of Guardian Angel Basset Rescue and he subsequently emailed CRUSA as well as two other Cairn rescue groups. CRUSA was the first to respond, so now little Sinclair is in our care.

A special thanks to Brian Pechtold of Guardian Angel Basset Rescue, his nephew who found Sinclair, his mom who B&B'd him, and his brother who transported him to Gateway Veterinary Clinic in St. Charles, Illinois.

Sinclair is estimated to be a year old, or perhaps a bit younger.