Fala Pink & Skye Blue Lewallen, Scottie Canine Companions of Dot & Chris Lewallen. Well, Dot is a cross-stitcher, and a very good one, too, I might add, and she created this shirt for Canidlover. Isn't it beautiful?


Thank you, Dot!

In October 1997, Misha had an emergency splenectomy.
Read all about it at MISHA'S NEAR-DEATH EXPERIENCE

In July 1999, Misha had cancer surgery.
Read all about it at MISHA'S SURGERY TWO: CANCER!

In Summer 2001, Misha had another bout with cancer, this time incurable.
Read all about it at MISHA IN MEMORIAM












dogs have joined Misha (@RB), April (@RB), Cari, Rico, RoseiVi the Shy & Daisy2Legs on the couch (where else?) since 16 AUGUST 1996. We hope you all were comfy!!













INTRODUCING MISHA (@RB) & APRIL (@RB)
CARI, RICO, ROSIEVI & DAISY2LEGS

Remember to bring along your virtual pooper-scooper!











These Pages Constructed by . . .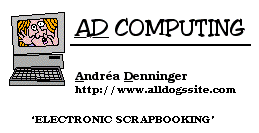 Click on the card to email me

©1996-2007 All rights reserved
Updated 19 DECEMBER 2007