FosterMom Lisa Baier writes:

The wound doesn't show up well on pictures, since Carlton's hair is dark and the area around the wound is matted from the saliva that comes out of the wound. My vet should be getting back to me today to recommend some surgeons.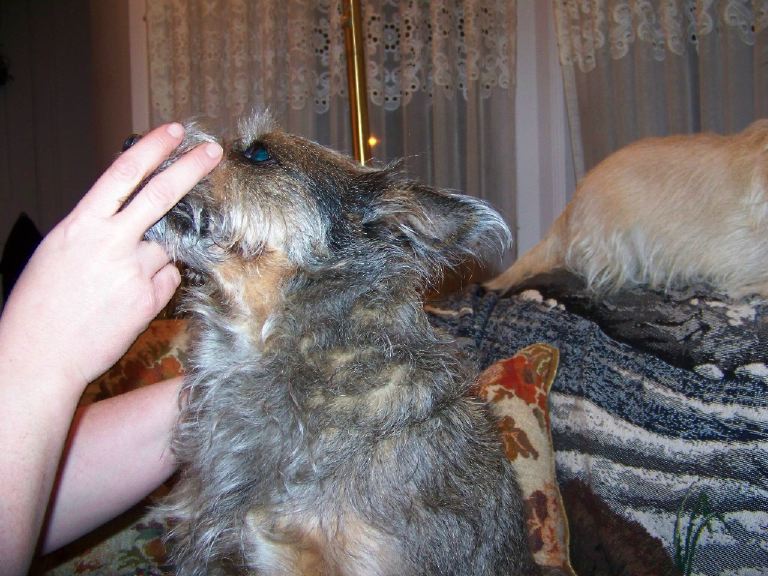 We think it had to do with him trying to get out of whatever was around his neck when he was tied to the porch. I'm sure he was trying to get free since he was left with no food or water in the freezing cold temps.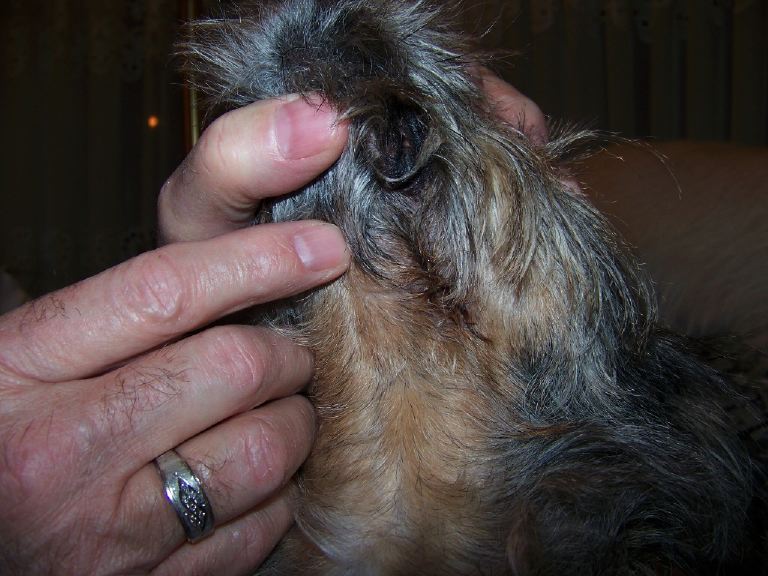 On 22 March, Lisa writes:

The surgeon who looked at Carlton says the wound is coming from the mandible. He thinks that before they do an invasive surgery Carlton should have an x-ray. It's possible that this could be caused by an abscessed tooth. If this is the case, the tooth would need to be pulled. The surgeon wants Carlton to have anesthesia for this.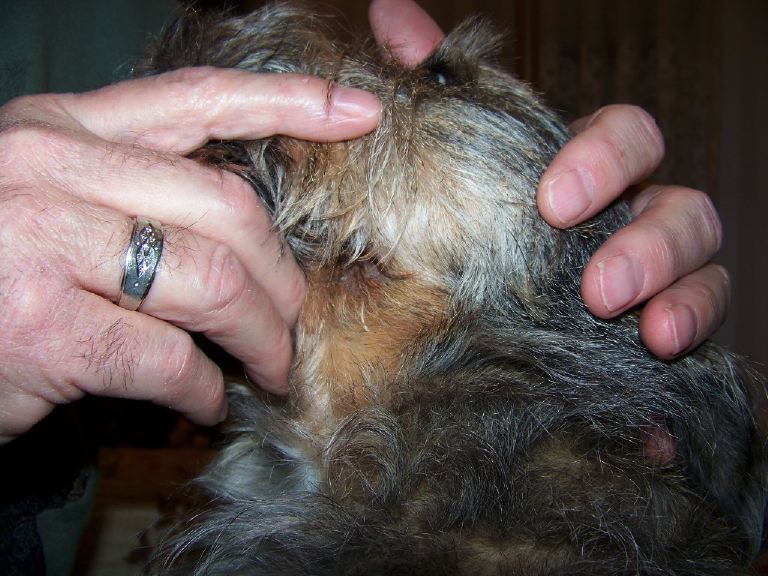 If the x-ray doesn't show the tooth as being the problem, there is a fistulo gram test that needs to be done. Dye is put in the wound and is traced to either the saliva duct or gland. This would show where the surgery would then need to be done. It would be best to have this done while Carlton was already out.

The surgeon is sending a fax with a estimate of costs for the procedures he is recommending. As soon as we get the approval we can set everything up.

On 27 March, Lisa writes:

Just wanted to let you know Carlton had an abscessed back molar. It's been removed and the vet feels this should allow the wound to heal.

And finally, on 27 September, Shell is able to report:

Deb & Doug Kolze's Bernie (f/k/a Carlton) - a Cairn/Schnauzer mix whom they have fostered since last winter - went to live with an 80- year-young senior who recently lost his wife AND his senior dog. Bernie will give his new dad, Cliff, a reason to get up in the morning.

---
---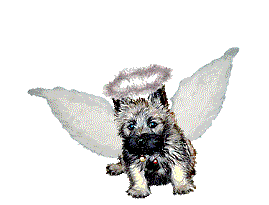 CARLTON'S HEALING ANGELS INCLUDED . . .


ANDREA & 'CAIRNDADDY' SKRENNINGER

In Honor of Abandoned Pets Everywhere . . .


MARSHA AARONS



JODI KOBLICK


GERALDINE GRIFFIN
& SHASHA3LEGS (in Ireland)