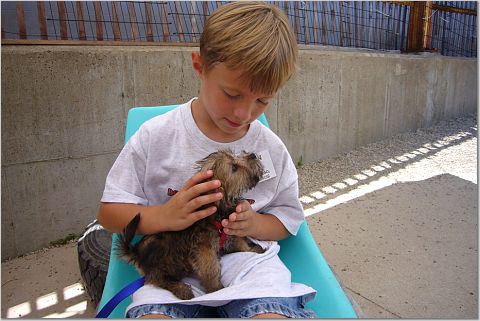 Julian & Willow get to know each other at Midwest CairnFest 2007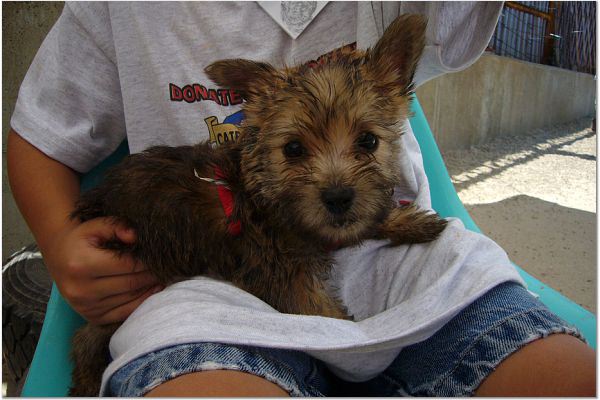 Aren't I cute?

On the way home from
MIDWEST CAIRNFEST 2007 . . .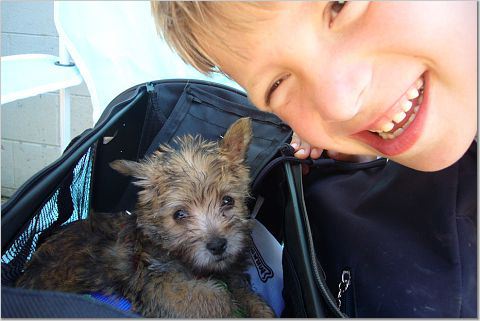 Let me introduce you to my new friend Julian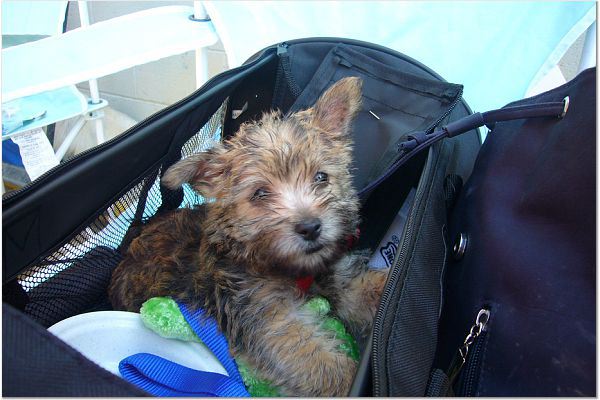 Getting ready for the 1-1/2-hour ride to my new home in Chicago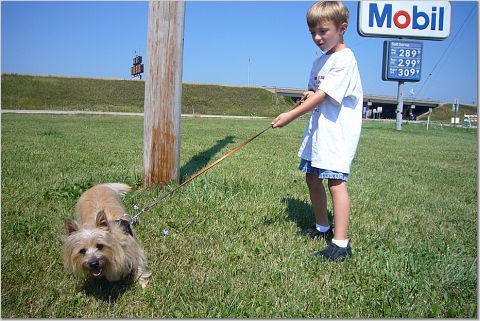 Merlin Hart walks Julian

On 31 July, Cheryl Bane writes:

Today is Willow's third day with us and things are going great! She kept us up the first night, but then slept all though the night last night. Potty training is going as expected - some successes, lots of not-so-much success.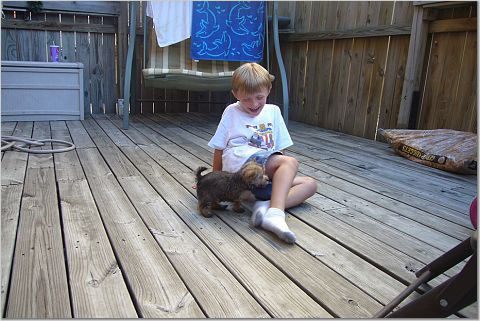 Willow's first evening home; she loves playing with Julian on the back deck

She is already getting used to some of our routines, and she is getting to know everybody's personalities. She sees Julian and immediately starts wagging her tail excitedly.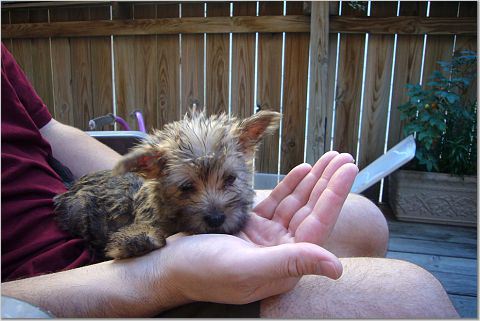 Brad feeds Willow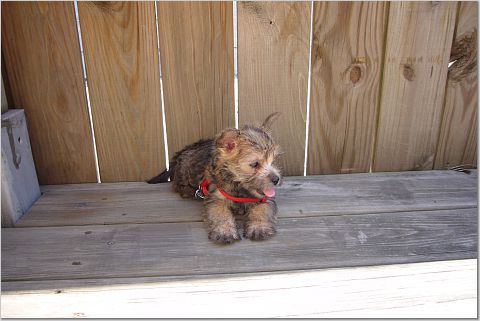 All that playing really tires me out

Funny, yesterday Willow was sleeping on the floor next to my feet while I was downloading my pictures and videos from Cairnfest. I doubleclicked on the first video, and as soon as Julian's voice was heard, Willow woke right up and got on all fours. It was too funny!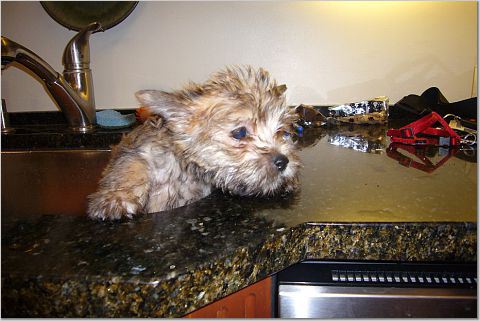 I don't WANT a bath!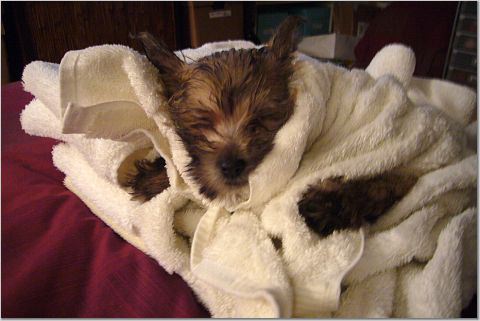 Ah, I'm glad that's over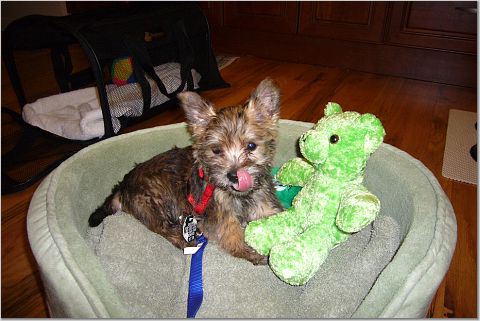 Yum, that was good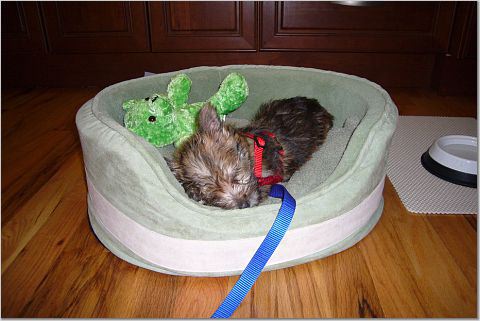 Ah, what a great bed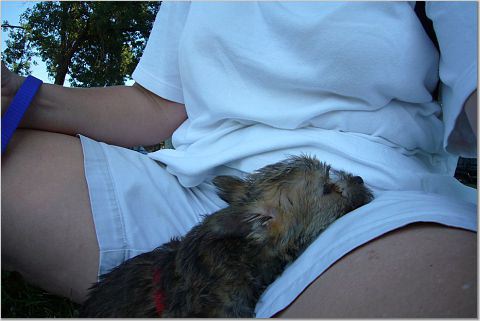 I love you, Mommy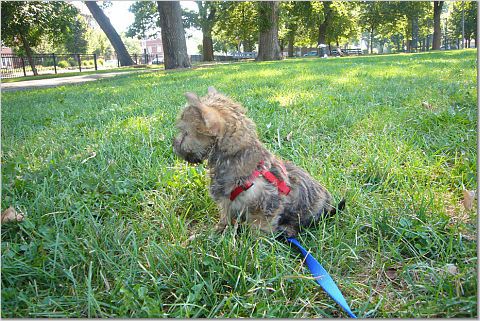 Is that a leaf blowing in the grass?
How exciting!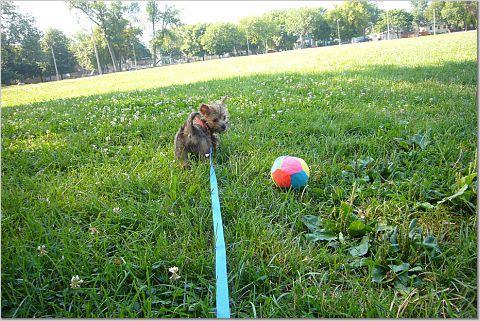 Yes, I see the ball.
But did you see that LEAF over there?!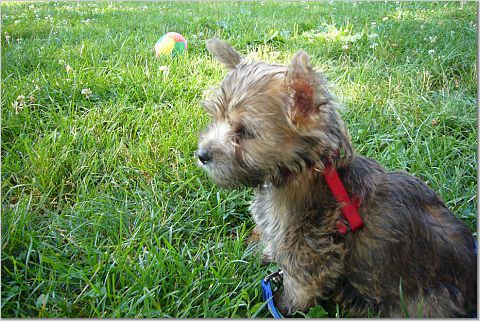 What's that?
Something ELSE I can chase?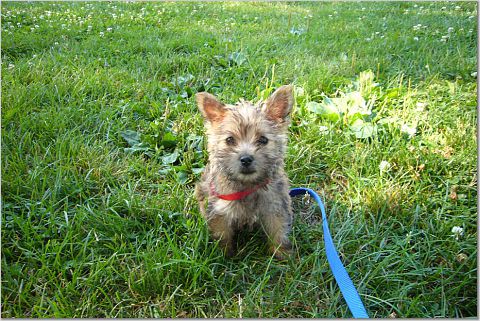 Aren't I cute?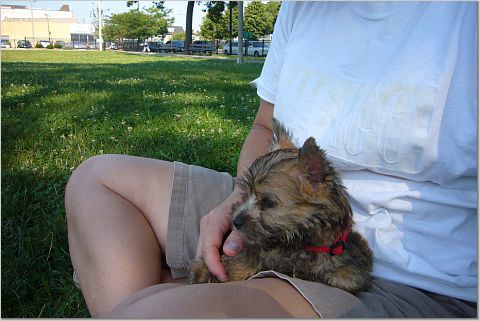 Relaxing with Mom at the park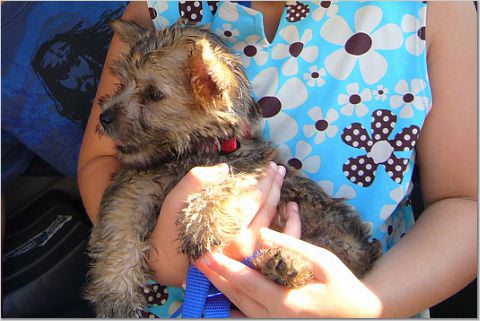 I love to be held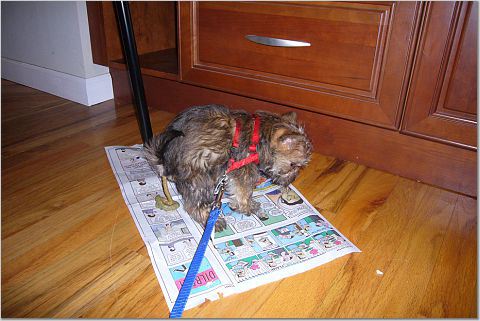 Good puppy! Gooood puppy!
Go potty on the paper! Gooooood puppy!
(and WHY didn't you do that at the park?!)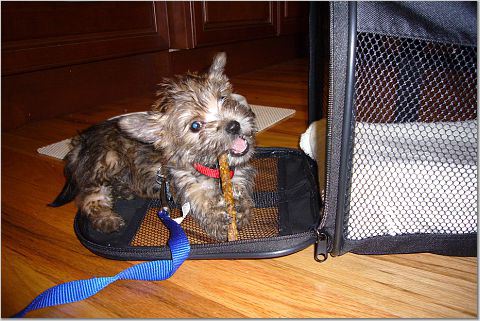 Mom, don't you know you're
NOT supposed to give me these rawhide chews?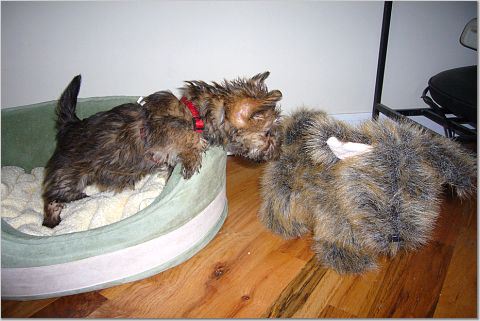 What's this, another Cairn Terrier?
Hmmm, doesn't SMELL like a Cairn Terrier.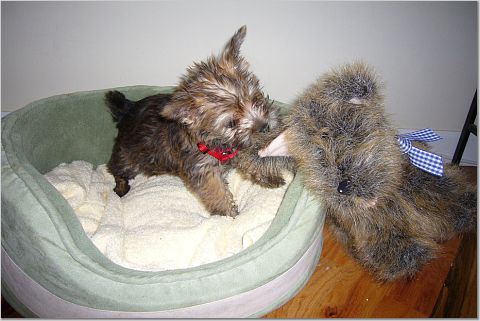 That ear looks delicious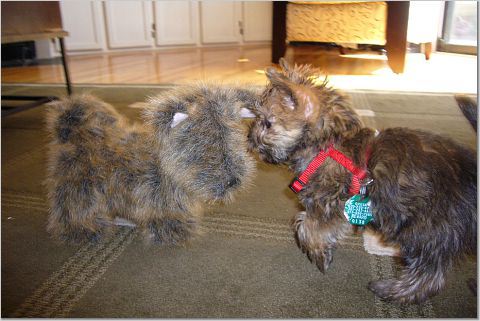 Hey, I'm bigger than you, you know.
OK, well, give me a few weeks and I will be.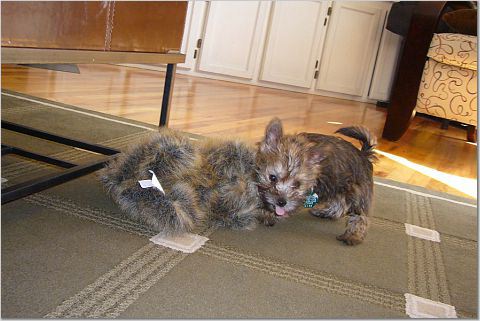 A playmate!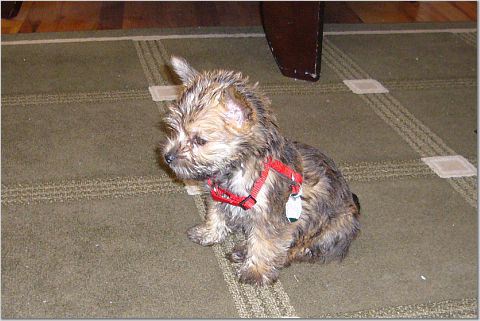 A little time out from playing

On 1 August, Cheryl writes:

Well, it's been four days now that we've had Willow, and my whole family has totally fallen in love with her. What a sweet little thing! Holly, thank you soooo much for driving her up to CairnFest so we could meet her and pick her up. And thank you, Shell & Faith, for all your help and support. You guys do awesome work!

And thanks to Shell, Pam & Andréa for organizing CairnFest. What a fantastic event! My son & I had a blast meeting all the CRUSA dogs and their owners & friends. Julian especially loved Skippy's agility demonstration and he can't wait to teach Willow to do that! It was so neat there were puppies there for adoption. What a great environment to meet dogs that need homes. With so many Cairn owners there, I felt there wasn't a question I could ask without getting a whole bunch of wisdom in return.