On 8 December 2009, Kim Facciponti
writes to the CRUSA Intakes List:
Cairn Terrier in need of surgery
at Monmouth County Shelter

I have been looking to rescue a shelter dog and I came across this very sweet Cairn terrier (a benji dog) who is just shaking in pain from his knees being out of place. There are four grades of this. Grade 4 is the worst and most painful and this is his diagnosis. He can barely walk and he just shakes in pain constantly despite the pain meds administered to him twice a day. Further, these pain meds cannot be continued because it will kill his liver and the shelter cannot fund these meds forever. He is a very sweet five-year-old dog that was found near Newark somewhere.

Every day I think about how stressed he must be just being in the small cage that the shelter can offer him plus all of the chaos that goes along with living in a shelter - the visitors, the barking dogs, not to mention his daily pain. It sickens me to the core that he must live in pain every day . . . please help this poor innocent, deserving animal.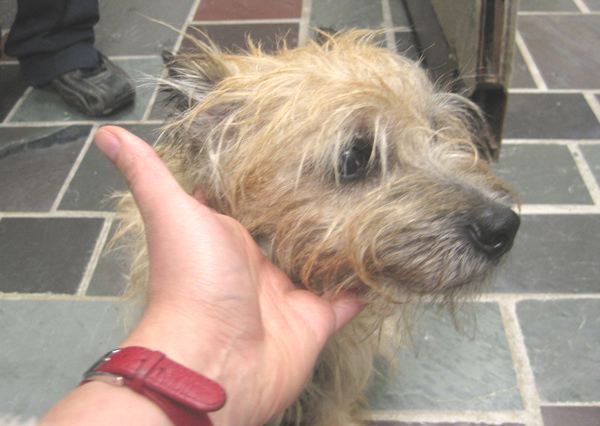 On 14 December, CRUSA President
Violetta Argueta writes:

I went to visit this dog yesterday, in the middle of the rain and fog. So much for the rain ending by noon!

In any event, the dog is very sweet and does look in pain and in need of help, so I'm making arrangements with the shelter to take him into CRUSA.

I talked to the Tinton Falls shelter manager yesterday. They have the dog on Rimadyl. We'll be calling him Tiny Tim. The dog has great potential; he is very sweet and licks your hand despite his pain.

The vet that saw him thinks he has Luxating Patellas, grade 4 on both legs and some sort of hip issue. However she did not take xrays, so it could also be that he got hit by a car. In any event, he'll stay with me and I'll take him to my vet who is a great surgeon and does orthopedic surgeries all the time and that should keep the cost reasonable (by reasonable, I mean around $2500 to $3000 - I think he'll need more than one surgery just from watching him walk). I'll pick him up on Saturday.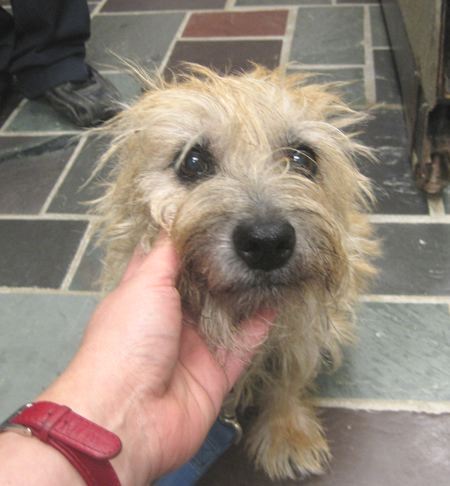 A SPECIAL THANK YOU TO PAT DUMAS
& KIM FACCIPONTI FOR ALERTING
CRUSA TO THIS BOY. A CRUSA SALUTE
(WOOF!) TO YOU BOTH!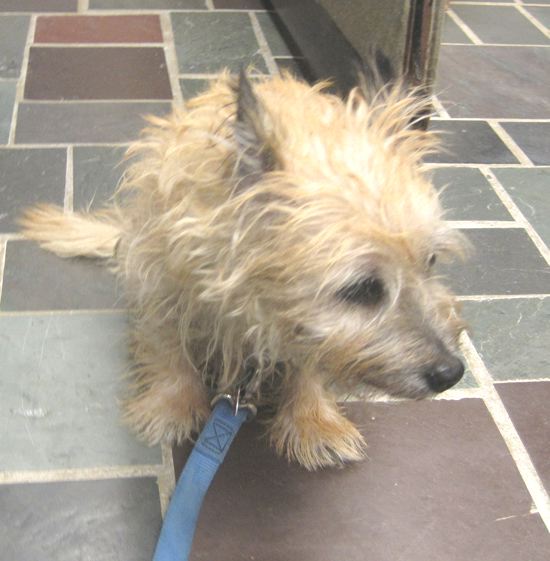 ---
---
Violetta brought Tiny Tim into
CRUSA on Friday, 18 December.

Here is a video of him trying to walk.
TISSUE ALERT!

If the embedded video doesn't work for you, go HERE

---
---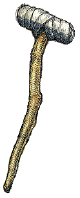 PAT DUMAS:

I'm so happy that Tiny Tim is in rescue!
You all do a great job . . . .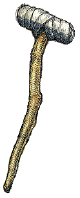 BOB ANDERSON:

He's more touching than Dickens' Tiny Tim!