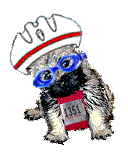 FRIDAY, 16 JULY:

Today I found out that I will be in the first "wave" or group of swimmers, which is scheduled to begin at 7:30 a.m. Someone had told me that the oldest men get to go first, and that turned out to be true. So far, there are 17 waves, with the last scheduled to begin at 8:50 a.m., not much earlier than the time I'm hoping to finish.

We've been having a heat wave in the Northeast, and being able to start early should be a plus.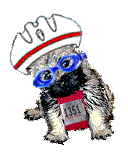 SATURDAY, 17 JULY:

TEAM TOTO is taking a day off from training today and will be going to the the Yale University Art Gallery in New Haven, Connecticut to see a special exhibition and its permanent collection. Time & energy permitting, we'll probably spend some time at the Center for British Art there, too.

Then on Sunday, it's back to the salt mines.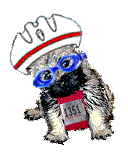 SUNDAY, 18 JULY:

Today I did my last "brick workout" in preparation for the Tri. A brick workout is a combination bike/run which simulates to a large extent that part of the Tri.

Today I did an 8.5-mile bike segment followed by a 2.5-mile run. When I finished it was 83 degrees in the shade and with some humidity. Gotta get used to the heat because the heat wave we've been having the last couple of weeks around here is supposed to continue at least through Thursday; I doubt it will be much cooler all of a sudden on Saturday.

Tomorrow I'll do a 20-minute uninterrupted swim in the pool and then start tapering off, i.e., lighter workouts on Tuesday & Wednesday, then rest days on Thursday & Friday.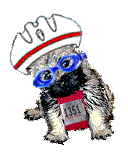 WEDNESDAY, 21 JULY:

Today was my last day of training for the Tri. Monday I had taken a 20-minute swim, which wasn't too hard. Yesterday I took a 6-mile bike ride and today, a 2-1/2-mile run, both in the heat of late morning to acclimate myself to the heat. The forecast for Saturday had been a high of 98; now it's been revised down to 93 - still plenty warm, even in the early morning when I begin.

The part of the Tri I'm most worried about is the bike segment, the portion that most people worry least about. My back becomes quite painful after 6 to 8 miles, and the miles after that are no fun. And I'm worried about getting a flat tire. Even if one is capable of changing a tube well, you lose at least 10 minutes in the process. I recently attended a workshop on handling flats, but, honestly, I've never changed one, and I hope the Tri won't put me to the test.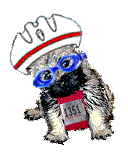 FRIDAY, 23 JULY:

The weather forecast is for the most uncomfortably hot day of the year tomorrow. The heat index will be 90 or above during the final stage of the Tri - the run - so I'll probably have to do more of a jog than a run. At least I'm going in the first group of swimmers. Those people who will be starting long after I do will have it worse.

Late this afternoon, I'll be driving down to the race site to pick up my race numbers and get a briefing on the course and the rules for the Tri. Then I hope I can get a decent amount of sleep before my early rise in the morning.

Next report: Race Day.