Not much was known about the little Cairn except
that he had been found running through a field
and he was a matted mess, although very friendly.
The FaceBook crowd was making pledges towards his care,
but was unable to find a rescue group to take him.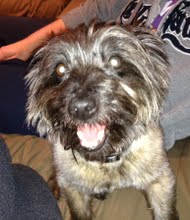 About a year ago, one of our Wisconsin foster homes -
Linda Duba & Jeff Martindale - moved to California,
in the Bay area, about 450 miles north of Devore.
I contacted Linda & Jeff, who instantly agreed to foster,
but we still had the task of pulling the dog & transporting him north.

Thankfully, the animal control people at San
Bernardino County were great to work with and
while they required a fair amount of paperwork
from our organization, Violetta quickly provided
the needed documents and the shelter agreed
to release the dog to us.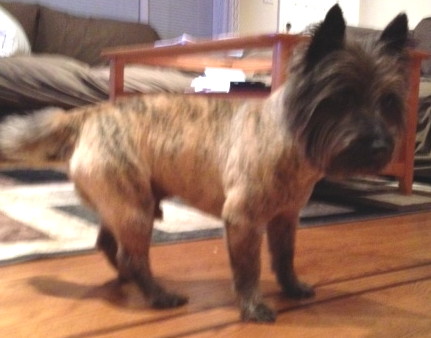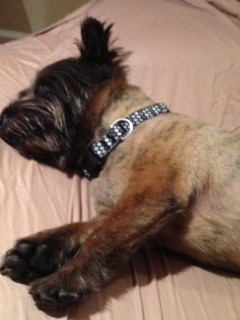 Through one of the wonderful FaceBook people,
I learned of a one-woman rescue who does
weekly transports from southern California to
Seattle, Washington, picking up dogs from
high-kill facilities along the way
and dropping them off along I-5
to different rescue groups.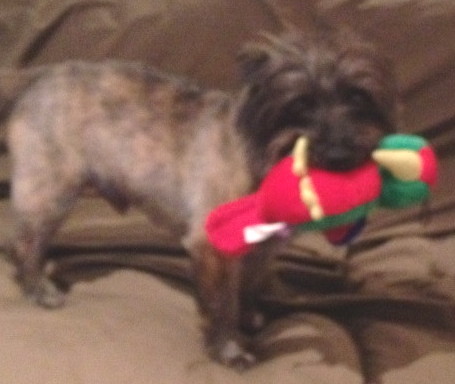 This is a major undertaking: 18 hours, 1200 miles ONE WAY.
And she makes the trip every week.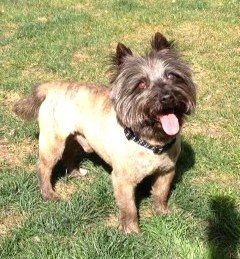 She agreed to pull the little Cairn for us;
later that evening she began her trek up north
via I-5 where she met Linda & Jeff
at just past midnight.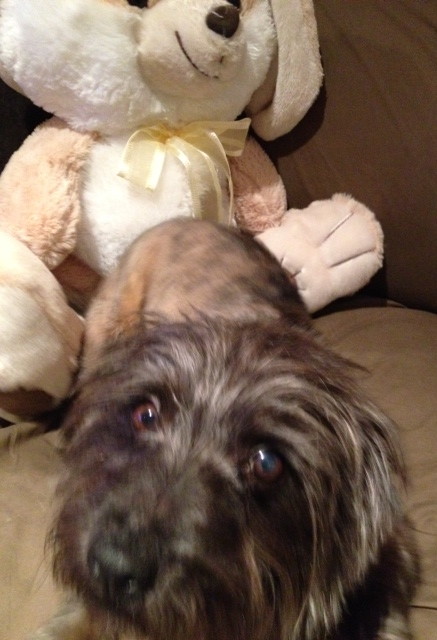 Today, little Winston is right at home in his foster home.
He instantly fit into their household and proved to be friendly,
smart & extremely affectionate.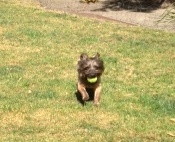 He is also completely obsessed with his ball
and will play with it for hours.

He was recently neutered and is now up for adoption!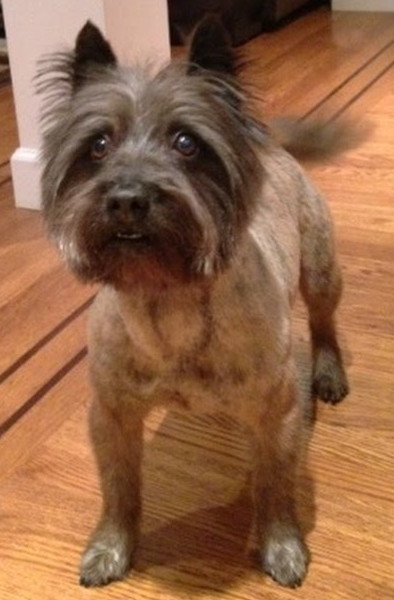 ---

SHELLY SIMINSKI:
He's so cute! Good luck, Winston. Hugs to you.


SUZANNE CIEUTAT:
Linda & Jeff fostered Joey, whom I adopted almost
four years ago. They were in Wisconsin then, and we met
them in Billings, Montana; they were heading west to help
either Linda or Jeff's parents. Welcome Winston!