On 9 December, Peggy writes:

Went and got Cream & Sugar from the kennel on 4 December
and took them to the vet to have sutures removed.
Both lab tests of the tumors were negative for cancer;
they were just normal growths for dogs their age.

They are both at my house right now; not housebroken,
I found out this morning, so both are in large crates
to keep them from pottying on my floor and marking on everything.
Cream is the marker; she actually lifts her leg like a male to pee and to mark.
Crazy girl! Both were let outside this morning with mine
and everybody got along really well . . . no fights.
They are both really sweet girls and hopefully we can find them homes soon.

Got the rest of the little mats out of them this morning.
Sugar has more hair than all of mine put together, I think.
Cream's coat is thinner, so combing & stripping her out was a breeze.
Sugar, I got out all the mats and tons of hair with the Mars coat stripper,
and I swear it looks like I didn't do anything with her.
But they are mat-free now and are very healthy!!!

9 December:

Got an application for Cream & Sugar.
They are both so loving & sweet.
The application & ref check report sound like wonderful people
who love their dogs and treat them like their children.
Cream & Sugar have both been very easy to take care of
and are no trouble at all.
They love attention and haven't met a stranger whom they didn't like.
Hopefully they will be in their forever home before Christmas.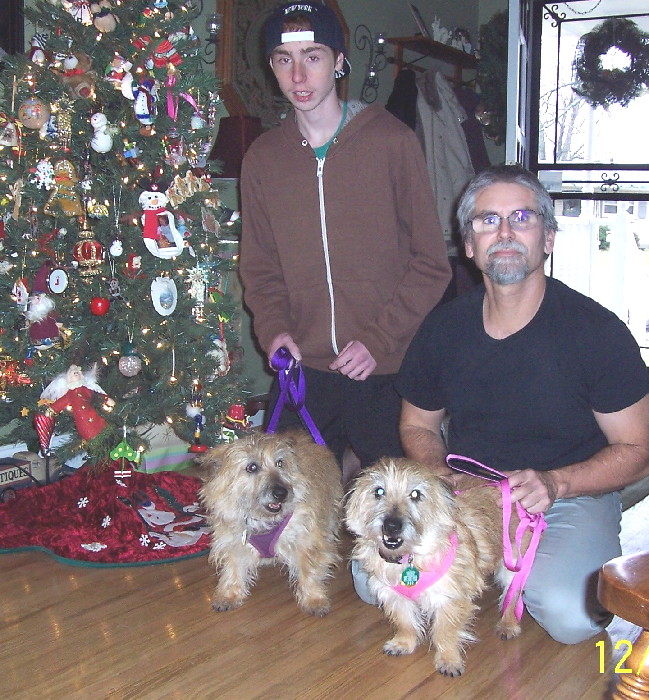 Sugar in purple and Cream in pink

28 December:

Cream & Sugar have gone to their forever home
in South Carolina to Jon Yuhasz & Sherry Gregory.
Jon's son Sean came here today to take their new babies home.
Cream was a little scared going out the front door,
but not Sugar; she was ready to go!
I had told them both last night and this morning that
their new family was coming up to get them.
They were the sweetest girls to have around,
never making a fuss about anything.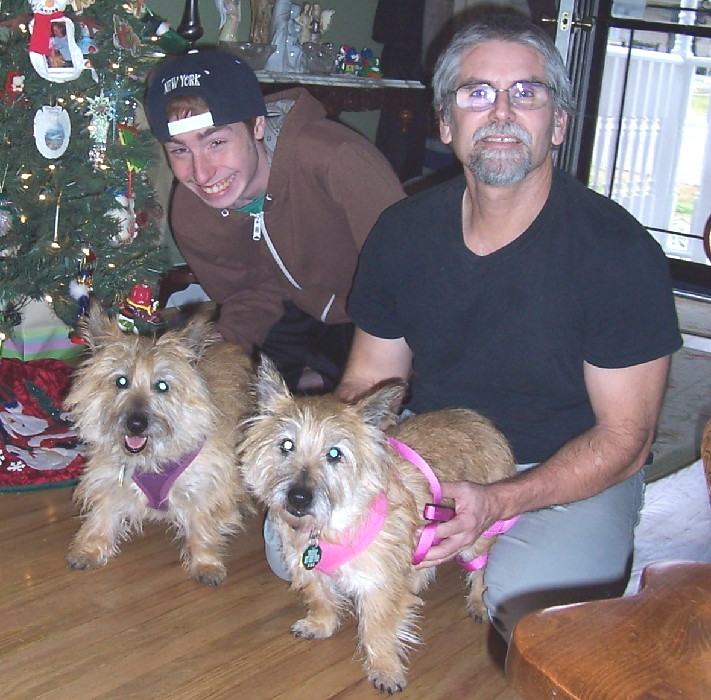 My house feels empty
now that all my fosters have gone to their forever homes.
Of course, mine are outside right now barking at God knows what!
The house might be empty, but not quiet, by any means!!!!