Neal writes:

When I was diving in Utila, Honduras in September 2011
(which can be seen HERE), I met Gary Hensley,
who was contemplating retiring. We talked about my Diving Bucket List.
I mentioned wanting to dive Chuuk; he told me his dive club,
Blue Grass Dive Club, was planning a trip there in January 2014.

I asked for details and he gave me the website URL.
I had to become a club member to participate, and then had to sign up,
and/or, win lottery for the trip when it was announced
(if more people than spots available wanted to go).
So I did.

Once I made the list of 16 people to go,
I also thought that while I was in that "neck o' the woods",
I should dive Yap, Guam & Palau (also on my bucket list).
The club had Yap as an optional add-on to the, trip so that part was easy.

I arranged for my own side trip and tried my darnedest
to get someone to accompany me
to save on single supplement room charges),
but found no one who could to do that.
The closest I came was one of the divers on the trip (from the club)
may overlap a couple days on Palau with me,
but by the time we connected both his days and my days
were locked in on the flight schedule,
so neither one of us could adjust to coordinate days on Palau
to have a full week as dive buddies.

You, too, can see all the details HERE

Information on FSM:

The Federated States of Micronesia (FSM) is an independent
sovereign island nation consisting of four states -
from west to east, Yap, Chuuk, Pohnpei and Kosrae -
that are spread across the Western Pacific Ocean.
Together, the states comprise around 607 islands
(a combined land area of approximately 271 square miles)
that cover a longitudinal distance of almost 1,678 miles
just north of the equator [and across from the dateline].
They lie northeast of New Guinea, south of Guam and the Marianas,
west of Nauru and the Marshall Islands, east of Palau and the Philippines,
about 1,802 miles north of eastern Australia and some 2,485 miles
southwest of the main islands of Hawaii.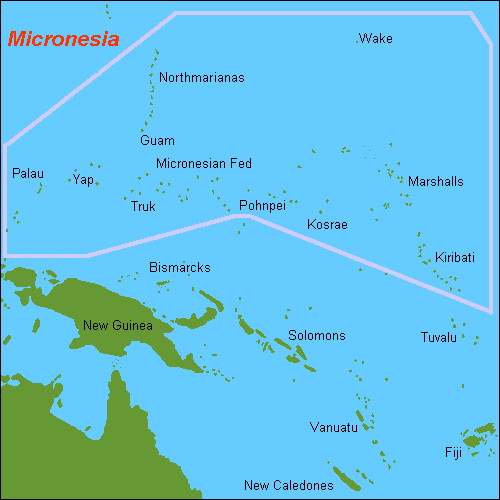 While the FSM's total land area is quite small,
it occupies more than 1,000,000 square miles of the Pacific Ocean.
The capital is Palikir, located on Pohnpei Island,
while the largest city is Weno, located in the Chuuk Atoll.

So now, two years and four months later, I'm off . . . .