SandE writes:

Leonard was a local rescue. I had gotten a report about Leonard a few days before I picked him up. Leonard is three years old and has never been in a house. He was tied outside 24/7 until he attacked another dog. The owner of the other dog beat Leonard pretty severely and Leonard bit the owner. Consequently, Leonard was put in quarantine.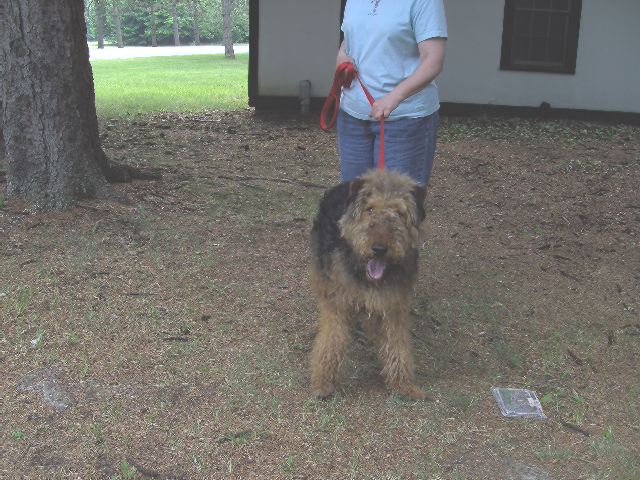 Since being released from quarantine in March 2008, Leonard had been kept in a garage chained to a dog house with about a two-to-three-foot chain.

When I met Leonard, he was a wild dog. He was very, very excited and nippie. Nothing mean, just that Airedale nip multiplied times 10! Not knowing Leonard, I muzzled him for the ride in the car to the vets. It only took about ten minutes for me to realize that Leonard is a very good boy.

I turned Leonard over to Airedale Rescue in Albany to be evaluated. They said Leonard would go to 'Boot Camp' and 'Charm School' and would notifiy me of the results. I decided I would like first options on Leonard because I knew he was a great boy who had had a bad beginning in life.