Bob Shire writes:

On February 13, I learned that a young male Cairn had been dropped off at the Somerset Regional Animal Shelter in Bridgewater, New Jersey the previous day. I found out from the shelter that the Cairn, who had no external ID but was microchipped, had been brought in by someone as a stray, and they were in the process of determining the identity of the owner. It turned out that the person who had brought the dog in was actually his owner, and the shelter agreed to turn the Cairn over to CRUSA.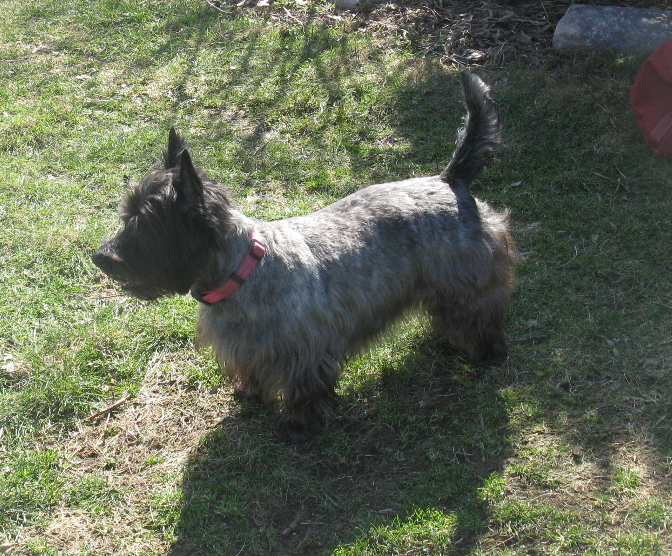 PUDGE, before she came to CRUSA

A few days later, a posting on NJShelterPets@Yahoogroups was brought to my attention. According to the posting, a person named Sherry was looking for a home for a six-year-old female Cairn named PUDGE in South Jersey whose owner no longer wanted her. I contacted Sherry who was in the process of getting 501(c)(3) recognition for her group, Sad Eyes Animal Welfare Society, and that she was going to be picking PUDGE up to bring to a foster home. She told me they'd be willing to turn PUDGE over to CRUSA.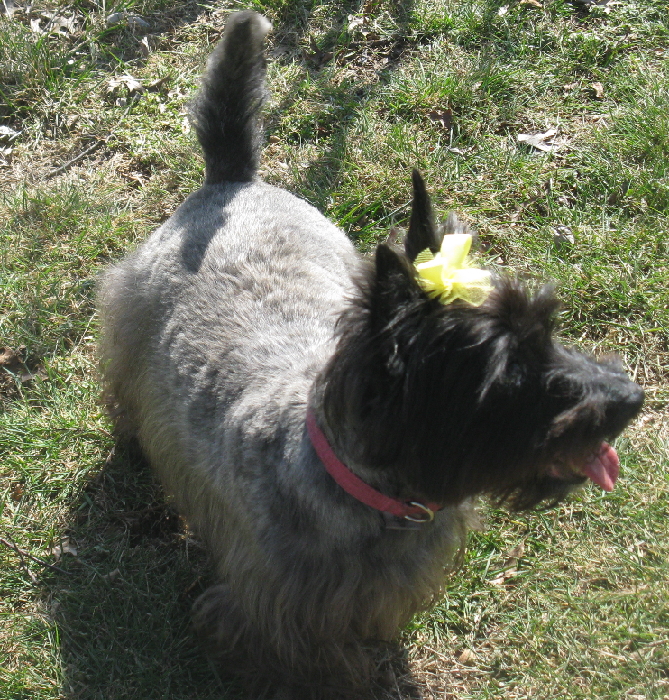 CRUSA didn't have foster homes lined up for the Bridgewater Cairn or PUDGE, but Daren Beltz was scheduled to drive up to New Jersey from his home in Maryland on 3 March to do a meet & greet with his foster, Gus, and a family in Hillsborough, New Jersey, so a plan was formed that Daren would drive up after work on 3 March and, after a 2-1/2 hour drive, get to Hillsborough around 5:30 p.m.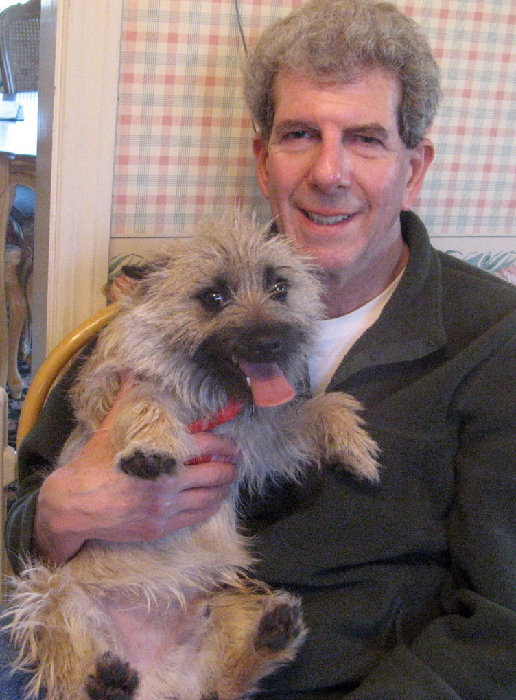 TAYLOR, after he came to CRUSA

Meanwhile, I'd pull the Bridgewater Cairn from the shelter some time before their closing time of 4, take him home with me for a few hours, then meet Daren in Hillsborough after his meet & greet, and turn him over to Daren. Daren would then drive about an hour-1/4 south to pick up PUDGE from her foster home in Bellmawr, New Jersey, and drive another 1-1/2 hours to get home. Whew!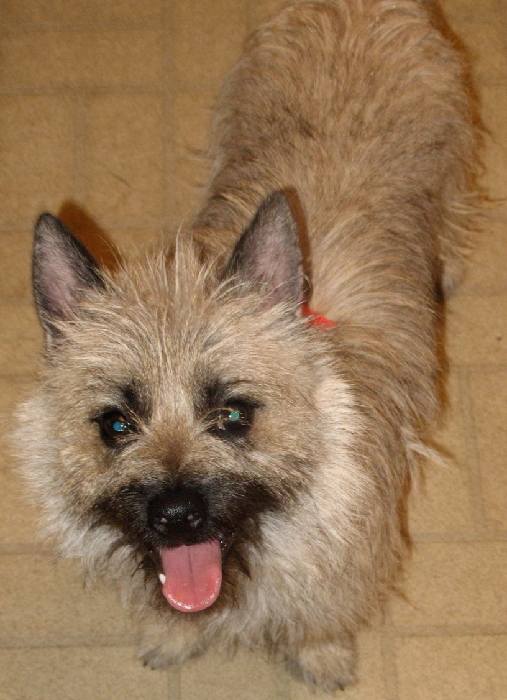 Things went smoothly on 3 March except that, on top of everything else,
Daren got stuck in traffic for an hour on his way north.

I pulled the Bridgewater Cairn at about 2:30 and took him for a short walk around the shelter. I got home about 3:30 and took him for a good walk in my neighborhood because they had told me at the shelter that they didn't think he was house trained.

In the three hours or so he was at my house, I walked him twice more. Notwithstanding all these walks, he left four pools of urine in my kitchen over the course of his visit. That dog sure can pee!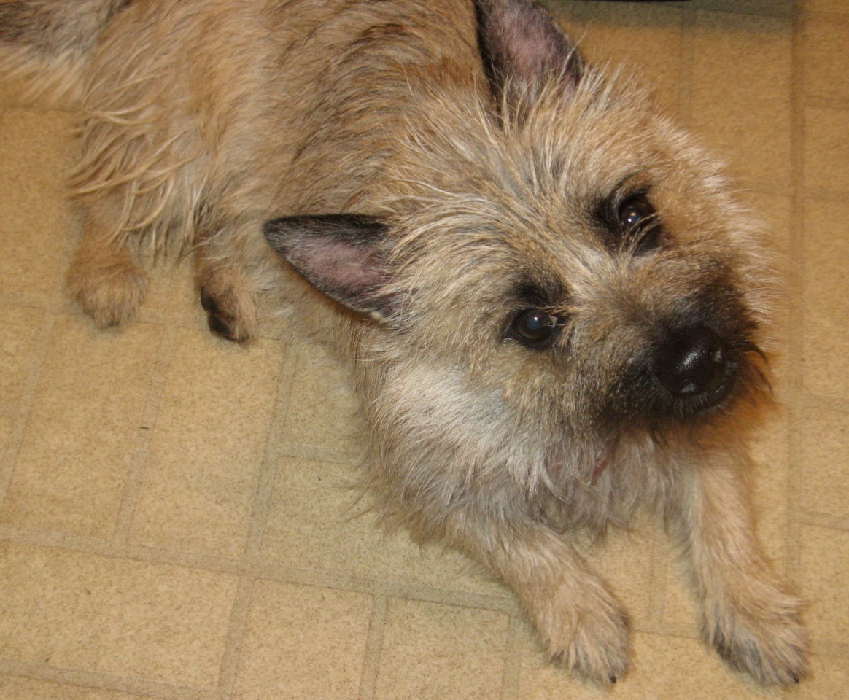 I met Daren at 7:30 in Hillsborough. His meet & greet had been a success and Gus now had a forever home. I said goodbye to my brief house guest and offered my condolences to Daren for all that remained for him to do that night.

The next day, I posted on facebook a few pictures I had taken of my guest the day before, and a little information about his itinerary.

I received a lot of comments about how cute he was, and one person asked what I was going to name him. I answered that whoever made a donation to CRUSA would have the privilege of naming him, and little time passed before Dawn Machiarelli wrote that she'd like to do so. Dawn made a generous donation to CRUSA to name our young Cairn, whom we've determined to be a year old, "TAYLOR" after her Frasier & Bert's Aunt Helen TAYLOR. Frasier & Bert are two CRUSA dogs adopted a couple years ago, and Frasier happens to be one of my Maisie's two brothers.

[Frasier & Maisie were menbers of CRUSA's 2007 OCTOBER TREATS 2 Rescue Mission, which can be seen HERE]

I've also heard from Daren who, confirming my first impression,
let me know that TAYLOR is a "real ball of fire."

---
CRUSA's THANKS go out to Bob & Daren!