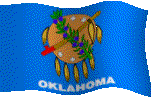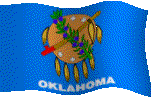 On 8 July, Frances Martin of OKLAHOMA AIREDALE RESCUE, writes:

About an hour before Hamish crossed the Rainbow Bridge, I got a call from a lady needing to find a home for her three-legged Airedale mix. She had to place her in the next couple of days. I told her to send me a picture and write up and I'd send it out to all the area rescue groups. I didn't hear back from her.

The next day, I got a call from the Tulsa Animal Shelter. They had a three-legged Airedale! I went out and took a look and there she was - small, cute, scared, three legs, and ALL Airedale! I bailed her out, but not before I spotted a darling male wheaten CAIRN TERRIER in one of the cages.

As I was paying for the Airedale, I noticed a sign on the window stating that if you adopt two animals in the same day, the second animal is only $25.

Well, you know the rest!

OK AIREDALE RESCUE will take Bridget the three-legged girl, and my dear friend who is president of OKLAHOMA WESTIE RESCUE will take the CairnBoy.

On 11 July, Frances writes:

Here are the two little darlings that I pulled from the Tulsa Animal Shelter last week - Bridget the three-legged Airedale on Wednesday and the sweet little Cairn boy on Friday.

I'm fostering Bridget; Meredith with OKLAHOMA WESTIE RESCUE (who also takes Cairns & Scotties) has the little CairnBoy.

Here's Bridget's story: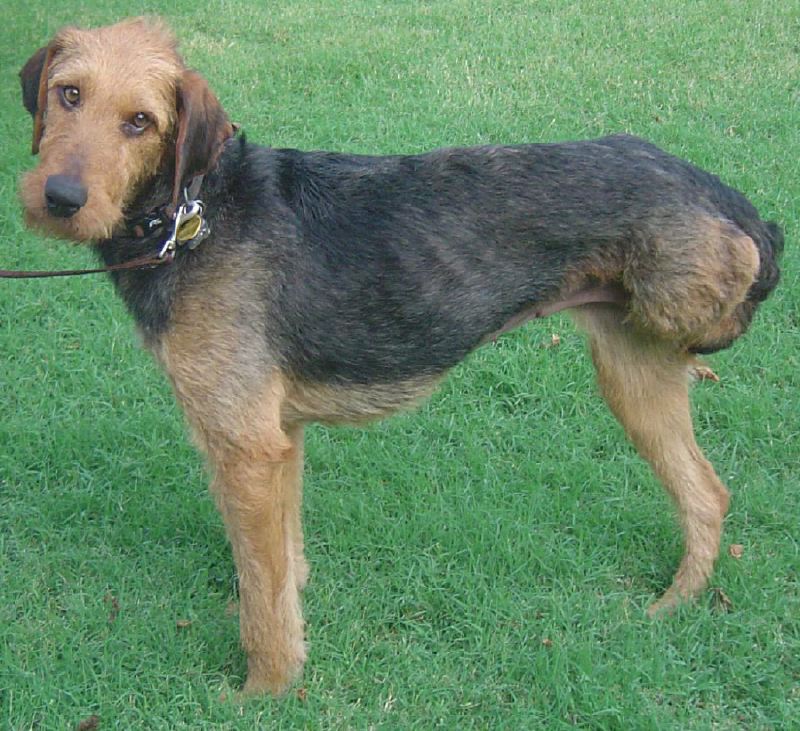 A nice couple picked her up from the highway after they saw a man shove her out of his car and drive off. Her leg was dangling and she had been beaten around the head. They took her to a vet; the leg had to be amputated due to a gunshot wound. The couple kept her for several months until they had to move into an apartment. She wound up at the animal shelter.

Thankfully, a vet tech called me after identifying her as an Airedale. She's with me now and loves being inside with my guys, has mastered the doggie door, and is settling in nicely.

While at the shelter, I spotted a little Cairn boy.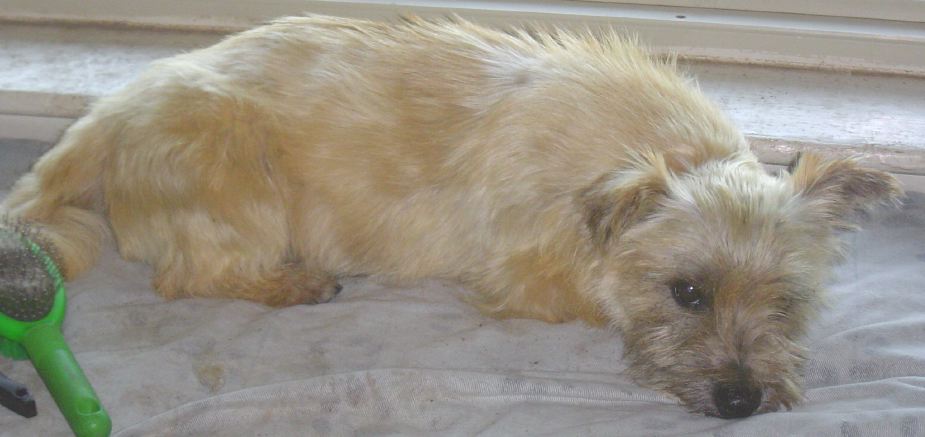 He was a scared little sad sack, but came to me and sniffed my hand through the pen. He was a stray, picked up right after the 4th of July weekend. I told him I'd be back for him and was there first thing Friday morning, when he became available for adoption. They did his surgery that very day and I picked him up late that afternoon.

He is a sweetheart, although Meredith & I joked about what he'll REALLY be like after the anesthetic wears off! It looks like he has skin issues and a couple of swollen places around his mouth. I'm sure after a couple of weeks of good nutritious food, a nice bath & groom, and some TLC, he will be a typical fun-loving Cairn Terrier.

On 12 July, Meredith writes:

Eddie is the Cairn's name. He is a sad little guy. I got him to eat a few pieces of food this evening and he wags his tail. Mostly he just lies around, way too quiet! Boomer, one of my hairless Westies, picks on him mercilessly, so tomorrow when I go back to work, Eddie will hang out in the living room with Figaro, the frightened Scottie who lives on the couch.

Thanks again for getting him, Frances.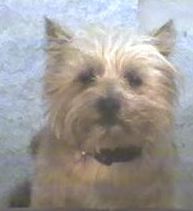 BETTE BOYERS & BELLA:
What's wrong with people? Kleenex® Alert indeed! What a nice lady she is.
CAIRN BELLA's story is HERE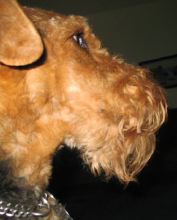 MAUREEN SCOTT & MURPHEEE
This is a great rescue story . . . .Imagine treating a dog like that . . . The mind boggles. I'd probably keep her if she came into my hands . . . .
The Cairn is a very lucky fellow, too. Talk about Serendipity! Good for Frances!
AIREDALE MS PIX's story is HERE
AIREDALE COURTENAY's story is HERE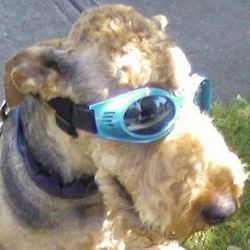 CONNIE VERSAGI & MAX3LEGS:
Missing the same leg as Max! She looks like a real cutie girl. My heart just goes out to this little girl. I gave Frances some tips on things I learned the hard way about 'tripods'. If you've never had one, you just don't think of some things automatically - everything from raised dishes, to best bedding and protecting that tummy when out in the sun (we learned that one the hard way).
That little Cairn is so cute. I love his color. I can honestly say I've never spent time with a Cairn. I'll have to go find some to cuddle up to the next time I am at a dog show.
MAX can be seen in his full three-legged glory HERE
See MAX walking & running HERE. The part where his leg starts to give out on him is pretty typical. That happens all the time. Even without sound, you can tell when I am talking to him, by watching his tail. What a monkey.
ATRA (AIREDALE TERRIER RESCUE & ADOPTION)