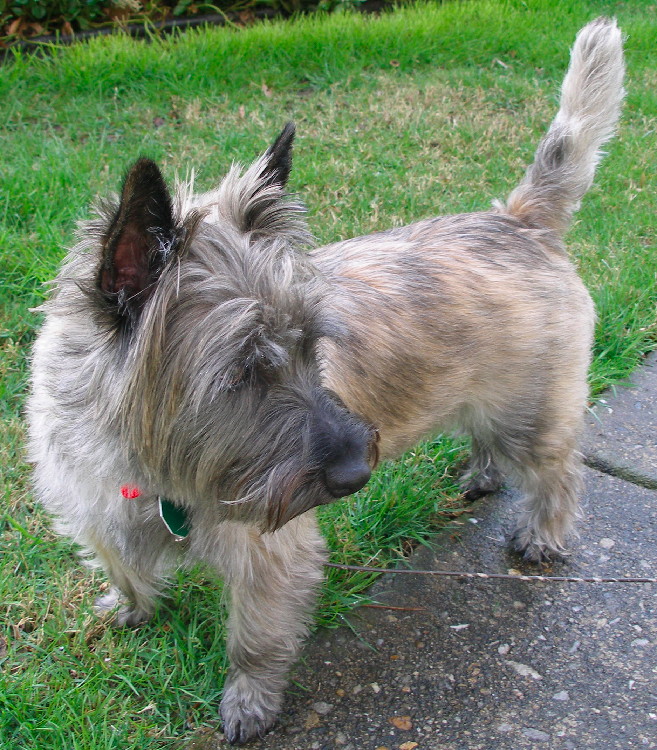 Click on Ozzie's picture to do a puzzle

Debbie Hodgens writes:

Ozzie was a New Jersey owner surrender to CRUSA in 2011.
He was turned in to rescue as he had too much energy for his family
and was in need of some manners training,
which the owners did not have the time for. Ozzie was fostered by Daren Beltz
who took Ozzie to "Peaceable Paws" for training, at which Ozzie did very well.

Ozzie was adopted in March 2012.
He was later diagnosed with bladder stones, had surgery
and was put on a restricted diet. Because of this diet,
the new owners did not continue with the training
as it involved the use of high-end treats that were not on his diet.

Ozzie, like a typical Cairn, will bark at thunder, mailmen, trash pickup, etc.
Whenever Ozzie barked, the owners put Ozzie in a crate in the basement,
turn off the lights and leave him there until he stopped barking.
This happened every day. My vet referred this as being a "prisoner of war."

On 5 April, 2017, Ozzie was released back to rescue.
He had been with this family for five years.

He does bark, but not much more than some of the other dogs.
He also stops barking when I show him the squirt bottle.

Another bad behavior was humping my leg.
He stopped that the first day with the use of the squirt bottle.
We were told he does not like other dogs,
but this morning he was playing with one of the dogs at my house.

Ozzie is about eight years old now and
seems to be acclimating to life here at my house.

Medically, he may have another bladder stone
and his teeth need to be cleaned. His gums looked inflamed.
So far, he has had blood work, an x-ray and a urinalysis.
The vet did not want to put him on any other meds
until the results of the lab tests come back. The x-ray
showed a white mass (the possible bladder stone).
and to further define the mass Ozzie needs an ultrasound.
He has had at least two prior surgeries for stones.

His vet bill thus far was about $300.00.
The required ultrasound will cost about $365.00
and his teeth cleaning will cost another $375.00.
All told, that's a little over $1,000.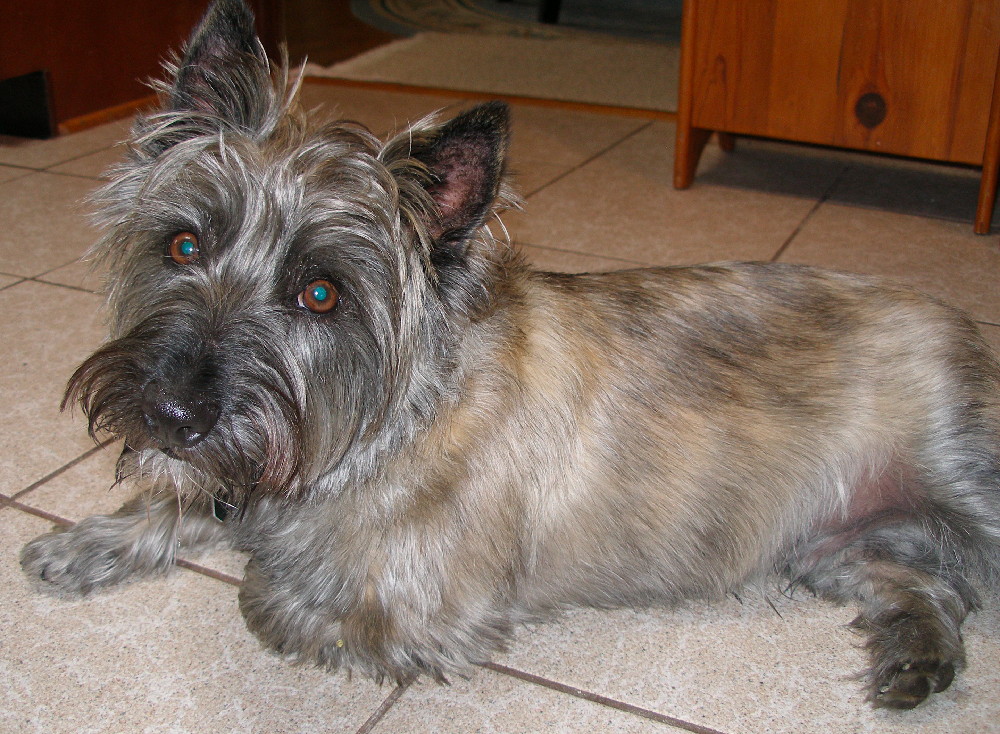 Click on Ozzie's picture to do a puzzle

THANK YOU, CRUSA, FOR COMING TO MY RESCUE AGAIN!

Any donation to make Ozzie healthy again would be appreciated!

---
---

BETSI GREENE:
Jeeze, like they couldn't find something better than solitary confinement? Sorry, but Joey was a whole new dog once he was introduced to that squirt bottle!

Thank goodness they gave him back to CRUSA!


JACKIE IKE:
Awwww what a sweet little guy! They just mistreated this poor pup. He needs a really good home!


ELAINE ALGER:
Wow, how horrid. Glad he is back in rescue, a far better situation than where he has been for five years.


JEAN LAWSON:
Poor li'l guy. Thank goodness he's back in good hands.


DOREEN MUNDIE:
Locked in a dark basement . . . he may have been in pain is why he barked . . . that is so cruel! Glad he is out of there; that kind of hate must have really affected him . . . poor guy! Cairns have spirit; that is what makes them so special.


ROBYN STINE:
Ozzie's story brought me to tears. I just don't understand cruelty like that. For that matter, of any kind, but it boggles my mind when it's done to an animal supposedly wanted. It honestly makes my stomach hurt.


TRACI COTTON:
Idiots! Makes you wonder what they do to their kids if they cry . . .


NEAL SKRENES:
What a sad bunch of people to do that to ANY dog, but especially a senior dog. Hope Karma comes around and b*tch slaps them good sometime soon.


MARY GADE:
What a darling little guy! It makes me sick to think of him in the basement in a crate in the dark! I just can't imagine people treating him that way, but I know it happens. I sure hope you can find someone to love him and treat him the way he should be treated.


JACKIE PARKER:
Poor wee boy. I hope he feels better soon.