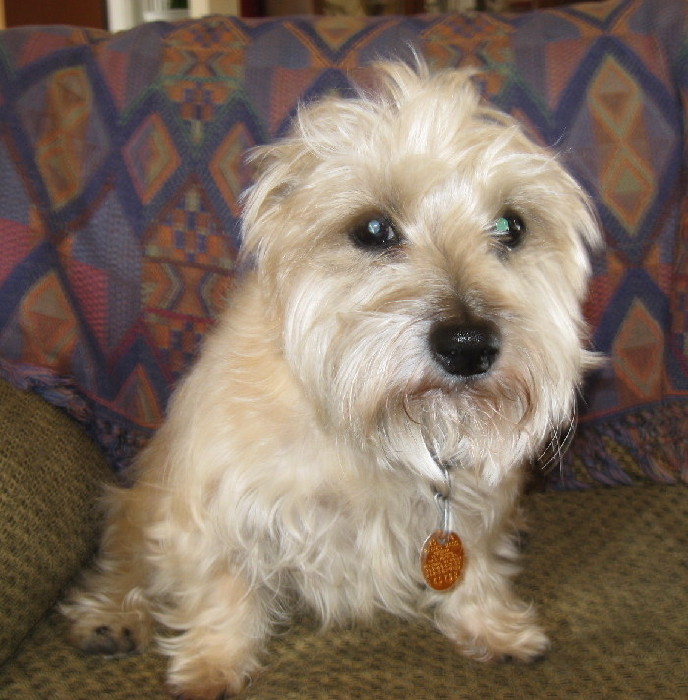 On 13 June, Pam Ohlsson writes about Buster's ear problem:

Dr Sue put some medicated stuff in his ear . . .
she says it's like candle wax . . . you have to warm it to put it in . . .
and it works for about two weeks. Nice stuff.
She looked at the pus under the microscope;
it's loaded with bacteria so she did sent it off to be cultured . . .
we should know about Tuesday what it shows.
Then we'll figure out the next step.

This poor kid just can't get a break!
Looks like there's more than one of these things in his ear
because it's hard to see the ear canal . . .
poor guy holds his head tilted to the right and screams when you touch that ear.
All in a couple of days. He's on Baytril (a broad spectrum antibiotic)
once a day for a week so we can calm this thing down.

Shannon Radosevich adds:

Buster is pretty much blind now, too . . . poor little guy.
Buster is also diabetic.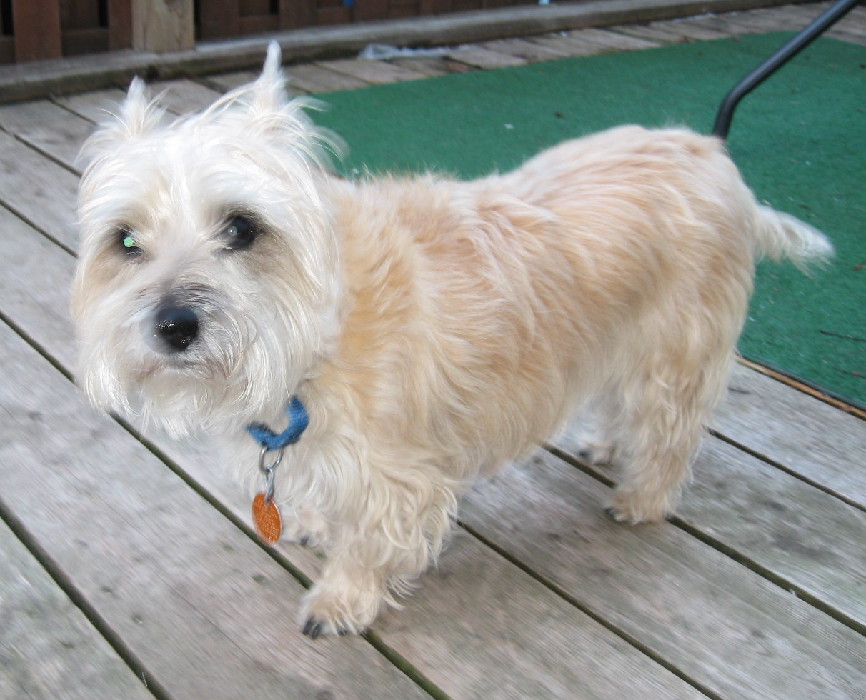 From the CRUSA website:

BUSTER IN A NUTSHELL: Buster is an exceptionally adorable boy
who requires a dedicated owner who can address the needs of a diabetic dog.
Buster requires twice-daily insulin shots which he tolerates very well.
He would be a wonderful, devoted companion for a retired nurse or medical professional;
someone who can be as committed to Buster as he will be to his new family.

Seven-year-old Buster is about as adorable a Cairn
as one could ever hope to meet.
And his story is one that will melt your heart.
This past winter, Buster's owner became seriously ill
and was no longer able to care for him.
Surrendering Buster was especially difficult because he had recently
been diagnosed with diabetes and would require special care.
Well, since coming into Cairn Rescue USA,
Buster has gotten that care and is doing beautifully.

When Buster first arrived at his foster home,
he was grumpy and appeared unhappy.
We soon discovered that he wasn't feeling well.
A visit to the vet revealed a urinary track infection,
two painful teeth and low blood sugar.
Buster had a full dental, was put on antibiotics for his infection,
his insulin was adjusted, he lost a couple of pounds,
and in just a couple of weeks, he was a completely different dog!

Today, Buster's foster mom describes him as "fun, curious, and very cuddly".

He is exceptionally bright and inquisitive and,
true to his terrier roots, he isn't afraid of anything.
He is a happy dog and seeks attention from anyone who happens to be near.
Buster loves the outdoors and delights in exploring his foster moM's fenced yard.

Buster is neutered and has recently had a full dental with extractions.
He is up-to-date on all vaccinations and has tested negative for heartworm.
He is on a monthly heartworm preventative. Like many Cairns,
Buster can suffer from occasional seasonal allergies.

(Read more information on BUSTER HERE)