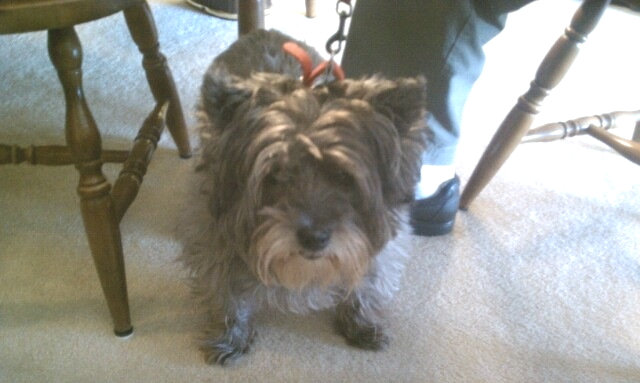 FROM CRUSA INTAKES, 10 MARCH:

John [original owner] has died. I am a next door neighbor who has taken care of Rose for several months. I cannot keep her and need to place her with CT rescue. I am familiar with dog rescue as I used to raise and train Scottish Deerhounds. Rose needs placement as soon as possible.

She's a 12-year-old with a potassium deficiency; very docile except with other dogs; somewhat selfish, but good with people; needs a good home.

Rose may have spent the night outside, as she was found outside John's retirement home.

Rose's DOB was 4 December 1996, so she is actually 14 years old. Her current caretaker, Bill Colosimo, had her groomed; Cheryl Frommelt & Michelle Janus were involved in Rose's Intake.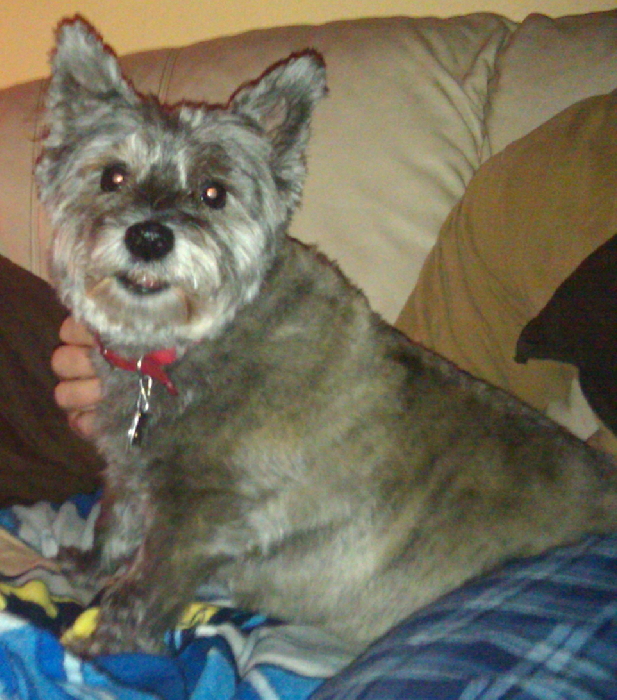 Cheryl writes:

Rosie is a sweet old gal. A tad overweight, but seems pretty healthy. Some missing teeth. She walks and gets around well. She did fine with Bailey, growled a little at first but co-existed with Bailey for about an hour. Bill says she can be dominant, but can get along fine with some dogs. She would probably do better with non-alpha type dogs like Bailey.

She accepted attention from us. Bill says she is a good companion who eats well. Has shown signs of some food aggression.

On 19 March, Michelle & Jeff Janu brought Rose to the Chicagoland Pet Expo, where Pam Simpson, who will be fostering her, picked her up and brought her to Andréa to temporarily foster for a week.

Kevin Smith holds Rose at Pet Expo 2011 [which can be seen HERE ]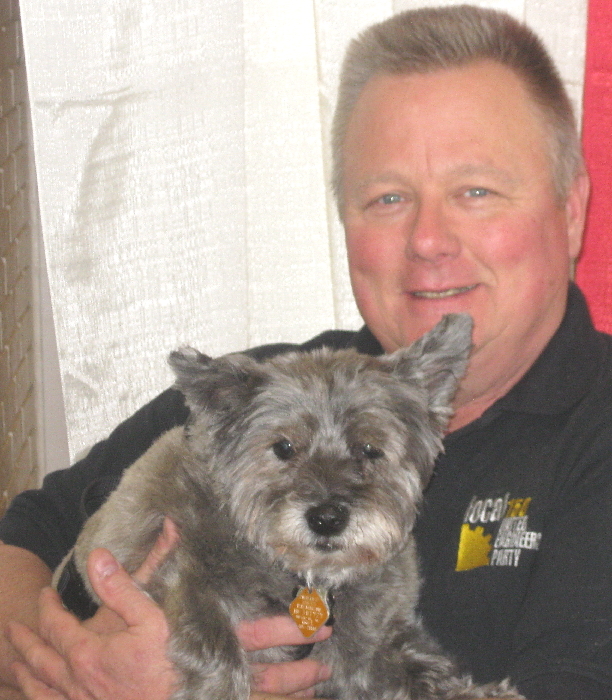 Rose arrived and the Skrenninger Six-Pack was introduced to her.

First, RicoBadboy, who thought she was another toy to play with.

Then, the Two Little Mothers: RosieVi the Shy & Luuceee You Got Some 'Splainin' To Do. She snapped at Rosie; an AlphaRoll and showing her my teeth put a stop to that.

Next up for introductions were Cari, Daisy2Legs & Chrissi1Eye. Daisy & Chrissi seem to shaire the role of Alpha in our Pack (missing body parts seem to be made up for by extra AlphaNess), so I was concerned there would be a problem . . . a half-hearted snap on Rose's part, another AlphaRoll and showing of my teeth, and all was well.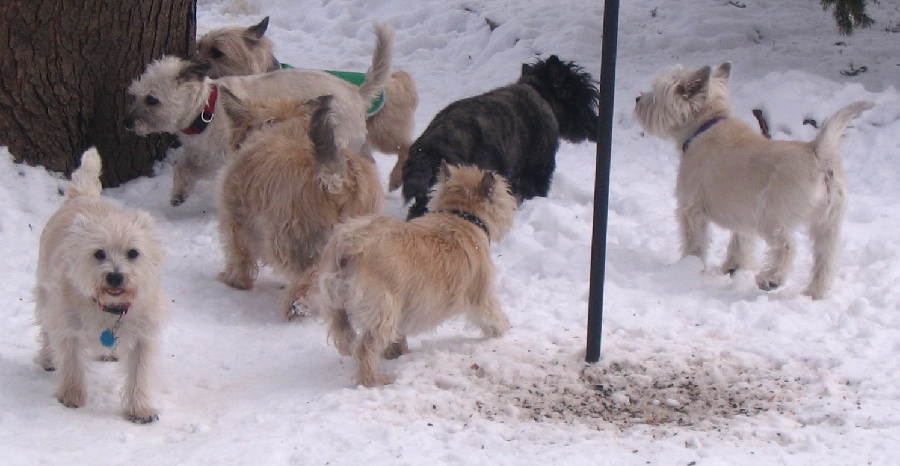 l to r: LUUCEEE YOU GOT SOME 'SPLAININ' TO DO
CRUSA FOSTER JANA (green coat), RICOBADBOY (red collar), CHRISSI1EYE, ROSIEVI THE SHY
DAISY2LEGS & CARI (purple collar)
[LUUCEEE's story can be read HERE; JANA's story can be read HERE; RICO's story can be read HERE
CHRISSI's story can be read HERE; ROSIE's story can be read HERE
DAISY's story can be read HERE; CARI's story can be read HERE]

We moved into the house - always a test for a new dog - and everything was fine. Rose investigated the house, pooped to show her opinion of it all, and continued her investigation. We let her roam outside for a while, where she finally peed and acted as though she'd never seen the great outdoors before . . . out the door, in the door, out the door, in the door.

And of course, the Skrenninger Residence comes equipped with "SquirrelVision 3D",
so she settled down in front of the patio door for most of the evening.